Unsigned senior guard Mark Smith sees stock take off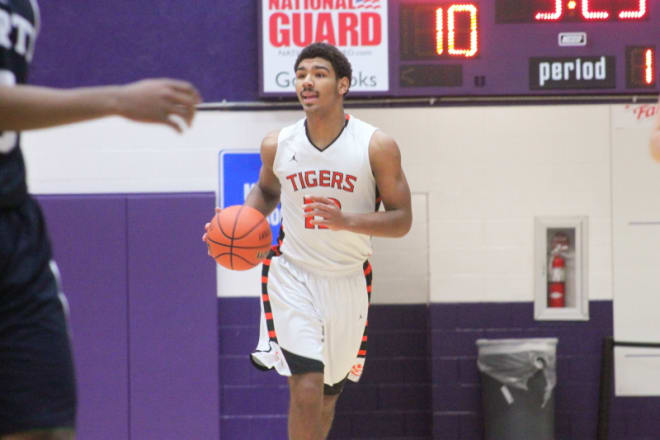 EAST ST. LOUIS --Each winter as high major programs scramble to fill holes on their rosters, previously under the radar prospects see their stock soar. The question, though, is always whether or not their stock takes off because they can play or because they are available? Make no mistake about it, Mark Smith can play.
Previously committed to play baseball at Missouri, the 6-foot-4 senior guard at Edwardsville (Ill.) High has emerged as the hottest name in the country.
Strong, tough and capable of playing either the point or shooting guard position, Smith is a Malcolm Brogdon style guard who has seen his stock soar recently.

During the fall, Smith took official visits to Wright State, Northern Illinois and hometown SIU-Edwardsville. Since then he's picked up offers from DePaul, Kansas State, Illinois, Indiana, Boston College and Northwestern. Kansas was in to see him last week and Auburn and California were both on hand to see him score 19 points while grabbing six rebounds and dishing out nine assists during a Friday night win over East St. Louis (Ill.) High.

"The season has been going great. I think I have been hitting shots and then getting into the lane and trying to find open teammates. I'm trying to be a playmaker for my team.
"After I decommitted from Mizzou and sprained my forearm I hopped on the basketball circuit the last couple of weeks (of July) and got some mid major offers and took a couple of visits. Then I decided I wanted to play the season out and see how teams play and I had a couple of games where I played very well and I'm blessed and fortunate to get these opportunities from these big time schools."

On Saturday, Smith will take an unofficial visit to home state Illinois and he said that he's building a bond with head coach John Groce.

"I'm building a good relationship with all of the coaches and especially Coach Groce. That's one of the important things to me is building a relationship with the head coach. Coach Groce and I talk almost every day. He sent me a text today telling me good luck tonight and that he's looking forward to seeing me (Saturday).
"They think I could come in right away and be a playmaker."
Smith's most recent offer came from Tom Crean and the Indiana Hoosiers. He said that he would like to get to campus but that he wants to find a time where he won't miss practice because his focus is on trying to win a State Championship.

"They said that they develop their guards and get them to the next level," said Smith. "That's also what I'm looking for, going to a program where they can develop me for the next level.
"Coach Crean came in yesterday with Coach (Rob) Judson and offered me a scholarship."
Because he's seen his recruitment blow up late and he is just starting to get to know these new programs, Smith wants to do what he can to build relationships, but he also wants to make sure he doesn't rush things. Smith hasn't decided on any programs that he will for sure use his two remaining official visit opportunities on -- though he did mention Kansas State and Northwestern as two other schools he would like to see -- and he's doing what he can to sort through the madness while making a strong run at landing himself in the national rankings.
"I want to build a relationship with all of the coaches," said Smith. "I want to try and build that trust with the head coach and the assistant coaches all of the coaches. That's going to be my home for the next four years or however long. I want to make the most of my next four years and that's going to be my family so I'm trying to get to know all of the coaches in this short period of time."