UNC could capitalize on dicey situation brewing at Kentucky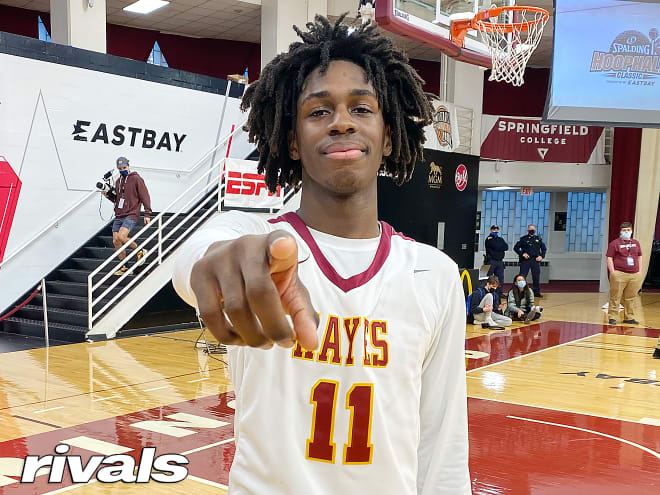 Relatively speaking, January is a "slow" month for recruiting. Most of the 2023 class is signed and sealed, while 2024 prospects are taking sporadic official visits. That's not to say all is quiet, however. With the college season in full swing, things happening on the court are affecting odds and ends on the trail and high school prospects are still jostling for rankings positions.
So this week in his column, Rivals national analyst Rob Cassidy has a look at how an increasingly rocky situation at Kentucky may impact the recruitment of a five-star, details where some recent reclassification landed in the Rivals150, and explores three committed prospects that could help themselves at this week's Hoophall Classic.
A DOSE OF RENEWED INTRIGUE FOR IAN JACKSON'S RECRUTIMENT
Not long ago, you'd have been hard pressed to find anyone that would bet against Kentucky when it comes to the race to land five-star junior Ian Jackson. A few months later, a 10-5 start and some unsubstantiated John Calipari-to-Texas rumors later, and the landscape on that front has shifted.
Whether Calipari does, indeed, have any interest in leaving Lexington or not, the relationship between the legendary coach and the Wildcat fan base is definitely a bit strained, as UK has not gotten out of the NCAA Tournament's first round since 2019, a lifetime in Kentucky years. With the Texas job open, national reporters have started to write about a fresh start for both parties, and doubts about the future of Kentucky hoops have started to manifest.
All this at the same time that Jackson, UK's top 2024 target is amid back-to-back official visits to North Carolina and Arkansas.
For now, UNC seems to be the biggest threat, as things on Jackson's visit to Chappell Hill are said to have gone well, leaving Jackson, who has always seemed destined to sign with a blueblood, with plenty to consider. I'm not prepared to put in a UNC FutureCast just yet, but it's easy to imagine a world where Jackson further cozies up with the Tar Heels if things on the Calipari-and-Kentucky front get any messier.
Add in the fact that there's a very real chance that Jackson reclassifies to 2023 down the road, and time may be of the essence. A coaching change or even the real threat of one couldn't come at the worst possible time as it relates to the pursuit of the five-star guard, as it would almost certainly push Jackson, who hopes to make a decision relatively quickly, to Chapel Hill or elsewhere.
*****
RECLASSIFICATION FIND THEIR PLACES IN 2022
Both Alabama and Tennessee had 2023 commits join the class of 2022 recently, and both Freddie Dilione (UT) and Davin Cosby (Bama) have now been placed in the Rivals150 for their new class.
Dilione, who was a bit of a late-bloomer that could get much better with time, slid into the No. 33 spot in the Rivals150 but could have an even higher upside as he redshirts this season at UT in hopes of adding polish and transitioning from "volume shooter" to polished prospect capable of playing within a system. Dilione boasts a college-ready frame but will be at his best if he uses his redshirt year to develop his peripheral skills that don't involve attacking the rim at all costs. Dilione is a tantalizing, high-upside prospect that has pro upside but a long way to go if he hopes to reach it.
As for the Alabama-bound Cosby, few players had more productive summers, as he burst onto the national scene behind a reliable jump shot and seemingly limitless range. Those skills are translatable to the SEC right now. His task going forward will be to add muscle, improve his ball-handling and become a more-well rounded prospect capable of defending multiple positions. Cosby sits on the No. 84 line in the 2022 Rivals150 and could outperform that ranking should his point guard skills catch up with his shooting ability.
*****
THREE COMMITTED PROSPECTS WHO COULD HELP THEMSELVES AT THE HOOPHALL CLASSIC
ISAIAH COLLIER (USC) – A serious contender for the top spot in 2023, Hoophall represents Collier's final chance to make his case before the Rivals150 updates next week. And while the top spot will never be determined by one weekend, it's there for the taking. Collier may not have the ideal pro body type but it's become difficult to argue with his consistency and production relative to the competition. A big weekend in Massachusetts could help the future Trojan point guard grab the brass ring.
TRENT PIERCE (Missouri) – Currently the No. 130 prospect in the class of 2023, Pierce has been outperforming that ranking coming off the bench for a loaded AZ Compass Prep team this season. He recently turned heads with a 25-point, three-assist effort that essentially willed his team to a victory over Legacy Early College Prep on an off night for his squad's starting five. Pierce could use his minutes on a national stage like Hoophall to move up the rankings significantly.
MIRO LITTLE (Baylor) – Little will be breaking into the rankings next week regardless of what happens at Hoophall but will have every chance to improve his debut spot over the weekend, as his Sunrise Christian squad is set to take on Montverde Academy in Springfield. The 6-foot-4 guard, who arrived in America from Finland before the season, is one of the more versatile prospects in the country and is capable of giving Baylor big minutes at multiple positions next season. He's already made his case for a lofty national ranking but playing on the big stage against famed Montverde, which boasts a roster chock full of high-major prospects, will provide him with an opportunity to slam an exclamation point on an impressive first season in the States. The top-25 is not out of reach for Little, who has been every bit as good as advertised since arriving from overseas.