UCLA tops team recruiting rankings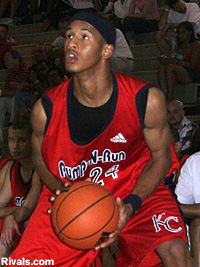 With the late signing period ending on Wednesday, the class of 2008 is coming to a close. Which school reeled in the best basketball recruiting class? Which teams made significant jumps since last fall? Rivals.com is proud to release the top 30 team rankings for the incoming freshmen.
BRUINS FIND NEW STARTING FIVE
After making it to the Final Four the last three seasons, UCLA is reaping the rewards off the court. Ben Howland and his staff have reeled in the nation's top overall recruiting class in 2008.
After adding Morgan to the mix, UCLA has a signing class that could essentially be a starting five for any school in the country.
Howland and staff signed four in-state prospects in the early signing period, which was good enough for the second best class in the nation last fall.
"It's not often that you see a program bring in five top-50 prospects in one recruiting class. In fact, UCLA's group could easily be on the court together as freshmen," Rivals.com National Basketball Recruiting Analyst Jerry Meyer said. "You have three stellar guards led by Holiday and then two post players – Gordon, who is a high energy player, and Morgan, who is a big-bodied offensive low-post presence."
A return trip to the Final Four is not out of the picture for UCLA considering the class that is coming to Westwood. Sure, replacing the likes of last year's team won't be easy. However, Meyer believes this class has the talent to do special things.
ROCK, CHALK, RELOAD
Apparently there is a trend brewing in college basketball recruiting. Winning a national championship on the hardwood helps teams in the race for the recruiting national championship.
"Kansas might not have a marquee five-star recruit, but the Jayhawks are reloading after a national championship run with an impressively deep class and intriguingly diverse class," Meyer said.
EVANS, WITHERSPOON BOOST MEMPHIS
MAJOK MAGIC
HOPSON HELPS VOLS HOP UP IN RANKINGS
STRONG DEBUTS BY OTHERS
Washington State and Cincinnati check in a 29 and 30, respectively.
ROOM FOR CHANGE
Negedu will consider Georgia Tech, Indiana, Memphis and Tennessee. Harris could potentially qualify, but it is not expected to make it. It has been reported that Memphis could be a player for the Mississippi big man.
Rivals.com will also update the rankings after the prospects enroll in college to reflect any academic causality that may occur.

[rl]