UCLA lands 2019 4-star Grant Sherfield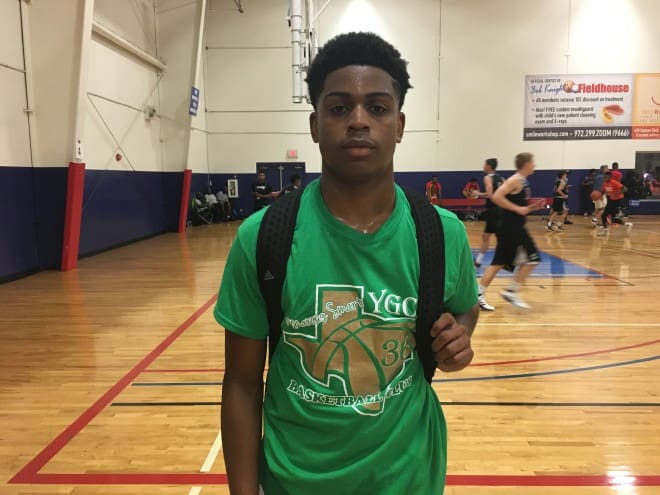 UCLA isn't putting off their 2019 recruiting needs for later. On Monday, Steve Alford and the Bruins landed a running mate for five-star point guard LaMelo Ball when four-star combo guard Grant Sherfield made the call.
A high scoring guard who has a strong frame and loads of confidence, Sherfield had been to Westwood before but a trip just over a week ago worked wonders. His mom was on the trip with him and he decided to seal the deal after feeling it was the right fit and getting a stamp of approval from a loved one.

"They showed how much love they have for me," Sherfield told Rivals.com. "They love the way I play and I think they have great basketball minds. We watched practice and I just loved what they did. We are on the same page and it's a great fit for me athletics and academics."

A member of the Marcus Smart sponsored YGC36 summer squad, Sherfield burst onto the scene as a freshman who could hold his own against older players.
He's at his best creating off the dribble and using his strength to get downhill and finish in traffic. He has good range on his jumper and doesn't lack for toughness. Though not quite as athletic as current Bruin Aaron Holiday -- whom Alford and his staff compared him to -- he is a sneaky athlete and a very explosive scorer.

"I'm an explosive combo guard," said Sherfield. "I can score the ball. I can play well defensively and I' a good passer."
Sherfield and Ball make up the Bruins early 2019 class and the Texan is looking forward to playing with the much discussed Californian, reality show star and shoe pitchman.

"He's a great player himself," said Sherfield. "I'm looking forward to playing with him. I love the way he plays and I think we will play well together."