UAA Wednesday: Zach Harvey sees three programs stand out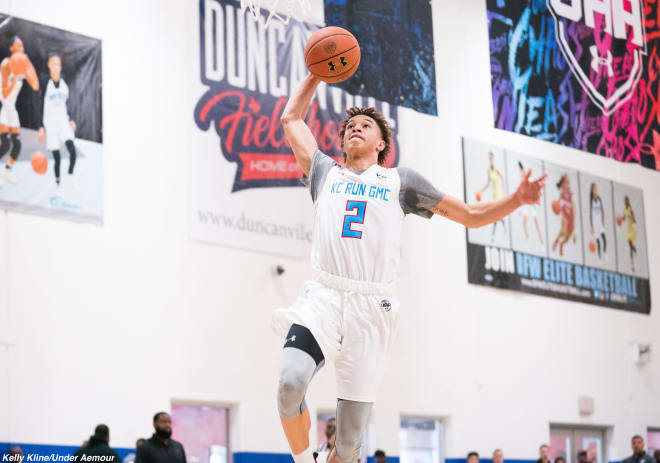 CARTERSVILLE, GA. – Finding attention has never been an issue for Zach Harvey since stepping foot onto a high school playing floor. Entering the final month of his travel ball career, the top-50 guard is ready to get down to business though and after a highlight outing on Wednesday, was able to rattle off three programs that have begun to stand out.
A 6-foot-4 guard that checks all of the boxes, Harvey recapped his summer up until this point. "So far, things have been going well," he said. "I have been taking my time with the recruiting process but I have just been spending time with the team and traveling around. It has been good so far," he said.
Ohio State, Creighton and Oklahoma are the three schools that are making him the biggest priority, Harvey told Rivals.com, where UCLA, Oregon, Nebraska and a slew of others remain in the hunt.
IN HIS OWN WORDS
Ohio State: "They have just been saying that they need an explosive guy like me to come in and be able to lead the team, get some points on the board and playmake for the team. They said they were going to make me a priority and I appreciate that.
"I like their style of play. I have talked to their head coach (Chris Holtmann) a bit, he is a good dude, and I have talked to (Mike) Schrage a lot, he is a really nice guy, so I think that I am going to go on an official or an unofficial visit there soon to check out the campus and get a feel for it."
Oklahoma: "Lon (Kruger) is a really good coach; he likes to get out and run, which I really like. Everyone knows about Trae Young and what they can do there with its guards and making them the center of everything in regards to getting them their shots, so I really like how they do that."
Creighton: "That was my first offer. They have been there since the beginning; they have stuck with me through everything. I really am close with the coaching staff. Coach (Greg) McDermott is an extremely good coach and I like his system, how they implement the 3 into their game and I just like how their program is set-up."
WHAT'S NEXT?
Completing his time this weekend at the Under Armour Finale, Harvey remains one of the prized recruits on the UAA circuit this summer alongside good friend and long-time travel teammate Jeremiah Robinson-Earl.
In the meantime, Harvey is about ready to take an even greater look at his school list and where to visit. "I don't have any (visits) set right now but the ones that I do know that I will be taking is to Ohio State and then I am going to plan some other ones soon. I am just waiting for a couple more tournaments to see how the recruiting process goes," he said. "I am not going to rush into anything but rather wait until these last four tournaments are over. I am planning on narrowing it down after that."
RIVALS' REACTION
Harvey is the epitome of a new age guard that can play on and off of the basketball but can still produce in whichever role that he is placed into. Against an elite backcourt of Scottie Lewis and Bryan Antoine on Wednesday, while his KC Run GMC team went down in defeat, Harvey had the wherewithal of when to make the proper pass, how to get open when placed off of the ball and the toughness and energy to sit down and guard all three perimeter positions.
Expect for more scholarship offers to come in for the talented Harvey, especially after his breakthrough performance and on such a high platform that his Wednesday tilt presented. More will enter the mix but it does look as if Ohio State, Oklahoma and Creighton sit as the schools to beat as the month of July heats up.