UAA Thursday: Dontaie Allen emerges as a must-get prospect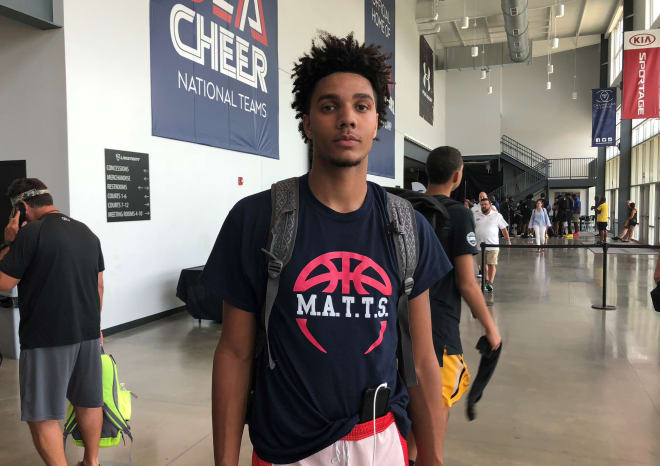 CARTERSVILLE, Ga. – Who is Dontaie Allen? He is already the breakout star of the summer of 2018 thanks to a scoring spree on Thursday that left many onlookers and coaches alike in amazement as to how good the rising senior out of Kentucky really is.
A 6-foot-6 wing that is currently leading the Under Armour Challenge in scoring this weekend to the tune of 28 points per game, Allen recapped his recruiting surge.

"It has been really nice to receive some recognition but now it is about finding the right fit and right school for me," he said.
Xavier, West Virginia, Virginia Tech and Vanderbilt have all offered and placed a heavy priority on Allen, though Kentucky has kept a closetful watch as head coach John Calipari was in attendance for his final contest on Thursday.
IN HIS OWN WORDS
Xavier: "They have just been saying that they really want me to go there and that I would be a perfect fit, in their opinion, me being a tall guard, and they are definitely one of my top colleges."
WVU: "He (Bob Huggins) has been pretty much telling me that if you come there and work hard, you can make something of yourself. They have really emphasized defense with me and they're just talking to me about how they can teach me to do so even better on that end.
"The campus is really nice. It felt like home so it was nice to me."
Virginia Tech: "I visited campus about a month ago, it is really nice. I was talking to the coaching staff and they are very friendly and were just sharing a bunch of knowledge about the game and showing me some plays and sets and how I would be incorporated within their offense. It all made sense to me."
Vanderbilt: "The biggest thing whenever I visited there is that they were emphasizing academics, which is really important to me. They have been pretty much telling me things about the program and how I could be incorporated within their offense and were having me watch one of their workouts with one of their guys and it feels like they have a really good player development system."
Kentucky: "Growing up in Kentucky, you just have to be a Kentucky fan, so I have been a fan of them my entire life. It would mean the world to me to get that offer. At first, they were just telling me to get my conditioning better and then I would have a serious chance to play there and if I were to do well in front of Coach (John) Calipari, then maybe I would be good enough then for that offer."
WHAT'S NEXT?
Allen will complete his travel ball career this month with the MATTS Mustangs 17-under unit before then focusing on his college recruitment. "After July, I want to try and cut my list and then find some schools for me," he said. "I want to try and find a school that I like before school starts but that might not happen now."
Two primary components will make up the program that he calls home. "I really just want a good relationship with the coaches and good player development," he said. "Location doesn't really matter to me."
RIVALS' REACTION
Allen is everything one looks for in a multi-positional wing, especially on the offensive end, as he finds no issues creating for himself within the half-court offense. One of the more polished scorers that can comfortably shoot off of the bounce and with a contested hand in his face, there is good reason for the attention and recent track of offers for the Kentucky native.
Expect for a slew of other scholarship offers to be given to Allen in the coming days and weeks before July finishes up. Thereafter, a more condensed college list should be on the agenda where Vanderbilt, Virginia Tech, WVU and Xavier look as if they are in the best spot. However, things could change quickly if Kentucky decides to offer.