UA: Strong statements being made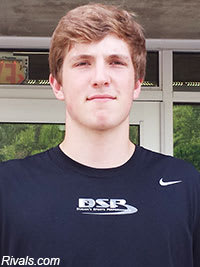 LOUISVILLE, Ky. -- Friday kicked off the second live period of
April and the top Under Armour travel teams rolled into Louisville for the Under
Armour Association II event and began the process of solidifying their chances
of being one of 16 teams to advance to the finals in July.
Efficient even in defeat
was a bright spot. Although the nation's No. 1 ranked player had four first half
turnovers, he also had ten of 1 Nation's 22 first half points. Jackson finished
with a double-double of 16 points and 10 rebounds while adding two steals, one
block and one assist. The zone defense employed by Baltimore's Finest kept 1
Nation off balance but Jackson was still able to do damage in the paint where he
made all but one of his field goals. Jackson shot 60 percent for the game.
Strong statements being made
With what could be be described as a throng of coaches looking on, Houston
leading his team to a come from behind win over the Indy Hoosiers. McGusty is a
thin 170 pounds but has a good first step, handles the basketball well, passes
adroitly on the move.
On several occasions McGusty looked for open teammates when he come off ball
screens before looking for his own shot. He went on streaks of three or four
makes in a row scoring on all three levels. He can defend multiple positions and
help on the boards if necessary. McGusty finished with 32 points (on 57 percent
shooting), scored half of his points either in the lane or at the rim, only
missed one free throw and added five rebounds, two assists and zero turnovers.
Playing both guard spots for the NY Jayhawks, Jair Bolden scored 16 of his 21
points in the second half to go along with nine rebounds, four assists, two
steals and just one turnover against the Carolina Wolves. He was effective
scoring and getting his teammates the ball for easy buckets. Bolden, who only
attempted 12 field goals, plays under control and quite efficiently. His ability
to drive and kick or get into the lane and score in traffic put tremendous
pressure on the defense. His teammates also did a good job of finding him for
open shots when he moved to shooting guard.
schools at the forefront of his recruitment but the 6-foot-3, 195-pounder should
expect more high major offers if he continues to play like he did on this night.
Big man attracting attention
Skilled big men are a precious commodity, so quite a few head coaches and
assistants were in the bleachers and lining the baseline to evaluate Indy
low post player, Brunk did show that he was comfortable stepping out to shoot a
three-pointer. Though the shot bounced off the rim and backboard, his mechanics
looked good.
Brunk, ranked No. 138 in the 2016 Rivals150, knows how to seal off his defender
on the blocks. He's good at catching the ball, surveying the defense quickly and
making the right play. Brunk is a good passer out of the post and showed a
variety of post moves, but on this night he struggled to score around the rim at
times. Listed as 7-foot, 245 pounds, Brunk gets up and down the floor well but
is not very fast. Becoming more mobile and making his offensive moves should be
priorities. Brunk's stat line was a healthy 11 points, seven rebounds, three
assists one block and zero personal fouls.
Huell almost carries team to win
almost willed Team Breakdown to a win over Net Gain Sports. With the absence of
team), Huell found the going difficult around the basket and his 10-12 foot jump
shot failed him Friday night resulting in 12 points on less than 40 percent
shooting.
A very good athlete, at times Huell was starting fast breaks after grabbing
defensive rebounds. Defensively, Huell guarded well inside and out, he had three
steals and one block. The No. 21 ranked player in the 2016 class was also
effective on the defensive glass where he collected seven of his eight rebounds.