UA: Jackson delivers in clutch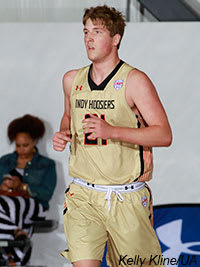 ARDSLEY, N.Y. Spots in Under Armour's Summer Finals and seeding were on the line during the final day of the UA Association's New York stop. In order for Detroit-based One Nation to have any hope of making the finals, it needed and win and the No. 1 player in the country, Josh Jackson, came through for them.
Jackson delivers when needed
When his One Nation squad absolutely needed No. 1 player in the class of 2016 to be at his best,
Josh Jackson
delivered.
In need of a win and some losses from other teams in the Hungry division of the UA Assocation to make UA's Summer Finals in July, Jackson led his team in spectacular fashion as they took out the NY Jayhawks 86-72. As it turned out, the other losses that One Nation needed to happen worked out and it won a three-team tie breaker between itself, Team Felton and KC Run GMC for the last spot in the finals.
The 6-foot-7 Jackson turned in a vintage performance and dominated in all aspects while scoring 24 points, grabbing 14 rebounds, dishing out six assists and adding three steals for good measures.
Despite struggling with his jump shot for much of the spring, Jackson was on target Sunday. He hit from deep, he hit from mid-range and then he used his explosive athleticism to finish with emphatic slams. As much as he can do offensively and in the open floor, Jackson is also a leader. He communicates with his teammates and he is a fiery competitor who is every bit as good defensively as he is any other aspect of the game.
The stats verify his versatility. After the UA Association's three league play stops (12 games total), Jackson is No. 2 in scoring, No. 1 in rebounds, No. 4 in total assists, No. 1 in steals and he missed leading the Association in total blocks by just one.
As it stands, Jackson has done enough to retain his status as the top player in the class of 2016. Others, most notably
Harry Giles
, have made the race interesting, but Jackson simply impacts the game in too many ways. Moving forward, Jackson's jump shot and free throw shooting have to be cleaned up. He was just 28 percent from three-point range in UA Association play and only 39 percent from the free throw line. The three-point shooting is a few makes away from being a pretty respectable number but the free throw percentage is concerning.
Team Charlotte impresses
There hasn't been a lot of hype about the Jeff McInnis-coached Team Charlotte squad, but all they do is win games. On Sunday, it finished league play at 9-3 and tied for best record in the Humble division when they beat a very talented Team Thad squad 82-58.
What Team Charlotte might lack in star power and ranked players, they more than make up for with intensity, team play and waves of athleticism.
The youngest player of the bunch, Dotson doesn't yet put up big numbers. However, the six-footer plays with extreme confidence, has quickness and is a more than capable competitor playing up two age levels in the 17U division. Alexander has been up and down with his shooting this spring, but the 6-foot-4 guard probably has the most long-term upside of the group. He can put the ball on the floor, has athleticism and will rebound from the two position, as he showed on Sunday grabbing eight rebounds to go along with his 12 points.
A 5-foot-9 floor general, Scott led his team with 18 points and is a tough customer. He can make three-point shots, pushes tempo and is always active defensively. The son of former NBA player Juwan Howard, Joshua Howard is a tough 6-foot-6 forward who makes plays at the rim, shows some promise with his jump shot and runs the floor, while Hankins is an athletic 6-foot-5 wing who like Howard attacks the rim.






Finally, there has been a lot of excitement about the potential of 6-foot-8 forward
Rayshaun HammondsClick Playing for the Young Legends 16U squad,
Cameron KrutwigClick A member of 2017's top 75, 6-foot-4 wing
L.J. FigueroaClick The real story with Sports U revolves around three very promising 2018 prospects that moved up from the 15U to 17U level over the weekend. Power forward
Nazreon Reid, small forward
Louis King and
Jahvon Quinerly all show great promise. The most well known of the group, Reid is 6-foot-8 and already built like a player who is a few years older than a kid finishing his freshman year of high school. He is athletic in the open floor, will rebound and shows some promise as a mid-range shooter. A smooth 6-foot-6 swingman, King lacks the strength and experience to do much playing up two levels, but his upside is immense. He has a good looking shooting stroke, is very fluid and recently picked up a scholarship offer from
Syracuse. Quinerly is a six-footer with some quickness who likes to probe the lane and was very judicious with his decision making playing up.Here to view this Link. looked good for Team Breakdown's 16U squad. A good ball-handler and athlete, Figueroa likes to probe defenses before attacking the rim or pulling up for a jumper. The Oldsmar (Fla.) Christian product has a good frame to build on. Shot selection and sharing the ball are areas of focus down the road for Figueroa and Breakdown if Sunday was any indication. It pretty much seemed that whichever Breakdown player crossed half court dribbling was going to be the one to shoot the ball and as a team they only had four assists to go along with 16 turnovers.Here to view this Link. was a load to handle around the rim and played strong. Unfortunately, his 20 points and 14 rebounds weren't quite enough to get it done against Team Breakdown. A 6-foot-8 center, Krutwig isn't particularly bouncy or quick, but he's thick, has terrific hands and is a skilled player with his back to the basket. He averaged right in the neighborhood of 15 points and 10 rebounds during league play and should pick up interest during the July evaluation period.Here
to view this Link. of the ATL Express on the 16U level. Long and bouncy, Hammonds looks and moves like a high-major power forward when he's on the floor. On the production side, he's still a bit hit-or-miss. When he's attacking the rim and crashing the glass, he's at his best. Sometimes, though, he can turn the motor off a little bit and he's prone to some silly fouls. Long term, his outlook is very good and he's a likely addition to the next set of 2017 rankings.