UA Invitational: Purifoy comes through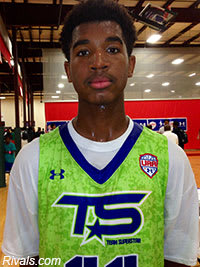 THE WOODLANDS, Tex. -- By the time Saturday's action at the Under Armour Invitational had come to a close, only eight teams were left standing in the 17U division. One of them is the ATL Xpress and they can thank Danjel Purifoy for helping to get them there.
Purifoy lifts Xpress
The ATL Xpress were in big trouble during the first round of bracket play. A tough Philly Pride team had turned the game into a slow-paced, physical and grinding affair. Deep into the game, the Philly crew was simply out toughing the Xpress, at least until
Danjel Purifoy
decided that he wasn't going to let his team lose.
The 6-foot-6 forward from Alabama who currently ranks No. 65 in the class of 2015 answered the challenge in a big way. He didn't score a ton of points in the low-scoring affair, but Purifoy used his toughness, athleticism and high-running motor to make game-changing plays. He grabbed rebounds, put pressure on the defense by driving to the hoop and then he hit key free throws down the stretch as the Xpress completed a big comeback.
Later in the evening, Purifoy added the big offensive numbers to move the Xpress into Sunday's quarterfinal action by taking out Grassroots Indiana.
"We should have come out with a tough mentality early," Purifoy said. "I got the mentality that we needed to be tougher and just played. I like it physical like that."
Solid addition
During live period events that college coaches can scout, rules say all players on a summer team must be from either the state the team is based out of or a bordering state. Because of that, Missoula (Mont.) Hellgate's
Tres Tinkle
is unable to play with Los Angeles-based Earl Watson Elite. The Under Armour Invitational isn't open to Division 1 coaches, though, so the 6-foot-6 small forward who ranks No. 124 in the class of 2015 is moonlighting with EWE.
Based on what he did on Saturday, that ranking probably needs to go up a little bit. A tough and sound player, Tinkle changes the complexion of the game when he is on the floor. A good athlete and fierce competitor, he is one of those guys who always seems to grab key rebounds, hit a shot when needed and he doesn't need any extra encouragement to get physical with opponents. The son of Montana head coach Wayne Tinkle, he is just a fun and productive player to watch.
Not surprisingly, Tinkle's father would love to sign him, but there is no pressure to do so. The elder Tinkle is also in the mix for the
Oregon State
job (a team that had been recruiting Tres), so that could be an interesting opportunity. Tinkle's older sisters have played at Gonzaga and
Stanford
and both The Cardinal and Bulldogs are involved. Offers have come in from
USC
,
Utah
and
Boston College
while others like
California
,
Arizona State
, Harvard,
Boise State
,
Notre Dame
and
Creighton
have been steadily upping their interest level.
Sanders thinking fall
A four-star point guard from Kathleen (Fla.),
Corey Sanders
has always been one of the most entertaining players in the class of 2015. A true skywalker who can break defenders down off the dribble, Sanders ability to play at and above the rim for a 6-foot-1 player is uncanny. Still, at that size it is awfully tough to make a living trying to play above the rim at all times.
To his credit, Sanders has sensed that and has done an excellent job of rounding out his game. During a win over the Carolina Wolves in bracket play, Sanders was in total control of the game. He pushed the pace when it needed to be pushed, got to the rim when he needed to get to the rim, played defense and hit some shots when defenders backed off.
Of course, Sanders showed he has the juice in the open floor and he still had plenty of acrobatic finishes, but the balanced and efficient floor game was something that the No. 89 -- and rising -- player in 2015 can build upon down the road.
"We are always looking for somebody to pick the team up and as the point guard that has to be me," Sanders said. "I'm starting with my defense and then doing what I can do with the ball in my hands.
"They all tell me that they will give me some freedom and play in the open floor," Sanders said. "I'm watching a lot of college basketball to see how they really play."










Click
Here
to view this Link.
[rl]