UA: Fultz sparkles in New York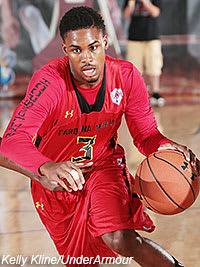 ARDSLEY, N.Y. -- Just like Nike and Adidas, Under Armour has
its own league of elite grassroots basketball programs that play together in
the Under Armour Association. For Memorial Day weekend, all of UA's programs
have assembled just outside of New York City at the House of Sports. On opening
Fultz court press
In his first year of varsity ball at Hyattsville (Md.) DeMatha he earned player
of the year honors in the WCAC, arguably the toughest high school conference in America. Friday night, the No. 24 player in the class of 2016 showed
that his winter play was no flash in the pan as he turned in a sparkling 20-point performance to lead the DC Blue Devils to an overtime win over We R1.
Standing 6-foot-4, Fultz has a complete game. He created one shot after another
with his ball handling. His bread and butter is his mid-range game but he is
plenty athletic to finish around the rim and he is showing that he can perhaps
play some point guard for stretches.
Fultz has spent the winter and
Last weekend, Fultz had the opportunity to check out Louisville and
Wildcats have
positioned themselves well if they do.
"When I get that Kentucky offer they're going to be high on my list," Fultz
said. "I really like Kentucky along with a lot of other top schools like
Louisville and Ohio State."
Two weekends from now, Fultz will take his first official visit when he heads to
good position but for now Fultz says he's planning on using all five visits.
"I'm taking my time because this is the only decision I have in my life for
college," said Fultz. "I'm definitely going to take my time and take all five
officials."
Hunter becoming hunted
impressed by logging 20 points, four rebounds and
three assists in a win over the New York Jayhawks. A 6-foot-7 forward from Wynewood (Pa.) Friends Central, Hunter has become a hot target.
Hunter could be listed as either a small forward or a power forward based on his
ability to play inside or out, but it is his toughness that stands out. Hunter
played all out on both ends of the floor Friday night, was vocal and looked more
than willing to set screens, take charges, dive for loose balls and do all of
the little things that help win ballgames.
"I feel like I'm playing well," Hunter said. "I'm helping my team win and that's
what I care about. I'll do anything for my team."
College programs have certainly noticed his willingness to scrap. They also like
that he can hit jumpers, drive either right or left and that he has a basketball
body that will easily carry muscle once he hits a college weight room. Hunter
Hunter says that most programs tell him he's simply a guy that they want to get
on the floor and don't really target him as a small or power forward. That's
just fine with him.
"I don't think I have a defined position," he said. "I just go out there
and do what I do and try to make plays. I can score, I rebound and I'll play
anywhere on the floor."
More Friday notes and news

Because of an ankle injury,



the team go. Childress was very good down the stretch getting into the lane to make plays for others and in hitting the most important shot of the game. With just six seconds to go in regulation, he crossed over a defender and hit a
difficult pull-up three to send the game to overtime after his team had coughed up a huge second half lead.

When the 2016 Rivals150 gets updated in June, a spot awaits




his eight points and three rebounds would suggest.

Keep an eye out for