UA Finals: Sleepers emerging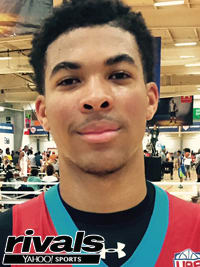 Association Finals, Rivals.com went prospecting on Friday. The hunt was on for
off-the-radar players, underclassmen or good players who haven't yet had much
players who put themselves on the map.
upside
Given that he's already ranked No. 47 in the class of 2017, 6-foot-10 big man
sleeper. However, the product of Ft. Wayne (Ind.) Snider doesn't yet have much
national notoriety and he isn't really all that well known outside of his
basketball crazy home state.
Given his fluidity, ability to run the floor and his overall skill level and
touch, that could change in the near future.
A rail-thin frontcourt player who can play as either a center or a stretch four
man, Williams has some impressive tools to work with.
On the defensive end he moves his feet well, uses his length to contest and
block shots and he does so without committing too many silly fouls. He isn't
age, but he has a very similar build and game on that end to what WCS had.
Offensively, Williams has some similarities to a player from his own state. His
ability to hit jumpers, put the ball on the floor and make alert passes reminds
Let's make it very clear that we are not predicting that Williams ends up making
it to the NBA like those guys did. But, he has a lot to like with his game and
Williams has versatility but is primarily concerned about being a team player.
"I think my strength is that I like to play as a team player," Williams told
Rivals.com. "Whatever they need me to do, I want to do that."
Ottey comes up big
The main man for Canada Elite's run into the 17U Championship game of the UAA
continued a ridiculous summer run in Suwanee. However, he didn't get his team to
in Canada Elite's knockdown, drag-out semifinal win over a talented MWA Elite
squad.
An extremely athletic rising senior, the 6-foot-1 Ottey has attended Newark
(N.J.) St. Benedict but said that he will most likely be on the move for his
senior year. That will take care of itself down the road, but on Friday he was
taking care of business.
Ottey played with tremendous energy, attacked the rim, defended and played an
extremely physical brand of basketball that was easy to appreciate.
To date, Ottey holds one offer from New Mexico State but mentioned
For now, though, Ottey couldn't care less about his recruiting. He's focused on
winning a title on Saturday.
"We have the chance to do something that's never been done," said Ottey. "We
have a chance to win the UAA title and bring it home to Canada."
Can't stop the Reign
One team that we really wanted to see in Suwanee was the River City Reign and
the Virginia-based squad didn't disappoint. They have size, athleticism and many
interchangeable parts and one seriously hard working and tough power forward in
Matthews is very good around the rim, scores with good footwork and rebounds his
position well. While he was good, the player that really caught our attention
A tough competitor who won a state title at Richmond (Va.) George Wythe, White
is one of those guys that is a little bit off the radar but lives for the
challenge. He can shoot it a bit from deep, attacks off the dribble, is a sneaky
athlete and is 100 percent competitor on the floor.
White gets after it on both ends and the college coaches have certainly taken
are also looking.
risers

Team Charlotte
will be meeting Canada Elite in the 17U Finals after an intense 60-57 overtime
finishes. He plays hard, will rebound some and has toughness. Also coming up
Alexander slid into the 2017 Rivals150 at No. 100 and is a guy who has the
ability to be ranked much higher. Friday night he was hitting big shots, engaged
on both ends of the floor and looked much more like the kid who stormed onto the
scene last summer than the player who has been inconsistent for the past six
months.
doesn't have ideal size but he sure plays with a lot of heart and lives to make
the big play. At 5-foot-9 and about 150 pounds, he won't back down from anybody
and hits tough shots, makes alert passes and turns up the defense when it
matters most. Even if his team took a heartbreaking loss -- a three-pointer from
buzzer -- his late game guts are going to win some coach a lot of ballgames on
the next level.

A thin shooting
Manimal can fill it up. He hits deep shots, is pretty good off the dribble and
changes speeds well. Faulkner averaged right around 30 points a game as a junior
Samford, Southeast Missouri, Tennessee Tech, South Alabama and more.

During the UAA
up the 16U age group as one of the leading scorers. On Friday, Jackson did the
same in the 16U open division. A high-end athlete, Jackson attacks the rim
aggressively and he showed that he can also knock down the three ball. He is a
very good rebounder for a guard and competes on both ends. The three-star

The West
Virginia Wildcats have a pair of three-star prospects that have made commitments
though. The six-footer looks like exactly the type of under the radar, hard
lot of success with. In addition to his quickness and toughness, Knapper looks
like a good jump shooter and he was feeling it from deep on Friday. He could be
one that needs to be in the discussion for the Rivals150.

A 6-foot-7ish
one to monitor closely down the road. He can shoot with some range, shows fight
around the basket and does a nice job on the glass on both ends. He can handle a
bit, but whether he's a bit defending the four or the three will go a long way
towards determining where he best fits from a position standpoint in college.

Standing
finishing ability around the rim thanks to his ability to hold position, long
arms and bounce. But, he also showed some touch to between 10-12 feet. What
makes him really intriguing is that he is a decorated track athlete. As a
junior, he was the Texas 2A champion in the long jump and finished third in the
triple jump. Not often you see a guy his size finding that kind of success in
those events.

Thanks to a
number of well run exposure events and independent scouting services and a very
good talent base relative to population, the state of North Carolina is one of
If what the 2017 prospect showed with the Squires Richmond 16U team in Suwanee
is an indication of what to expect, attention is coming his way. Miles has a
great build, good athleticism and shooting ability to beyond the three point
line. He's a bit raw, but he has talent to warrant attention during this and the
next live period recruiting cycle. We would like to see more of him down the
road, but Miles looked like a very nice find.

Class of 2017
6-foot-6 he is a well built wing prospect who looks like he could play college
basketball right now. His handle is okay, he has a good first step and he looks
like a guy that will develop into a very good at the rim finisher. He's
certainly one to keep tracking and should factor into the next 2017 rankings.

Finally, maybe
the most intriguing team we saw all day was Team Rio in the 15U division. Made
up completely of class of 2019 prospects, they feature size, athleticism and
talent up and down their lineup. On Friday, two prospects in particular stood
who skies for alley-oops, grabs contested rebounds in traffic and really runs
the floor. His jump shot looks good and he backed up what is already a pretty
considerable reputation given his young age. The son of former NBA point guard
Greg Anthony, Anthony is a very polished and savvy young point guard. He can hit
jumpers, passes the ball very well and is outstanding in transition where he
pushes the tempo and already possesses an impressive ability to advance the ball
up the floor quickly via pinpoint, long distance chest passes. Three others on
the talented team that really caught our interest were athletic small forward