UA Camp: What weve learned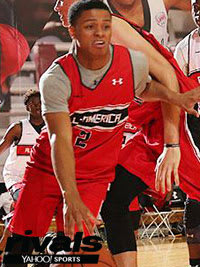 CHARLOTTE -- There's only one day left at the first ever Under Armour All-America Camp Powered by Rivals.com. However, the Rivals team has been in attendance since Tuesday and we have learned an awful lot about the players at camp.
Maker adjusts game, reaches new level
It was about this time a year ago that
Thon Maker
turned his game up a notch and emerged from the summer as the top ranked player in the class of 2016.
Then, the seven-footer had a mediocre -- in comparison to what he had shown in the past -- high school season at Orangeville Prep in Canada. The five-star prospect also announced that he would move to the class of 2015 and try to arrive at college a little early. The result was a minor slide in the rankings.
A few weeks ago, he moved back to the class of 2016 and since that move, he has flourished. Maker may have been distracted about his school standing. He also started to move away from his strength as an energy player who ran the floor and played abouve the rim.
Whatever it was, Maker seems to have figured it all out.
Building off of a strong run at the recent NBPA Top 100 Camp, Maker has been the biggest star and most pleasant surprise of the week. He has played with endless energy, been unstoppable around the rim and been a force rebounding the ball.
After scoring 39 points and grabbing 38 rebounds in his first two camp games, Maker added another 23 and nine in his Thursday night game. But, he only played during the second half.
Once again, Maker looks like a dominant force in the class of 2016 and while
Arizona State
and
Indiana
have been the most constant in his recruitment the past few months -- and they continue to put in work -- things are bound to get interesting again because he's playing too well to not make every top program in the country take another long look at his situation.
Fultz possibly underrated
If you think about it, it's pretty tough to look at a player who is ranked in the top 25 in his class and regarded as a five-star prospect as underrated. However, that just might be the case with 6-foot-4 shooting guard
Markelle Fultz
of Hyattsville (Md.) DeMatha.
After a rough shooting night in his first camp game on Wednesday, the smooth two guard has been a dominant force on the offensive end. He finished Thursday with a 35-point effort where he did anything and everything he wanted.
What Fultz does as well, or maybe even better than anybody in the class of 2016, is create off the dribble and he has a truly dynamic mid-range scoring package. He's skilled, plays hard and looks better each time out.
If he continues to play at anywhere near the level he has in camp for the rest of July, it will be pretty much impossible to find 22 players in the class to rank higher than him like their currently are. Fultz added offers from
Kentucky
and
California
on Thursday and is as sought after as any shooting guard in the country.
Duval solidifies status
In the most recent update to the class of 2017 rankings, 6-foot-3 point guard
Trevon Duval
moved to No. 5 overall and the top of the point guard heap. He's done nothing but back up that move.
After a 30-point, seven-rebound and six-assist effort on Thursday night, Duval has pretty clearly established himself as the top point guard in camp and his class.
Duval is a long way from graduating high school and the other point guards in his class will surely come after him, but they have their work cut out for them if they hope to unseat him. He can get to the rim at will, has a feel for delivering the ball in traffic and has an electric first step. Duval does need to cut down on the turnovers and be a little more consistent shooter from deep, but he is a legitimately big-time prospect.
Cowan likes a challenge
Over the past couple of days, Rivals.com has picked up that
Maryland
bound point guard
Anthony Cowan
feels that he's ranked a bit too low at No. 58 in the class of 2016.
Rather than complain about being hated on, Cowan has simply made his case on the floor. Outside of Duval, there hasn't been a better point guard in camp.
Cowan just missed on a triple-double Thursday night with 30 points, 11 assists and nine rebounds. Whether he stays at No. 58 or moves up some after the summer, Cowan has risen to the challenge of letting his game do the talking and his future head coach
Mark Turgeon
has to be beyond thrilled to have locked him up pretty early in the recruiting cycle.