UA Camp: Wednesday morning notes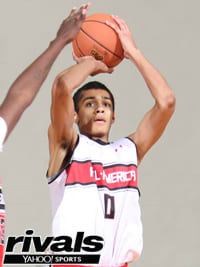 Camp Powered by Rivals.com are set to open up to coaches at 5 p.m.
on Wednesday night. During the morning campers spent time practicing,
scrimmaging and going through competitive game situations. Judging by the way
be a great one.
If his play during Wednesday morning's scrimmage session is any kind of
the seven-footer looks primed for an outstanding week.
The product of Orangeville Prep in Canada was active and highly effective on
both ends of the floor as he controlled action.
As a defender, Maker swatted shots around the rim, burst through passing lanes
to make steals and was effective as a rebounder. Offensively, Maker was a
scoring machine around the rim, hit some medium range jumpers and showed that he
can be an outstanding passer from either the high or low post.
It wasn't like Maker was matched up against average players, either. Many times
was playing very well himself. For the morning, though, nobody did more damage
or looked better than Maker.
During the morning session some of camps youngest players were making plenty of
noise. Two class of 2018 players that stood out in particular were 6-foot-6 wing
A product of Roselle (N.J.) Catholic, King is a smooth wing player with
outstanding size for a rising sophomore. He really likes to hit mid range
jumpers, has enough strength to compete on the glass and he is adept at
identifying driving lanes and then getting to the rim with one or two quick
dribbles.
Rivals.com's first camp look at Moore left a strong impression. A thin and quick
wing player from Macon (Ga.) Westside, Moore handles the ball very well for a
young wing. Though he got bumped around by some of the older players, Moore was
able to take some contact and still get into the lane for finishes. He dropped
in a few pretty floaters, showed good mechanics on his jump shot and looked like
a guy who should develop into a high end defender.
We'll see lots more of each King and Moore this week, but early returns have
them backing up their lofty pre-camp reputations.

This week will
pounder from Illinois, he's tough to move around in the post and doesn't mind
dishing out some physicality. He's not yet earned his first scholarship offer

A teammate of
wing who has a nose for chasing down loose balls on both ends of the floor and
his mid range jumper looked good. He lists offers from Nebraska, UIC and

Class of 2017
his offense. The four-star was aggressive going to the rim and he hunted jumpers
without shot jacking. He's slightly undersized as a two so it will help him long
term if he can play as a combo guard but he appears to have the goods as a
scorer from the wing.

In the 16U
wing at camp and looked good handling the ball, passing and making some jumpers.
Alexander tied for the second highest max vertical leap in camp by testing out
at 38.5 inches.

Class of 2017
he looked comfortable on Wednesday morning. His jumper is as pure as they come
and the 6-foot-3 shooting guard from Torrance (Calif.) Bishop Montgomery looks
like he has the feel and ability to back up his status as a top 50 prospect.
open in the process. Along with the Beavers he mentioned programs like
schools feeling him out.

Class of 2016
the five-star Preston was the more physical of the two, Killeya-Jones showed a
high skill level and hit one of the best shots of the day when he spun to his
left shoulder on the baseline and hit a Dirk Nowitzki-style fadeaway jumper in
Preston's face from 15 feet.