UA Camp: Tshimangas hands-off approach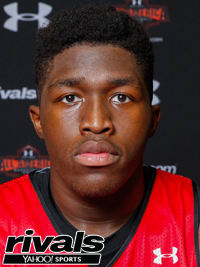 recruiting trail.
The thing is, Tshimanga himself has hardly spoken to any of the coaches at those
schools.
The three-star power forward who plays his prep ball at Springfield (Mass.)
Macduffie School is one of many high-major hoops prospects who has put his
recruitment in somebody else's hands.
In Tshimanga's case, he lets his brother Yannick handle his recruitment for him.
The 6-foot-10, 230-pound power forward only worries about the hardwood.
"All the phone calls that come in, he's the one that takes care of it,"
Tshimanga said. "All he tells me is, 'Worry about on the court. Just work out
and everything will pay off.' So I just listen to him since he's my big
brother."
If college coaches want to recruit Tshimanga, he said they'll call his older
brother. His older brother will listen to the pitches, sift through the ones
that sound promising for his power forward little brother, and he'll pick the
ones Tshimanga should ultimately choose from.
"When it comes to the final decision, we'll look at it together," Tshimanga
said. "I'm consulting him because I trust him. He's trying to put me in the best
place where I would be. So I believe he's looking at the right fit for me. So I
put my trust in him and I let it work out like that."
After July is when Tshimanga said the two brothers will really get serious about
a final list. They'll see who calls the most, who shows up the most at their
games, and then they'll sit down and pick a group of finalists.
After that, though, the low-post player said a final decision may not come until
the late signing period next year.
"He'll give me a list from where to pick from, and I'll narrow down my five and
then from there we'll pick and decide," Tshimanga said. "For me, it works out
pretty well. I'm happy where I am. It works out pretty well.