UA All-America: Ten matchups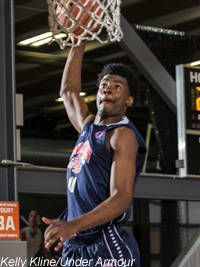 CHARLOTTE, N.C. -- When the Under Armour
All-America Camp Powered by Rivals.com opens up to college coaches and the general
public on Wednesday night, there will be several high profile matchups. These
are the 10 Rivals.com will be watching most closely throughout camp.
any wasted time as the opening session of camp features a head-to-head matchup
between two of the nation's premier big men as 2017's No. 1 player Ayton squares
off with 2016's former No. 1 player Maker. The 7-footers are both mobile and can
shoot jumpers and it should be the showcase big man matchup of camp.
another big-time Wednesday night tilt, these two five-star shooting guards will
be looking to further cement their reps. The No. 23 player in the class of 2016,
Fultz plays a game based on skill and dictating tempo. No. 19 in 2017, Diallo is
a more explosive and slashing style wing. Which style will prevail?
he's still a five-star prospect, 2017's Felton slipped a little in the latest
commit will get a nice test on Wednesday night when he matches up with one of
the Pacific Northwest's best players. The No. 75 player in 2016, McLaughlin
doesn't play many high profile circuit events and having recently opened up his
he'll be looking to prove he belongs.
Ferguson and Jackson will be taking the floor after representing their
respective countries in FIBA's 19U World Championships in Greece. The No. 11
player in 2016, Ferguson was showing off his pure jumper and deep range for the
and just finished playing for Canada. While Ferguson is a glider who likes to
play above the rim in transition and bury deep jumpers, Jackson is a more
physical, in your face driving type of wing who attacks the glass.
much of the spring, Ballock has been bothered by injury. The No. 32 player in
2017 will be tested immediately as he returns from a broken right hand. He'll
get a test against McGusty. One of the class of 2016's fastest rising players,
McGusty is in constant motion on offense and, after leading the Under Armour
Association in scoring, he'll be looking to show that his climb to No. 36 in
2016 is no fluke.
morning starts off with a huge contest between two of the most talented players
in camp. Jackson is the top player overall in 2016 and has big time athleticism
and quickness. The No. 6 player in 2017, Preston is bigger and stronger than
Jackson. Two big-time talents with opposing styles will be fun to watch.
morning matchup will be a chance for Alexander and Floyd to build their
reputations in 2017. Alexander already ranks No. 64 in his class but there are
some questions as to whether he is a true wing or a slightly undersized four
man. Meanwhile, Floyd is a thin wing from Las Vegas who has racked up around 20
scholarship offers this spring but he's not been seen much outside of Sin City.
Alexander is a beastly athlete while Floyd is more of a glider.
- A five-star from Miami who ranks No. 22 in the class of 2016, Huell is a
blue-collar guy in the post with great hands who does the majority of his damage
on the interior. No. 51 in 2016, Killeya-Jones is a more perimeter oriented big
man who also has great hands and a knack for rebounding.
Thursday night matchup Rivals is looking forward to is that between Woods and
will give up size but he's a dynamic athlete and one of 2016's best defenders. A
6-foot-5 two guard with a high skill level, Cunliffe could shoot up much higher
than his current No. 77 ranking if he shows he can be consistent against big
time perimeter defenders.
most exciting, and likely intense, head-to-head matchups will be saved for last.
On Friday morning, 2017's top point guard Duval will play a guy in Scruggs who
can match his physical style. The No. 5 overall player in the rising junior
class, Duval is just as skilled as he is physical while Scruggs is a beast of an
athlete with great size and a well earned No. 29 overall ranking.