UA All-AMERICA: Interest grows for Anderson
CHARLOTTE -- Five-star Trevon Duvall and four-star Josh Anderson were among the standouts on the second day of the Under Armour All-America Camp, where college coaches once again flooded the campus of Queens University.

Maybe he just needed a little time to wake up playing in the first game of the day. Maybe it was something else, but once 2017's No. 41 player Josh Anderson kicked it into overdrive on Thursday morning he showed why he's climbed up the rankings.
Almost all of his 11 points, eight rebounds and three assists came during a second half flurry and they came in impressive fashion. The deluxe athlete drove the length of the floor to get to the rim, he navigated the pick-and-roll and he showed that he can perhaps initiate some offense on the next level.
Texas A&M, Baylor, Florida, LSU and N.C. State are among those who have long been involved with offers and they all watched him in Charlotte. Anderson also listed new offers and interest from Arkansas, Auburn and Texas and reiterated that he's in no rush to cut his list. He also said coaches have thrown out the idea of him playing some point guard.
"I've been doing well this spring and summer and I've really been working on my defense," said Anderson. "Coaches are pitching that I can be a combo guard who can maybe develop into a point guard."

HUBB RECAPS RECRUITMENT
In this week's 2018 rankings update, 6-foot-2 point guard Prentiss Hubb was one of the bigger movers, rising all the way to No. 32 overall. He backed up the rise and proved that his future is most certainly as a point guard during a well-balanced 11-point, five-rebound and four-assist effort.
In high school, Hubb often plays off the ball because he teams with Miami-bound 2017 four-star Chris Lykes, but in the spring and summer he's proven to be a good decision-maker, creator for others and a point who can score if needed. No wonder he already has offers from Xavier, N.C. State, Cincinnati, George Mason, Maryland, Georgetown, Penn State, Virginia, Wake Forest, USC, Marquette and Baylor.
"I just came here to improve my game and learn from the great coaches here," said Hubb. "Being with great players, competing and showing coaches that I have the skill to play the point is big. It's important to me to show them what I can do."

BALLOCK GOES OFF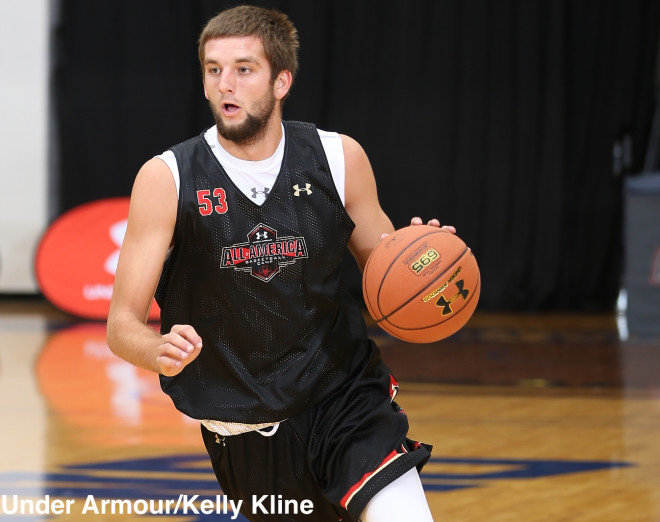 For much of the last year and a half or so, 2017's No. 48 ranked player Mitchell Ballock has battled one nagging injury after another. At the UA All-America Camp, the 6-foot-5 shooting guard who has committed to Creighton looked fully healthy and it showed during an impressive 24-point and seven-rebound Thursday morning display.
One of the most skilled players in camp, Ballock showed off deft touch and range on his jumper. More importantly, he showed some bounce in his step and live legs on athletic drives to the rim. Ballock is a player who made his name early as a driving playmaker and then turned into a bit more of a jump shooter, a re-emergence as a threat off the dribble is a big development.

MORE UA ALL-AMERICA TOP PERFORMERS
Ranked No. 5 overall in the class of 2017, Trevon Duval is the top point guard in the rising senior class and the top prospect at UA Camp. He showed why on Thursday during a typically impressive 21-point, five-rebound and two-assist outing that featured several explosive drives to the rim. His jumper is always the question mark, but he looked good in a few catch-and-shoot opportunities with defenders on their heels worrying about his driving. Duval hasn't been one to give many details on his recruitment and won't produce a cut list until the end of the summer, but it was noticeable that Arizona, Baylor and Maryland made sure their head coaches saw him the first few days.

Squarely in the mix as one of the top three players in camp is five-star small forward Kris Wilkes. After a solid start Wednesday, the No. 17 ranked player in the class of 2017 had a huge game to start things off Thursday. In a highly efficient outing, Wilkes went for 26 points, five rebounds and a pair of assists. He remains open, but Indiana, Maryland, Ohio State, Xavier and UCLA look like they could be making a push.
Five-star shooting guard M.J. Walker got it rolling from deep on Thursday morning during a 15 point effort. He picked up an offer from Kansas for his play at camp. Talk around camp was that Maryland and Ohio State are two that have positioned themselves well with the sturdy shooter from Atlanta.
You will have to live with some mistakes as he irons out some wrinkles in his game, but Elijah Weaver showed off his high-major talent in a 15-point, five-rebound and four-assist effort. He's a big and athletic point guard who can play all around the perimeter and when he plays like did Thursday, it is easy to see why he ranks No. 21 overall in the class of 2018.
In this week's updated 2018 rankings, power forward Nate Roberts just missed the cut. He's almost a lock to be included when they get updated again after the month of July. The 6-foot-9 four man is very thin and has some growing to do with his game, but he can run, he has touch and looked very good for the two days we watched at camp. He finished things up with 16 points and nine rebounds Thursday morning. Towson, Cincinnati and UMass have offered early but more are coming for the Baltimore product.
Finally, it's hard to wrap up our UA All-America coverage without mentioning two players we mentioned Wednesday -- Virginia Tech-bound shooting guard Nickeil Alexander-Walker and 2019 wing Scottie Lewis. Alexander-Walker continued his scoring assault, shot making and off the dribble prowess in a 25-point morning session. A lock for early five-star status in 2019, Lewis looked like one of the four best players we saw at camp (along with Alexander-Walker, Wilkes and Duval). His freakish athleticism (see the 360 throwdown in the video below) gets the attention but he can really make plays for others in transition, has a chance as a jump shooter and is a potential star on the defensive end.