UA ALL-AMERICA: Dotson takes over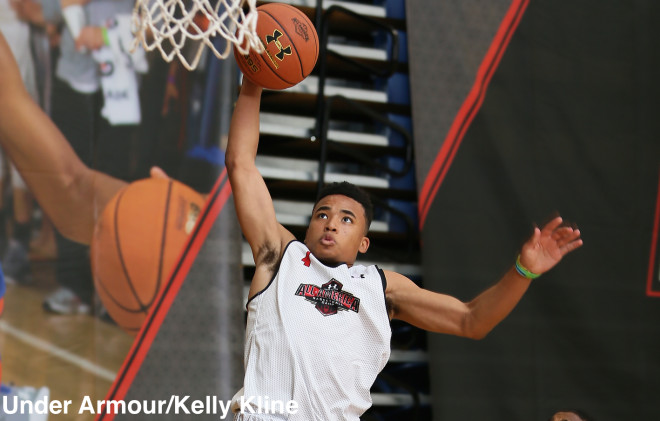 CHARLOTTE – Point guard Devon Dotson put on a show for the hundreds of college coaches in attendance at the Under Armour All-America camp Wednesday. A top 50 player in the class of 2018, Dotson was a standout as the first of July's three live evaluation periods kicked off.
DOTSON BRINGS THE ENERGY
With hundreds of college coaches lining the sidelines for opening night of the Under Armour All-America Camp, finding energy to play shouldn't have been an issue. After a somewhat sluggish first round of games, though, 2018's No. 49 ranked player Devon Dotson injected some needed juice into the gym at Queens University.
Playing in his hometown, the 6-foot-1 point guard brought energy, toughness and most importantly solid all-around play during an impressive first night outing.
With head coaches from Florida, Clemson and Tennessee in the house to see him play along with assistants from North Carolina, Wake Forest, N.C. State and many others, Dotson did everything one could ask a point guard to do. He drove the lane and found teammates for easy baskets, knocked down open looks from three and played spirited defense while showing off the toughness that he's become known for.
All of the above programs have offered him scholarships and he recently added USC and Providence to the list.
WILSON LOOKING TO MAKE USE OF PREP YEAR
Currently ranked No. 132 in the class of 2017 Rivals150, 6-foot-7 small forward Sidney Wilson has decided to transfer from his home in New York City to Wolfeboro (N.H.) Brewster Academy and take a prep school year, which moves him to the class of 2018. Because of the recent move, we haven't yet moved Wilson to 2018, but when he gets moved, he's likely to appear in the rankings for that class after the summer.

A slender wing with athletic punch, Wilson finished above the rim on quick drives and showed off a jump shot that looks to be much improved during a 17-point opening night effort.
Wilson listed offers from Indiana, USF, Providence, Oklahoma State, Minnesota, Rhode Island, Santa Clara and Iona and most of those programs had coaches in the gym to watch Wednesday. With more play like he had on opening night, that list of offers will only grow and he's looking to make use of the prep school year to develop his game.
"Really, I made the move to develop my game," said Wilson. "I felt that I needed to work on my consistency and getting stronger to be more prepared for when I make the move to the college game. I made the move to 2018 to have more time to develop my game."
EMBERY PICKING UP INTEREST
Ranked No. 100 overall in the class of 2018, Keyshawn Embery surely would have liked to finish better at the rim in front of the assembled coaches. Though some shots fell off the rim, the 6-foot-2 combo guard demonstrated the ability to get into the lane and to the rim pretty much whenever he wanted to.
A tough and aggressive player, Embery listed offers from Tulsa, Oklahoma State and Kansas State to go along with interest from Creighton, Memphis, Arkansas and Oklahoma.
"Most of the time I play point guard but I can play the shooting guard as well," said Embery. "I'm a scorer and coaches tell me that they see me fitting in as a combo guard."
MORE UNDER ARMOUR OPENING NIGHT NOTES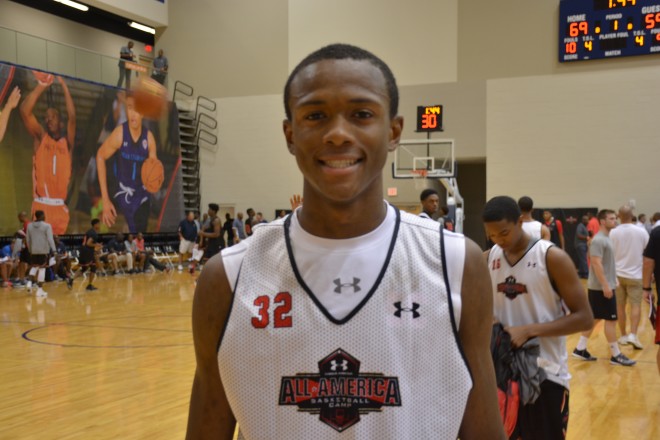 The stat line of eight points, two rebounds and three assists put up by high-flying 2019 wing Scottie Lewis wasn't out of this world. But anybody with a pair of eyes can see his huge upside and for many stretches he looked like the best prospect on the floor during his opening game. Known as an athlete, his playmaking in the open floor and defensive potential has been undersold. He's an elite prospect in every sense and already holds offers from Maryland's Mark Turgeon, Notre Dame's Mike Brey and Seton Hall's Kevin Willard, all of whom caught looks Wednesday. Villanova, VCU, Temple, Florida, St. John's and Rutgers have offered as well.
Buzz Williams and Virginia Tech are surely tickled to have 2017's No. 52 player Nickeil Alexander-Walker all locked up. The 6-foot-5 guard can handle, he can pass and he can definitely strip the nets from deep. He was one of the top performers,playing a balanced game scoring 19 points, grabbing three rebounds and dishing out a pair of assists.
With an assistant coach from his future school, North Carolina, looking on, combo guard Jalek Felton was outstanding. There was no coasting or going through the motions and the 6-foot-3 guard was in full on attack mode. We aren't calling him Kyrie Irving, but there's some similarities in how he uses flashy ball handling and changes of direction to get things done off the dribble. Ranked No. 27 overall in 2017, he was good for 23 points and five assists while living in the lane.
College coaches surely liked what they saw from three-star wing Anthony Polite on Wednesday. The solidly built 2017 prospect from Florida was active on the glass, ran the floor and hit open jumpers to rack up 16 points and seven rebounds. Florida State has offered and had an assistant tracking him closely. TCU recently offered and so have Pittsburgh (Kevin Stallings watched), Texas A&M, Memphis, Miami, Virginia Tech, Boston College and others. All of those programs were in the building.
Four-star 2017 forward Ira Lee brought big-time energy. He hit some jumpers, pounded the glass and had high marks for a recent unofficial visit to Arizona. He said that he's planning to see Texas and California after the summer. … Class of 2018 four-star point guard Prentiss Hubb did a great job distributing the ball, leading the camp with seven opening night assists. Ranked No. 32 overall in his class, he had Virginia's Tony Bennett and Xavier's Chris Mack among others watching and also holds offers from Maryland, Wake Forest, Marquette, Georgetown, USC, Baylor, Cincinnati and many more. …
We will say it again, Myles Cale is a huge steal for Seton Hall. The two guard is tough, scores in a variety of ways and looks like a potential four-year starter for the Pirates. He moved up to No. 70 in 2017 during last week's ranking update but that may not have been high enough. … Class of 2019 faceup four man Keion Brooks is one that didn't look at all out of place. A potential top 25 type in his class, he is a slender four man who has a unique windup on his shot but is a dangerous shooter. … Five-star wing Kris Wilkes drew Ohio State's Thad Matta, Maryland's Turgeon, Notre Dame's Brey and many others. He predicted he would get buckets and went out and did so. Class of 2017 big men Ejike Obinna and Victor Uyaelunmo are both quite raw offensively. However, nobody in the building had better motors, they have toughness and they will fight for rebounds. … Colorado's Tad Boyle and Cal's Cuonzo Martin were both on hand for 2017's No. 60 player D'Shawn Schwartz as he went for 14 points in a very good effort.
Among the programs we saw represented by head coaches were Arizona, California, Virginia, Oklahoma, Maryland, West Virginia, Xavier, Pittsburgh, Ohio State, Loyola (Chicago), Baylor, Clemson, Notre Dame, LSU, Cincinnati, Ole Miss, Florida and Colorado.