U-A Grassroots: Jacksons show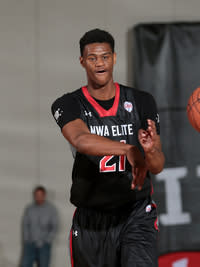 New Orleans-- Friday night marked the start of the first live recruiting period of April for college coaches, and it also marked the start of the 2015 Under Armour Association Grassroots Basketball League. The action didn't disappoint either, but it was the nation's top overall prospect in the class of 2016 making noise after the games were done that will get the most attention.
Jackson adds Auburn to list
Head coach Bruce Pearl and assistant coach Tony Jones, who was in attendance on Friday night, are a big part of Jackson's interest in the Tigers.
"I love Coach Pearl. I love Coach Jones," Jackson said. "From the time when they were at
Tennessee
and they would get the high level talent, they would always be in the top five nationally. I just like what the coaching staff stands for there and I like what they teach. I feel like those are just good guys to be around."
Jones and the other coaches in attendance to see Jackson certainly didn't leave disappointed. The 6-foot-7 small forward pumped in 28 points, reeled in 12 rebounds, and dished out a few assists in a 77-68 come from behind win over Mo Williams Academy.
His versatility was on full display in the win. The Michigan native can be described as a "point forward" with his ability to handle the ball and set up open teammates. What might be the most impressive part of his game is how effective he is on the defensive end of the court. His length makes it hard to get shots off over him. He's active in passing lanes. He'll chase down opponents in transition and block their shot. And, he's a terrific rebounder.
He's simply the total package as a player and very worthy of being the top overall prospect in his class.
Preston proves himself
Despite losing to 1 Nation,
Billy Preston
and his talented teammates on Mo Williams Academy showed they have serious game, too. Preston, a 6-foot-9 forward in the class of 2017, tallied 14 points, seven rebounds and two assists, and had coaches in the gym buzzing about his ability.
Like Jackson, Preston possesses a ton of versatility in his game. At first glance, you would think he should be playing on the block with his back to the basket with his height and length. However, it doesn't take long to realize he too has some "point forward" to his game. There were several occasions on Friday where he handled the ball in transition and made a play at the rim or found a teammate for a basket.
Speaking of his teammates, fellow class of 2017 prospect
P.J. Washington
also had a terrific game for MWA. He went for 17 and nine rebounds and was simply a force around the rim. At 6-foot-8, Washington has a grown man's body and gets off his feet quickly around the rim.
Class of 2017 guard
Victor Bailey
also had moments for MWA. The 6-foot-4 athlete loves to attack the basket and found some crafty ways to finish throughout the night when he got to the rim.
Benson proving he belongs
Illinois Wolves big man
Barret Benson
probably won't ever be the most skilled player on the court during Under Armour Association games this year. He won't be the most athletic player on the court, either. But what he will usually be is one of the more fundamentally sound and highly productive players on a game by game basis.
Officially, Benson was credited with eight points and six rebounds, but it certainly seemed he came down with more than a half-dozen boards. The four-star prospect worked hard in the paint all night on both ends and always seemed to be in the right place and in the right position at the right time. When he catches the ball in the paint, he's got the basic post moves to put points on the board. When he goes up for rebounds, he goes up and rips the ball away with two hands. He's also fully aware of what type of athlete he is and doesn't leave the floor swatting for shots unless he's confident he can get it.

Class of 2017 guard
Quade GreenClick News and notes…Here
to view this Link. of We R 1 did his best to rally the troops for a comeback against New Heights, but fell just short. The 6-foot lead guard is a scrappy on-ball defender and caused several turnovers with his tenacity. His outside shot wasn't falling, but he had some really impressive finishes at the rim and made some really nice passes in transition. He could be the next in a long line of talented point guards to come out Newmann-Goretti High School in Philadelphia.



Josh Jackson stole the show for 1 Nation, but teammate Devon Daniels had himself a terrific night as well. The 6-foot-6 wing went for 25 points, six rebounds and four assists. He connected on all three attempts from three-point range and also had one of the highlights of the night with a dunk in transition.

Click
Here
to view this Link.