Tyrese Maxey headlines All-Committed team from spring action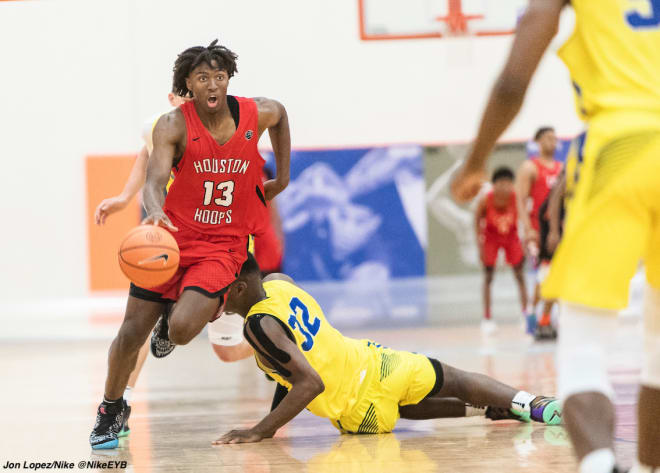 At Rivals.com, we look at the Grassroots basketball system and break it down into three different legs. There is the first leg of the spring and summer where prospects spend most of April and May playing with their summer teams. The second leg is June which has traditionally been a month for individual and team camps. Things finish with the third and probably most important leg, the July live period.
Now that we are into the second leg of the Grassroots season, Rivals.com analysts Eric Bossi, Corey Evans and Dan McDonald have decided to take a look back at the first leg and hand out some awards. To kick things off, we take a look at which of the committed players from the class of 2019 - headlined by our MVC (most valuable commit) Tyrese Maxey - played best and make up our All-Committed team for the spring.
There was some discussion that Maxey could enroll as a 2018 prospect, but that seems to have died down. The five-star guard was sensational throughout the spring. He just made the USA under-18 roster and has put up impressive stats on the Nike EYBL circuit, averaging 21.9 points, 5.1 rebounds, 4.8 assists and 2.7 steals per outing. He could be the future face of John Calipari's Wildcats. – Evans

Andy Enfield made a wise recruiting decision a couple months ago to bring in Eric Mobley as an assistant coach. The result was a high-level commitment from his oldest son Isaiah and younger son Evan Mobley, potentially the top player in 2020, is likely to follow. Isaiah Mobley has been terrific so far this travel season for the Compton Magic. He combines great size and plus athleticism with some skill. He'll fit in well with the way the Trojans play and the direction college basketball is going. – McDonald

Up until a few days before he committed to the Blue Demons, nobody saw Weems to DePaul coming. In Chicago, Weems can be an instant impact guy because of what he does on both ends of the floor. Playing first for Meanstreets and then The Family in Nike's EYBL, Weems has been a tough customer in transition and on the glass. He's been among the best defenders on the Nike circuit and pound for pound, one of the toughest players in the class of 2019. – Bossi
Lon Kruger has coached some really good guards in his long, successful coaching career. He has another really good one coming in next year in the form of Harmon. He's been a key cog in Houston Hoops backcourt and along with the previously mentioned Maxey and excellent Texas A&M commit Chris Harris they likely make up the best backcourt trio in Grassroots basketball. The Texas native has a great feel for how to play point guard. He's very skilled, but he's also off the charts as far as intangibles. He'll be mighty successful in Norman and end his career as a fan favorite having won a lot of games. – McDonald

Multi-positional play is the name of the game for Michigan, especially on the wing and that's a place Wilson could thrive beginning his freshman year. Committing to the Wolverines last week, Wilson has solidified his standing as one of the best wing prospects in his class nationally. The face of the YGC36 program this summer, Wilson has shown the ability to create for himself and others, defend three positions and has filled out nicely into his frame as he now stands at 6-foot-8. – Evans
Kentucky locked up Jeffries early on in the process, and Big Blue Nation will be happy to know that he's playing back up to the level of the early hype that surrounded him. The 6-foot-7 combo forward is a good athlete and has started to develop into a better perimeter shooter than Calipari may have expected when Jeffries committed. His play during the EYBL season with Bluff City, where he's averaging 16 points and 6.9 rebounds per game, has been really impressive of late and he could get much better as he transitions to Lexington and gets introduced to a college weight room.– McDonald
One of the top performers in the Under Armour Association where he's averaged over 18 points and seven rebounds a game for We R1, Dixon is a rugged and skilled big man and a bit of a throwback guy. He's a patient low block scorer who beats defenders with fakes, counters and soft touch and scoring ability with either hand. He's built for contact and a true team player. Ultimately he looks like another in a long line of great fits for Jay Wright and company. – Bossi
A complete toss-up between Morsell and his travel teammate, Villanova-bound guard Justin Moore, the future Virginia guard tipped the scales with his final Nike session last month. Knocking in 12 of his 19 shots from 3-point range, Morsell displays winning traits each time that he hits the floor. The fact that he was more than willing to accept a bench role in order for his Team Takeover squad, who is undefeated this spring, reflects just how under-appreciated Morsell is, of which makes him an easy call for this team. – Evans
Wheeler committed to the Aggies prior to his sophomore season in high school and has proven to be a very nice pickup. Playing in the Adidas Gauntlet for Houston-based Basketball University, Wheeler has emerged as one of the best passers in the class of 2019. A sub six footer, Wheeler has a ton of confidence, has been one of the best communicators and is a defensive pest. – Bossi

Don't let his baby face fool you, Jones can hoop. During the spring Jones proved to be one of the nation's most dangerous jump shooters from deep but he's much more than a spot-up shooter. He can really put the ball on the floor, plays fast without getting out of control, has floaters and pull-ups and is a very good playmaker for his teammates. Given that his father Chris Jones is Utah's Director of Basketball Operations, Jones probably wasn't going elsewhere but that doesn't diminish what he's done for Dante Exum Elite in the Adidas Gauntlet. – Bossi