Tyler Nickel planning a September decision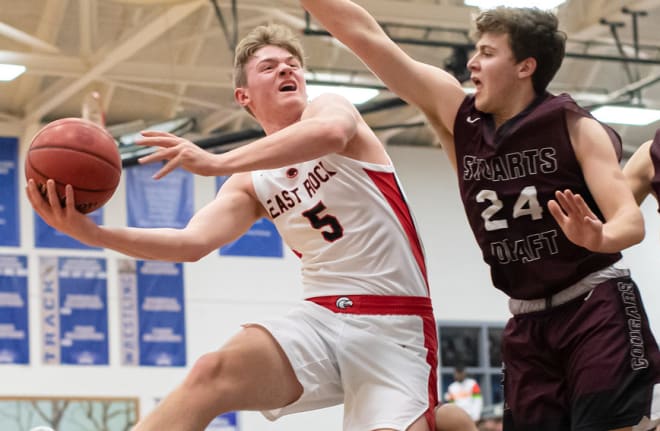 Tyler Nickel sits at No. 91 in the current 2022 Rivals150 which makes the 6-foot-7 small forward the No. 24 player at his position in his class.
Sitting just 899 points off Mac McClung's career scoring record for the state of Virginia, Nickel has caught the eye of college coaches across the country as the high-motor East Rockingham High junior carries close to 15-offers.
"Right now, I got James Madison, Virginia Tech, ODU, Wake Forest, Appalachian State, NC State, LSU, Indiana, Iowa, Richmond, Clemson, VCU, Penn State, Cincinnati and some others." Nickel said, "I would say I hear the most from LSU, Indiana NC State, Va Tech and Iowa right now."
IN HIS OWN WORDS
LSU: "They are a good fit because they use a lot of big guards. You watch them play; their bodies are really developed. A lot of what they have shown me, in their breakdowns of practice and all, is training their guards to be good pros, that to me is a good look."
Indiana: "Indiana, regardless of off year or not, basketball is like God there. They have a basketball rich history and they way they play is up and down. Their new staff contacted me shortly after they were hired and have been in consistent contact since."
Iowa: "They play a free-lance offense and where they shoot a lot of shots from range. That is obviously one of my strong suits, scoring the ball, so that offense is really what is attractive for me with them."
Virginia Tech: "They are a program on the rise. They way they played this past year really fits me and my strengths to a "t" I think. Also, they are a local program."
NC State: "They tell me they like to get up and down and pressure the opposing team a lot and play with a lot of energy. Head Coach Kevin Keatts has always been a great guy to talk with."
"Memphis, West Virginia, North Carolina and I think Michigan State are all still evaluating me and staying in contact pretty regular," Nickel said.
WHAT'S NEXT?
"I am probably going to commit on September 5, my birthday. I will look to narrow my list down mid-summer to focus on a few." Nickel said, "Honestly I am looking for a school that will put me in position to become the highest draft pick, and the best pro possible," Nickel said.