Two schools emerging for Singler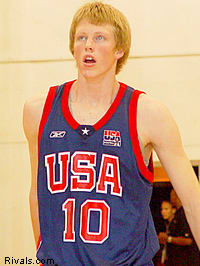 With perhaps the best all around game at the forward position in the class of 2007,
Kyle Singler
has led his South Medford (Ore.) High School team to a 2-0 record heading into the Holiday tournament season. Presently, the 6-foot-8, 210-pound small forward is working with a list of five schools with two schools at the top.
"My top schools are Duke, Kansas, Arizona, UCLA and Oregon," said Singler, the No. 4 ranked prospect in the class of 2007. "There are a couple schools that I like the best right now, but for different reasons. So it is hard to say who my favorite is."
One of those favorites is a storied program from the ACC, the other a storied program in the Pac-10.
"I'd have to say that one of those schools is Duke," he said. "I like the style of basketball they play, just the program and the school. Wojo (Coach Wojciechowski) is a good guy, and I've enjoyed talking to Coach K on the phone.
"The other is UCLA. I'd like to see the campus and get to know the coaches more. I talked to
Kevin Love
, and he said he had a good time visiting there. He said I needed to visit."
Working with a time table to have a decision before the end of the school year, Singler has three schools on his visitation short list.
"I'll take my visits in the spring, probably not all of them but at least three," he said. "I definitely want to visit Duke, Kansas and UCLA.
As to what Singler will base his decision on, he said there is no one particular factor he will base his decision on.
"I'm just looking for a gut feeling," he said. "I think I'll know when I have the right decision based on what feels right."
Averaging16.5 points, 5 rebounds and 4 assists per game through the first two games this season, Singler put up 26 points in the first game but only scored 7 in a limited minutes in a blowout win in the second game.
Kyle Singler scouting report:
Already a legitmate small forward, Singler can make all the plays. He is active around the basket, can lead the fastbreak, can shoot the three ball and can even run the point guard position in a pinch. With a great feel for the game, he only needs to gain strength and continue his natural progression to maintain his status as an elite prospect.