TwitterTuesday: Barrett's FIBA dominance; July sleepers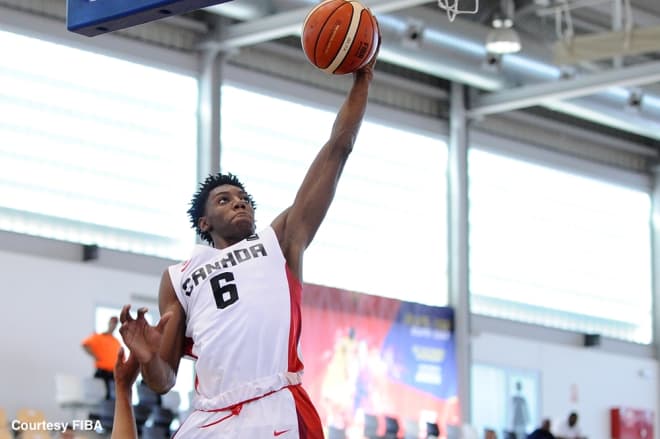 Before I head out onto the road for the July evaluation periods, it's time to answer a few questions for this week's #TwitterTuesday. Among the topics: the prolific performance of R.J. Barrett from the FIBA under-19s and his immediate future, what is ahead for Cincinnati, Miami and Butler, and a few of the off-the-shelf names that could better their college stock this month.
#twittertuesday after r j barrett torched the usa sat, what is next for him? Going to 18 and if so who leads for him?

— bill webb (@cftyuik) July 9, 2017
Where would RJ Barrett be ranked if he was in the Class of 2017 or Class of 2018

— Sean (@engel_sean) July 10, 2017
Bill and Sean bring up the package of abilities of R.J. Barrett, the top-ranked prospect in the 2019 class. Over the weekend, the Canadian went absolutely bonkers against the United States in the FIBA Under-19 World Cup semifinals. Finishing with 38 points, 13 rebounds and five assists, Barrett led his team to the championship and was named the MVP of the event.
A 6-foot-6 small forward that is one of the best talents in high school basketball, Barrett was up against a dominant United States squad. American coach John Calipari had no answers for the elite prospect. He double-teamed off the high-ball screen and also threw out potential NBA lottery pick Hamidou Diallo on him and attempted to ramp up the physicality of the game. Barrett didn't seem one bit rattled as he converted on mid-range pull-ups, hit the open man for the impressive assist and rebounded the ball among the bigger bodies in the lane. Barrett was at his best during his time in Egypt.
When it comes to his college recruitment, look for an announcement to be made in August for Barrett to opt into the 2018 class. While it would be difficult to budge Marvin Bagley III off of his No. 1 ranking, he would be heavily in the consideration for second, fighting off Zion Williamson, Bol Bol and Cam Reddish for such placement.
On the recruiting front, by jumping a year up, expect for the recruitment of the Canadian sensation to multiply greatly. Kentucky has already made Barrett a priority, as has Arizona, Kansas, and St. John's, the latter being a program for which his father played. UNC and Duke can also not be left out of the conversation as a bevy of others are expected to become involved. From there, a commitment will likely not occur until the spring of his senior year.
Who should cincy fans keep an eye on

— Nick (@Xlax1306) July 9, 2017
It is a crucial recruiting year for Mick Cronin's program as it will see practically its entire frontcourt graduate, and could also suffer the early departure of Jacob Evans to the NBA if he has his breakthrough season many are expecting.
Where does Cincinnati head next? Finding capable big men that can fill in the enormous shoes left behind is crucial. The Bearcats remain involved for Darius Days, a 6-foot-8, hard-playing forward, in the mold of current UC star Gary Clark. Along with Days, the Bearcats are pursuing Nate Roberts, Immanuel Bates, Vincent Lee, and Kiyon Boyd in the frontcourt.
While landing a big or two is important, so is nailing down a guard commitment. They remain heavily invested in the recruitment of Team Melo product Brendan Adams, along with his teammate on the Nike-sponsored team, Wynston Tabbs. Along with the duo, Cincinnati has continued to pursue some of the best throughout the Mid-Atlantic as it is involved with Eric Ayala, Rasir Bolton, Nate Hinton and Jaelen Llewellyn.
Who should Miami fans be looking at in the class of 2018?

— Nathan Bay (@NathanBay3) July 9, 2017
Miami only has one senior on its roster, that being star guard Ja'Quan Newton. While his departure will sting some, the Hurricanes have the chance to lose their entire backcourt next spring. Incoming freshman Lonnie Walker and rising sophomore Bruce Brown each could throw their names into the NBA Draft, so filling these positions is vital.
The Hurricanes remain heavily involved with some of the top talent along the entire East Coast.
In the final four for Immanuel Quickley, Miami may be the darkhorse for the five-star guard. Kentucky is the likely landing spot. The Hurricanes are pursuing Saddiq Bey, a 6-foot-5, versatile swingman that is similar to others that have come to excel at the U. They would love to add any of the two to a group including Jalen Carey, Eric Ayala and Devon Dotson.
While Jim Larranaga and his staff have done great work up north, they are also involved for in-state talents Elijah Weaver, Mike DeVoe, Luguentz Dort, Nassir Little and Emmitt Williams. The cause for concern is the fact that Miami is not a clear-cut favorite for anyone noted, though, if we have learned in recent years with Walker, Brown, and Chris Lykes, the Hurricanes may be the best at pulling at rabbit out of their hat.
Any change of direction for Butler under Jordan? Who should Butler fans be looking at?

— uncle andy (@TrillwaukeeDawg) July 9, 2017
Things haven't started off on a good note for recently named Butler head coach Lavall Jordan as he missed on Marcus Bingham and saw Kyle Young, his top 2017 commit, follow Chris Holtmann to Ohio State. While Butler fans may be a bit anxious, there is little reason to worry as the Bulldogs have done a solid job of finding secondary options on the market that could excel in Indianapolis.
After missing out on Bingham two weeks ago, a 6-foot-9 prospect that committed to Michigan State, Butler immediately offered Hunter Tyson and Aaron Henry. Two weeks before that, it offered 6-foot-5 swingman Miller Kopp. Dishing out offers to natives of North Carolina, Indiana and Texas is a direct reflection of what the new staff has in mind. While it must recruit its home base, Butler realizes it has a national brand.
In the 2017 class alone, Butler reached to the states of Florida and Virginia, while also nabbing another from Canada. Its top freshman last season was Kamar Baldwin, a 6-foot-2 scoring guard by way of Georgia. The new staff will clearly not be restricting itself to the Midwest.

Who are the players you most want to see that you've never seen and don't plan to see in July? Someone like George Conditt on the list?

— UIHoopsRecruits (@UIHoopsRecruits) July 9, 2017
The July evaluation periods continually bring about a few off-the-radar names that, up until now, were lightly recruited. However, for one reason or another, that same prospect becomes a household name for a handful of quality college programs and his recruitment takes a 180. Who are a few of those that could be on the verge of a breakout this month? Here are five I am excited to get a further look at.
1. George Conditt is a very intriguing prospect out of Illinois. The 6-foot-10 center plays for a non-sponsored travel program, Team RWA, as there have not been a ton of eyes placed onto him just yet. That should change this month as the rising senior, though he must get stronger, can shoot to 20 feet, play around the basket and change ends of the floor without an issue. He has the makings of a high-major prospect that should add offers by the day.
2. Like Conditt, Duncan DeMuth is an intriguing prospect from Florida who has had some high-majors sniffing around. I saw him last year at HoopSeen's Best of the South and was immediately transfixed with the 6-foot-8 forward's ability to play a point-forward role. He is not a tremendous athlete but he can shoot and distribute. Iowa State may have done more work than others with him.
3. Last week, Georgia Tech and Virginia Tech jumped in with offers to Aaron Nesmith. The 6-foot-5 shooting guard is the type of prospect that has become so valuable in recent years: good size and improving as a shot-maker. Playing with the Team TMP 17-under unit this summer, Nesmith suits up alongside four-star 2019 wing Josiah James. Both have the chance to be heavily recruited.
4. Point guard Curtis Aiken Jr. is a name to know as the Pittsburgh native, playing with the Rytes Warriors, will have the chance to improve his recruitment 10-fold. He has visited Tennessee, TCU and Pittsburgh in recent months as several other power conference schools are likely to get involved.
5. My colleague Eric Bossi is a strong supporter of Christian Bishop, a Crieighton commit, so I am pretty excited to get a look at him for the first time. The 6-foot-7 wing is long, versatile and sports enormous upside. The feelings are that the Bluejays landed a giant steal with Bishop, which shouldn't come as a surprise seeing that they took in Justin Patton and developed him into an NBA first-round draft pick within three years.
How has the secondary recruiting market (post-coaching changes, transfers, late 5* decisions) impacted summer recruiting?

— Mem Gym (@MemGym) July 10, 2017
This is a great question and one that is worthy of being discussed. Much has occurred since the last time the college coaches were allowed to be out on the road on April 28. Since then, Ohio State made a coaching change, setting off a domino effect that saw openings occur at Butler and Milwaukee, top-50 talents Javonte Smart, Cole Swider, Jalen Smith and AJ Reeves came off the board, and the transfer market continued to revolve.
The upcoming senior class is the ultimate compass and the smarter, more in-tune programs understood that the 2018 class is lacking in elite, five-star talent. Hence, a number of schools pushed for earlier commitments since a number of programs were fighting it out for the same prospects.
Take the Big Ten and its magnificent run that it enjoyed to close out the month of June. Michigan, Michigan State, Northwestern, Ohio State, Indiana, and Purdue were each involved for a number of top-100 talents, including Brandon Johns, Pete Nance, Trevion Williams, Gabe Brown and Bingham. Instead of being indecisive, each school made a hard push for a verbal commitment. If it had not, its primary competitor would have done so, leaving it empty-handed entering this month.
Another avenue that has been taken is the transfer market. This year more than others, some of the top programs pin-pointed a variety of the top prospects available that decided to leave their original school. A perfect example of this is Kansas, where Bill Self had never been one to show much attention to transfers. However, the Jayhawks nailed down the commitments of Memphis stars KJ and Dedric Lawson, along with California transfer guard Charlie Moore. KU has never had issues recruiting the best high school prospects, but seeing that the 2018 class was rather lacking, Self decided it was in his best interest to take the more talented and experienced transfers, and give greater attention to a talented 2019 class.