Twitter Tuesday: Oklahoma St., Matt Murrell, Texas Tech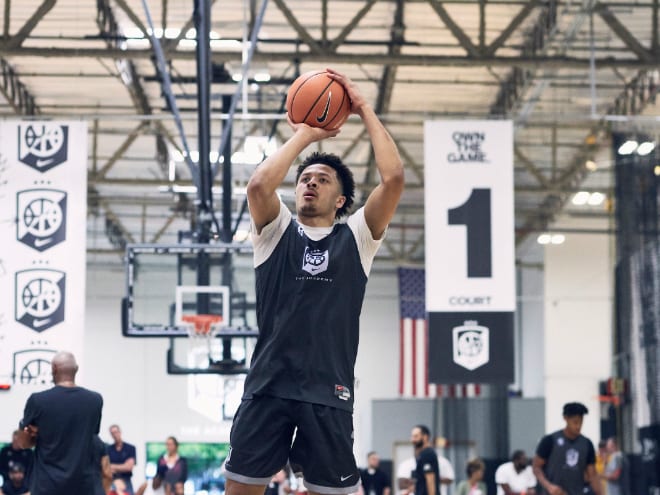 In today's Twitter Tuesday mailbag, Rivals.com Basketball Analyst Corey Evans takes a deep dive into Oklahoma State's five-star hunt, dishes the latest on Matt Murell, checks on the vibe around Pitt and Texas Tech, and more.
Oklahoma State has a small chance with Bryce Thompson, but the Cowboys are chasing Kansas, Oklahoma and North Carolina. I would expect for the five-star to come to his college decision in the next 10 days or so, which would lead to his signature next week. My FutureCast selection remains on KU despite the allegations hanging over the program. Thompson wants to play for a basketball-first type of school and his relationship with Bill Self is strong.
For Cunningham, the word is that his decision could be made in the coming days and, if it is, would be in favor of Oklahoma State. While there was a lot of talk that he was leaning toward Kentucky last month, I have not budged from my prediction. The Pokes have a lot going for them, of course, with his brother being on staff and Mike Boynton being the first power conference coach to offer him. Cunningham could potentially visit Stillwater again this weekend. Be on the lookout, because a commitment could be near.
Matt Murrell has been difficult to get a pulse on but a source has confirmed that he will make his college decision on Nov. 9. One of the top guards available, Murrell is down to a final five of Auburn, Florida, Ole Miss, Texas and Vanderbilt.
The Gators are just about out of the Murrell sweepstakes as they are full with their scholarship count. Vanderbilt had the momentum early on thanks to the hiring of Murrell's former high school coach, but the feeling is that this is more of a battle between Auburn, Ole Miss and Texas. I would have pegged Auburn as the leader earlier this fall, but Ole Miss is where my FutureCast prediction resides. That could change in the coming days, as the word is that his last visit to Texas went very well and the Longhorns could have momentum in Murrell's recruitment.
Give credit where credit is due. Despite recent misses, Jeff Capel and his staff found a way to land two top-tier guards, Xavier Johnson and Trey McGowens, upon their hiring a year ago, two other wing-forwards, Justin Champagne and Gerald Drumgoole, that will see plenty of playing time as freshmen, and sit with three frontcourt commitments which is exactly what was needed seeing that the Panthers' frontline is so depleted.
It is not easy recruiting to a program that, two years ago, finished with a giant goose egg in the conference win column. That task is made more difficult considering the Panthers' facilities are no longer tops in their league and the program now competes with national juggernauts such as Duke, Louisville, North Carolina and Virginia. It also doesn't help that Pitt is chasing guards that see a lack of immediate playing time due to the team's young and talented backcourt of Johnson and McGowens.
Pitt is going to get its guys at the end of the day. For now, despite the program's recent misses, look for the Panthers to keep their leftover scholarship for the winter. They could receive an official visit from Jalen Terry at some point but, for now, it will be about seeing what options become available this winter and spring via the grad-transfer, junior college or decommitment front, before pursuing further.
Sorry, but I don't follow. This program is among the race for the best transfers every spring, as evidenced by the enrollments of T.J. Holyfield, Chris Clarke and Joel Ntambwe, and recently secured the first five-star commitment in school history in Jahmius Ramsey. Put it this way: freshman Terrence Shannon will contribute this season but has kind of been overlooked about thanks to some of the more high-profile additions to the roster. Five years ago, Shannon's presence at Texas Tech would have been celebrated in Lubbock like he was the second coming of LeBron James.
If you're discouraged that Ntambwe's commitment didn't immediately lead to the pledge from his brother, Jon Kuminga, then you need to rethink some things. The Red Raiders did not take Ntambwe because of his brother, they added him because he is a talented forward that makes their program better. Texas Tech will be involved until the end for Kuminga, but winning that recruitment will not come easy.
Texas Tech is in great hands. The program will continue to land the top transfers each spring, and are now securing the very best high school prospects. Micah Peavy became the latest top-50 prospect to join the program and the Red Raiders are in a good spot for five-star Nimari Burnett. The Red Raiders are no longer about finding under-the-radar talent but landing high-level prospects that fit Chris Beard's program.
Villanova is going to be very selective, as always, and the program has the right to operate that way. The Wildcats have won two national titles in a three-year span and are not going to offer a local prospect just because they're thought of as the best in the area. That is why we see the Wildcats have focused on Langston Love and I expect him to take an official visit to Villanova later this year.
Trevor Keels is a prime target and comes from an area, the DMV, that has treated the Cats so well in the past. Trey Patterson and Nnanna Njoku are two others that they have locked their eyes on. I also wouldn't be surprised if they were to become involved with Rahsool Diggins, a four-star junior that plays for the same high school program, Archbishop Wood, as junior standout Collin Gillespie.