Turner strong in first session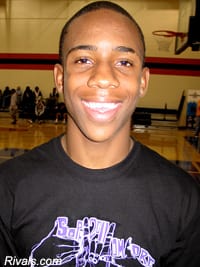 CHARLOTTESVILLE, VA.
- No one player dominated the opening session of the NBPA Top 100 Camp, but
Josiah Turner
was one of several players who out forth a solid effort.
Josiah Turner
, PG- Bringing a physical presence to the court as a point guard, Turner makes plays on both sides of the ball with his athleticism. Most impressive Thursday afternoon were his numerous difficult finishes at the rim in transition. He had a couple and-ones and finished with both his right and left hand against contact.
Michael Carter-Williams
, PG/SG- There is no question about what type of player Carter-Williams is offensively. He is a terrific ball handler with court presence and has high level body control and touch as a finisher. What stood out Thursday afternoon was his work on the defensive end. He did a terrific job defending
Shannon Scott
and almost completely neutralized his penetration.
Jarnell Stokes
, PF- Perhaps the strongest player in the gym, Stokes surprises with his quick moves to the basket and his soft touch on his finishes. He also has a presence about him in the open court as a player who can both ignite the fast break and finish it. He is one of the top prospects in the class of 2012.
Adjehi Baru
, PF- Baru has that potent combination of length, athleticism and a relentless motor. He rebounds outside of his area and is an aggressive shot blocker. Offensively, he will continue to put the pieces together.
Levi Randolph
, SG- A natural scorer, Randolph spent a lot of time running the point and did a fine job. He is one of the better midrange scorers off the dribble in the class.
Ryan Taylor
, SF- This bouncy forward seemed to be all over the court. He rebounded, came up with steals, pushed the ball up the court and attacked the basket with authority going right.
Bernard Sullivan
, SF/PF- Sullivan continues to impress with his ability to score in traffic. He has a physical presence to his game.
EXTRA NOTES
Tyler Lewis
and
Naadir Tharpe
were both productive on the offensive end against each other. The question, though, is if a lot of the offense was due to sub-par defense.
Versatile wing prospect
Rodney Hood
measured in at 6-foot-8.
Norman Powell
is one of the more physical and athletic shooting guards in the class. He is on the verge of taking his game to another level if he can develop a more consistent jump shot by getting more arc on the flight of his ball.
Myles Mack
did a nice job of balancing his penchant for scoring with running the show for his team at the point.
Two five-star power forwards
Anthony Davis
and
Kyle Wiltjer
squared off against each other in what was a pretty even match up. Wiltjer showed some creativity as a scorer and Davis was active on the boards and as a shot blocker.