Turner keeps rising all the way into top 10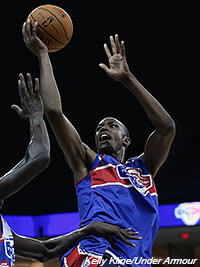 A 6-foot-11 center out of Euless (Texas) Trinity, Turner was actually expected to make a climb during the spring and early summer. In fact, we wrote before the spring started that he could be a breakout star before slotting him at No. 78 in March.
Even then, there was some worry that the ranking of Turner at No. 78 wouldn't be aggressive enough. However, nobody could have ever imagined that any ranking outside of the national top ten might have been selling him short.
Playing on the grassroots circuit with Texas Select and at events like the NBPA Top 100 Camp, Turner was a revelation. After missing most of the 2012 summer with injury, Turner proved to be a big-time shot blocker who can run the floor and score the ball with a high skill level.
The buzz Turner has created has put him under a pretty intense spotlight. He told Rivals.com during June that it feels good to get recognition.
"It's been real great," Turner said. "I've been working for this all my life. My development after my injury has gotten me to this point, and I'm having fun with it.
"Not being able to play really hurt my stock with nobody being able to see me."
With a lofty national ranking, five-star status and the attention of many of the nation's top programs, Turner will now be a guy others seek out to try and boost their reputation. His plan is to cut his list to 10 after July, and until then he'll just keep it simple and go with what has been working with him as he's made a meteoric rise up the rankings.
"I think I outwork my opponent," said Turner. "I really try run the floor a lot and I definitely defend the rim."

[rl]