Tuesday in Vegas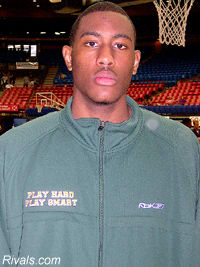 LAS VEGAS
LAS VEGAS
- Tuesday was the third day of action in the three big tournaments in Vegas. Five-star prospect
Terrence Jennings
was all over the rim in his afternoon game and also gave Rivals.com a surprising top three school list.
Just prior to scoring 18 points on 9-13 shooting in a 58-56 win over East Coast Fusion, Jennings said he has a top three list of Kentucky, Maryland and Washington. Kentucky wasn't seen in the gym watching him, but
Gary Williams
along with two assistants and an assistant from Washington were at the game. Jim Calhoun,
Billy Donovan
,
Bruce Pearl
,
Kevin Stallings
and
Mark Fox
were also taking in the action.
Elston Turner
managed 12 points on 4-13 shooting in the win, and Michigan commitment
Ben Cronin
grabbed an impressive 16 rebounds in the loss, but only managed to score two points on 1-10 shooting.
Oregon commitment
Drew Wiley
had a big game for the Oregon Rebels in a blowout win, scoring 25 points on 7-12 shooting. Wiley's ability to shoot the ball from deep fits in well with Oregon's system. He will, however, need to put on some weight in order to rebound out of the four position. His lack of quickness will likely prevent him from playing a lot at the three in the Pac-10.
Speaking of the Pac-10, assistants from Washington, Arizona, Washington State, Oregon and Oregon State were all watching
Abdul Gaddy
and
Avery Bradley
. Mark Few along with two Gonzaga assistants were also in attendance. Both players played well in a blow out win. Gaddy, who is emerging as the better prospect of the two because of his natural point guard skills to go along with his size and shooting ability, scored 17 points on 5-10 shooting. Bradley scored 15 points on 4-7 shooting.
Gaddy is presently favoring Washington and Gonzaga. He also has an offer from Oregon and said that Kansas and Arizona have picked up their recruiting efforts lately.
Bradley has a sole favorite in Washington.
"Washington is a definite favorite," Bradley said. "It's close to home, and I really like the coaching staff."
Gaddy and Bradley's teammate
Patrick McCollum
saw his stock drop after playing poorly in the spring, but he put together two strong performances on Tuesday. In the game we watched, he put up 20 points and passed the ball quite well. He also scored 26 points against the LA Dream Team.
Not the most athletic guard, McCollum is a top mid-major prospect when he plays within himself.
At 6-foot-4 and athletic, Knight also has a great mind for the game. With a penchant for making the quick, accurate pass, Knight plays an efficiently dynamic game. He also defends well and is a threat to knock down the outside shot. It is definitely hard to imagine a better 2010 point guard prospect in the country.
Thomas didn't play his A game for the Spiece Indy Heat 16-under team in a disappointing 18 point loss to the Houston Hoopstars Elite in the Reebok Summer Championships. He led his team in scoring with 14 points but only went 6-15 from the field and missed all six of his three-point attempts. He also had six rebounds, but turned the ball over six times to only one assist. Certainly a talent, Thomas just didn't look that inspired in this ball game.
Thad Matta watched the game and as to whether or not Thomas is solidly committed to the Buckeyes, Spiece Indy Heat coach Bryant Hobbs had this comment.
"Deshaun's commitment to Ohio State is solid," said Coach Hobbs. "He really enjoyed his visit there and is comfortable with the coaching staff."
The Dallas Mustangs have cruised through their last couple game, but the surprise player has been power forward Neil Duvall. A hard working, intense player, Duvall has put up big scoring numbers in both games and appears to be a mid-major prospect.
[rl]