Five-star Trae Young talks top six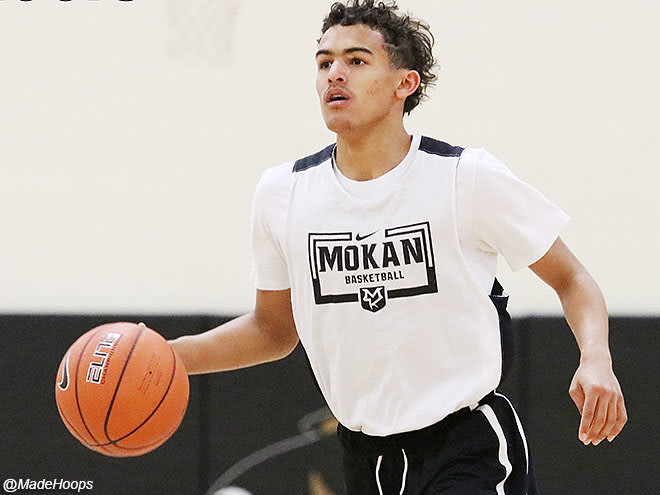 LOS ANGELES, Calif - Five-Star point guard Trae Young has had arguably had one of the best summers of anybody in the class of 2017. After receiving over 30 offers and being sought after by numerous top programs, Young has narrowed his list to six finalists.

Kansas, Kentucky, Oklahoma, Oklahoma State, Texas Tech and Washington all made his final list and he discussed the process with Rivals.com.

IN HIS OWN WORDS
Ranked No. 14 overall, the 6-foot-1 floor general from Norman (Okla.) North broke down his finalists.
Kansas: "To have the chance to play somewhere like Allen Fieldhouse is a great opportunity. Coach Self uses and develops guards really well and gets them ready for the league."
Kentucky: "I love the way coach (John Calipari) goes about things. I really like that it's about business and he puts the team in a spot to compete for a championship each year."
Oklahoma: "Coach Kruger and I have a great relationship and have continued to build on it these past two years. And I live in Norman, so playing close to home would be great."
Oklahoma State: "They have a new coaching staff with coach Underwood and I feel like he's going to turn things around. I would just love to be part of that and help turn the program around."
Texas Tech: "That's where my dad went and the thought of going there and leaving a legacy, that would be really cool for me and my family."
Washington: "I've developed a great relationship with coach Romar and really got a chance to talk to Markelle Fultz about why he committed there, and also continuing to play with Mike (Porter) would be great, too, since we already know each other so well."
WHAT'S NEXT?
Now that Young has cut his list down to a manageable number of six, the next step will be setting up in-home and official visits.
Though Young hasn't set a true timetable for making his decision, there is a good chance that he could wait until the winter to make his final choice. He also plans to visit each of his six finalists before making his decision.

RIVALS' REACTION
At least three of the schools on Young's final list would have been easy to pick. Many have considered the trio of Kansas, Kentucky and Oklahoma among the high-scoring floor general's front runners for a while now. The other finalists make sense, though, even if they may have some catching up to do if they want to beat the Jayhawks, Wildcats or Sooners.
At Texas Tech, Young's father, Rayford, scored over 1,500 points and dished out over 400 assists. Washington holds a commitment from one of Young's best friends in Porter, and Young has gotten to know the staff (which includes Porter's father Michael Sr.) very well. Finally, Oklahoma State is another local school with a new coach, so it's reasonable that Young will want to see what the Cowboys have to offer under the direction of Underwood.