Tracking the Rivals.com No. 1s in the one-and-done era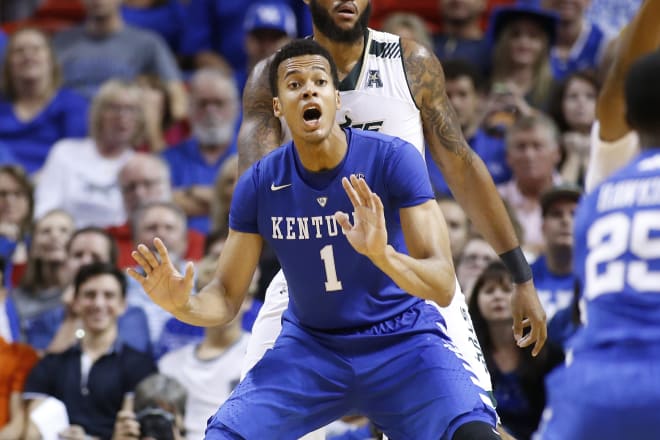 Since the one and done era began with the class of 2006, each player who finished ranked No. 1 in his class by Rivals.com has been drafted after just one year of college.
This year, Skal Labissiere is most likely going to continue that trend. However, the Kentucky big man has fallen a bit short of the lofty expectations that come along with being ranked the No. 1 high school prospect in America. Are his struggles unusual? How does he compare to previous No. 1's? We take a look at at the hits and misses of the one-and-done era.
2015
College numbers: 7.0 points, 2.7 rebounds and 1.7 blocks per game.

Analysis: When we ranked Labissiere No. 1, we did so because we saw a highly skilled and athletically fluid big man who could play facing the rim. We had concerns about his lack of strength, but we ignored red flags about how his senior year might have done a poor job preparing him for college as he essentially played for a club team that offered poor structure rather than playing for a real high school team. There is plenty of time for him to turn things around and he's shown flashes of greatness, but to date, he hasn't played to his advance billing.
Hit or miss: Miss.
2014
College numbers: 17.3 points, 8.5 rebounds and 1.4 blocks per game.

Drafted: No. 3 overall in 2015 by the 76ers.
Analysis: One of the better back-to-the-basket center prospects to come along in some time, Okafor was ranked No. 1 because of his scoring prowess in the low post. He led Duke to a National Championship as a freshman and has been quite productive -- on a terrible team -- during his first season in the NBA.
Hit or miss: Hit.
2013
College numbers: 17.1 points, 5.9 rebounds and 1.5 assists per game.

Drafted: No. 1 overall in 2014 by the Timberwolves.
Analysis: One of the best athletes Rivals.com has ever scouted, Wiggins was an incredible open court player who could crash the glass and lock up defensively. He flamed out in his lone appearance in the NCAA Tournament, but had an otherwise successful freshman season. In the NBA, he was named Rookie of the Year and is averaging nearly 21 points per game in his second season.
Hit or miss: Hit.
2012
College numbers: 17.9 points, 5.2 rebounds and 0.8 assists per game.

Drafted: No. 14 overall in 2013 in by the Jazz.
Analysis: Andre Drummond was on track to be No. 1 in the class of 2012 until he enrolled a year early at UConn in August of 2011, which moved him back to the class of 2011. Muhammad got the nod at No. 1 because of his physical ability and aptitude for scoring. On the NBA level, he has developed into a very good sixth man. Nobody from the class of 2012 is really tearing things up.
Hit or miss: Hit.
2011
College numbers: 15.5 points, 3.4 rebounds and 2.1 assists per game.

Drafted: No. 12 overall in 2012 by the Pelicans.
Analysis: When we ranked Rivers No. 1 overall, we projected him as a big point guard who could really score. His jumper needed some more consistency and he was just a good, not great, athlete, but the idea was his skill and size would be a deadly combo. Rivers had a pretty good freshman season at Duke, but it became apparent there and in the NBA that instead of being a big point guard, he was more suited as a slightly undersized combo guard. He's found a home as a rotation player for the Clippers playing for his father Doc Rivers.
Hit or miss: Miss.
2010
College numbers: 7.9 points, 2.2 rebounds and 2.2 assists per game.

Drafted: No. 49 overall in 2011 by the Grizzlies.
Analysis: One of the most dominant one-on-one players in his high school class, Selby was an explosive off-the-dribble scorer and another that we projected as a big, scoring point guard. An NCAA investigation into whether or not he had received improper benefits from Carmelo Anthony's business manager cost him games early in his career at Kansas. He then he battled injury and fit issues during his one frustrating season in college. Drafted the lowest of any former No. 1 player, Selby showed promise in the summer of 2012 when he shared MVP honors for the NBA's Summer League with Damian Lillard. Selby currently plays professionally in Turkey and played the last of his 38 career NBA games in 2013.
Hit or miss: Miss.
2009
College numbers: 16.6 points, 4.3 rebounds and 6.5 assists per game.

Drafted: No. 1 overall in 2010 by the Wizards.
Analysis: A big and speedy point guard, Wall was an unstoppable force on the high school level because of his ability to go right by anybody he wanted. Rivals.com was the only major service to rank him No. 1 overall and he backed it up with a strong freshman season at Kentucky where he was named a first team All-American and the SEC's player of the year as the Wildcats advanced to the Elite Eight. As a pro, Wall has continued to excel and was recently named to his third All-Star team.
Hit or miss: Hit.
2008
College numbers: 8.8 points, 4.7 rebounds and 1.1 blocks per game.

Drafted: No. 24 overall in 2009 by the Mavericks.
Analysis: Mullens committed to Ohio State before he had even begun high school, making him a household name in the recruiting world prior to his freshman year of high school. Entering Ohio State, he had athleticism and skill that were above average for a seven-footer. After an inconsistent season at OSU, he went to the NBA and from the latter part of the 2011-12 season through the beginning of the 2012-13 season with Charlotte he really seemed to be hitting his stride. The stretch included a 31-point, 14-rebound game. Just as quickly as he looked to have figured it out, Mullens fizzled and has most recently played for the Sioux Falls Skyforce in the NBDL.
Hit or miss: Miss.
2007
College numbers: 26.2 points, 12.4 rebounds and 1.6 blocks per game.

Drafted: No. 2 overall in 2008 by the Heat.
Analysis: A skilled scorer with size, Beasley was immature but incredibly gifted on the basketball floor. He backed up his No. 1 ranking in a loaded high school class by putting together a historically great freshman season. He scored the third most points and grabbed the second most rebounds of any freshman ever while winning Big 12 Player of the Year and first team All-America honors. Though he had some off-the-floor missteps, Beasley averaged just under 20 points and six rebounds a game during his third year in the NBA. Since that 2010-11 season in Minnesota, Beasley has been in and out of the NBA and is currently playing in China, where he recently won the CBA All-Star game MVP after scoring 63 points, grabbing 19 rebounds and dishing out 13 assists.
Hit or miss: Hit.
2006
College numbers: 15.7 points, 9.6 rebounds and 3.3 blocks per game.

Drafted: No. 1 overall in 2007 by the Trailblazers.
Analysis: When Oden was coming out of high school, he was perhaps the most hyped big man in 20 years or so. Looking back, he came about as close to backing up what were some unreal expectations as possible. Oden led Ohio State all the way to the National Championship game (a loss to Florida, where he had 25 points, 12 rebounds and four blocked shots), was a first team All-American by the Associated Press and Defensive Player of the Year. We can only wonder what type of NBA career he would have had as a series of injuries ruined any shot of a successful professional career. Oden ended up playing just 105 games in the NBA. However, because of those injuries, it would be unfair to call him a bust.
Hit or miss: Hit.