Top three junior Romeo Langford popular with big time coaches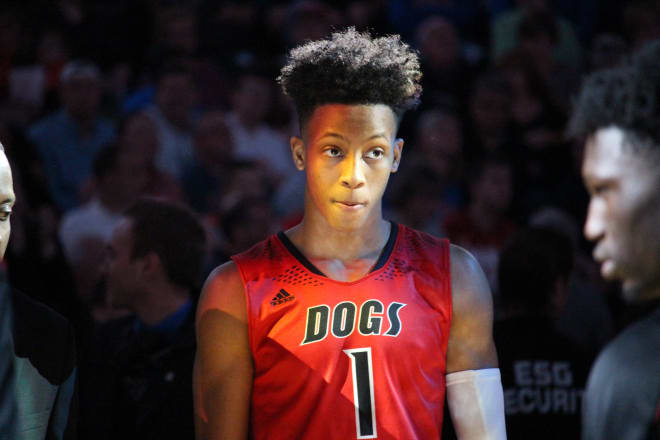 New Albany, Ind. -- The New Albany (Ind.) High gym has been a hot spot for the last few weeks as big time coaches from across the country have flocked to see 2018's No. 3 ranked player, shooting guard Romeo Langford.
On Thursday, Rivals.com was on hand to watch as the 6-foot-4 shooting guard worked out in an open gym in front of Kansas head coach Bill Self and assistant Jerrance Howard.
"This is their first time really talking to me," said Langford. "It was them telling me what their program is about and what they can offer me and me getting a chance to learn a bit about them.
"They were just saying how people say that they are big on big men but if you look at it they are big on tall guards like myself. Like Andrew Wiggins, Kelly Oubre and guys like that."
New Albany is situated just across the Ohio River from Louisville and Rick Pitino and the Cardinals have been very active in his recruitment. Last week, Langford hit campus to watch the Lamar Jackson show and the atmosphere at the football was impressive.
"The atmosphere was really nice," said Langford. "I wasn't by the student section or anything but everybody in the crowd was into the game and just really into Louisville."
On Wednesday, North Carolina head coach Roy Williams stopped by and made his pitch.
"Coach Williams message was that the way they offer they like to talk to people and get to know the family," said Langford. "They don't just offer people. He was saying that I was one of four guys in my class that they offered and they want me. He was like if you look at it you are one of the top four players in the class so I realize he really wants me and that I'm special to him."
Earlier in the week, Duke assistant Nate James was by. His message was mostly the same as others but Langford also spoke about how the Blue Devils staff has picked up and been on him about the area of his game he would like to most improve, being more of an on the floor communicator.
"It was kind of him just telling me the same thing that they all say and me getting to know him," said Langford.
"I can talk with my friends and all of that, now it's just for me to do it on the court. That's the thing with the Duke coaches. Even since the first time they saw me they were telling me to talk even in a drill and say good pass and just talk while I'm on the court and not to be quiet all the time."
Of course, Tom Crean and home state Indiana have made the 2016 state champion a major priority as well.
"I've been talking to them for a while, coach Crean and Coach (Tim) Buckley and all of them," said Langford. "Now it's going in more depth about what they can do for me as a player and as a program how they can help me grow as a man and all of that."
UCLA and Vanderbilt have also been through and Langford's father, Tim, told Rivals.com that the family is looking to make unofficial visits to Indiana, Vanderbilt, Duke, North Carolina and Kansas during the coming months. As for Langford himself, he's going to be much more focused when he watches college basketball this year but he's in no kind of hurry to make a decision
"Now it's just me watching them during the season and seeing what playing style I fit in the best. I'm nowhere near close to making a decision or even cutting my list. It's a long time away."