Top Performers: Atlanta area tournaments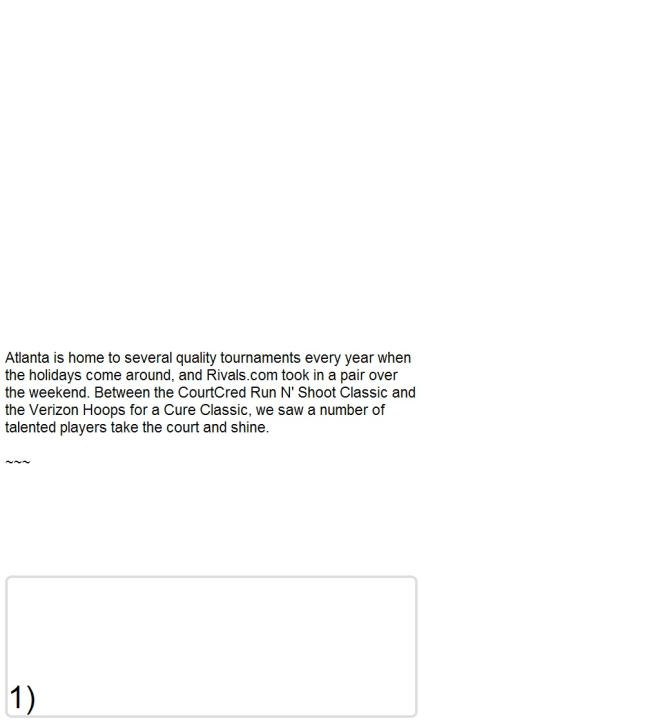 Performance: Earlier in the week, O'Connell went for 30 points while shooting 10-for-15 from the field and 4-for-8 from three-point range. He wasn't quite as good on Saturday night, but he still did what he does well and that's make shots. A 6-foot-5 wing, he's also very long and athletic. In the past, he had been more of a spot-up shooter, but now he's added the ability to go off the dribble and get to the rim or pull up for mid-range jumpers. He's starting to look the part of one of the better wings in the Southeast.
Atlanta (Ga.) Westlake
Recruiting wrap:
Durr has offers from
Texas Tech
and several mid-majors.
Performance: Durr worked his way into the Rivals150 after showing a lot of promise late in his sophomore year. He's starting to live up to the potential we saw in him last year by becoming a more consistent presence in the paint instead of playing well in spurts. On Saturday, he controlled the paint by hauling in a dozen rebounds and blocking or altering a number of shots. Offensively, he's still a work in progress, but the key is he's making progress. It was one of the better outings Rivals has seen from Durr.
Tyrone (Ga.) Sandy Creek
Recruiting wrap: Georgia Tech had an assistant watching on Saturday. Auburn, Georgia and UAB are also in the mix.
Performance: Harden is an intriguing prospect because of his size at 6-foot-6 and his athletic ability. Add in the fact he's becoming a pretty consistent shooter from three-point range and you see why high-majors are knocking on his door. He makes some plays going to the rim off the dribble, but the next step for him as a shooter is being to knock down jumpers off the bounce.
Atlanta (Ga.) Westlake
Recruiting wrap: Bell is likely headed to junior college.
Performance: Every time Bell had the ball within a couple feet of the basket on Saturday, he dunked it and did so with some force behind it. About 6-foot-6, he's really more of an undersized power forward with an emphasis on the word "power." He's not the most skilled player, but around the basket he's a force on the boards and can play through the physicality in the paint. He could be somebody bigger schools come back on after a couple years of junior college.
6) Kyrin Galloway
Milton (Ga.)
Recruiting wrap: Western Carolina and North Florida recently offered, as did Tennessee Tech, following Saturday night's game. Galloway recently visited Miami.
Performance: Schools looking for post players to sign late will want to check in on Galloway. A 6-foot-7 forward, Galloway has the ability to step out and hit jumpers off pick and pop situations, but can also be effective closer to the basketball. He's quick off his feet with good timing and is going to get his share of blocked shots as well.

Click
Here
to view this Link.