Top 50 wing Wendell Moore has high level offers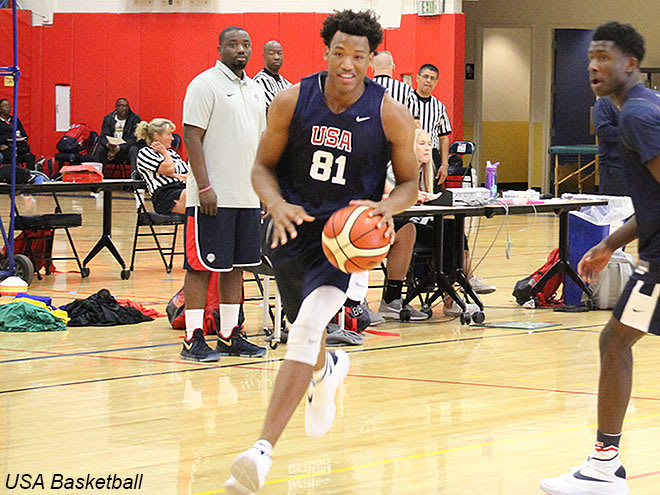 COLORADO SPRINGS -- One of the top players in the class of 2019, Wendell Moore may also be the best teammate in the country. His team play likely played a huge role in making the USA U16 National Team and has helped him develop into one of the most sought-after recruits in his class.
That Moore is so good at all of the little things on the floor isn't an accident.

"I find you can separate yourself by doing the little things," Moore told Rivals.com. "Diving on the floor for loose balls, wanting to guard the other team's best player, finding my teammates for open shots and then going scoring myself.
"I'm probably my best in transition, when I have the ball in my hands in the open floor. I feel I'm able to create plays off the dribble."

On the recruiting front, Moore said that Florida State is the latest to offer and they join Tennessee, Georgia and Florida along with local programs Wake Forest, North Carolina and N.C. State.
Moore discussed the trio of in state ACC programs that have offered scholarships.

Wake Forest- "I definitely have a strong relationship with Danny Manning. Coach (Steve) Woodberry, coach (Randolph) Childress, all of them over there. They are checking in with me all the time and asking how I'm doing. Danny has been to numerous games, they are very involved."
UNC- "It is probably the same thing as with Wake, I have a good relationship with them. Roy Williams is around a lot and I have good relationship with coach (Hubert) Davis, coach (Steve) Robinson and I had a good relationship with coach (C.B.) McGrath before he left for UNC Wilmington. They are always in the gym watching me play."
NC State- "I've only talked to Kevin Keatts a few times but we are starting to build a good relationship there. That's my biggest thing, it's going to be the relationship with a coaching staff and building that."
Moore's relationships with some of the local programs are so strong that he feels it has impacted his recruitment. For instance, before Florida State offered they asked Moore's coach if it would even be worth their time and Moore had to explain that he's not made any decisions yet and that he's open to anybody who would like to recruit him.

"I've said it before, staying in state is a kind of a big thing and not a big thing at the same time for me," said Moore. "I want to go to a school that has my best interests at heart and at the same time is going to try and develop me to get to the NBA because that's ultimately where I want to be.

"Whether it's North Carolina, Duke, Wake Forest, Kentucky, Maryland or anywhere in the world."