Top-50 guard Tyler Herro sees five stand out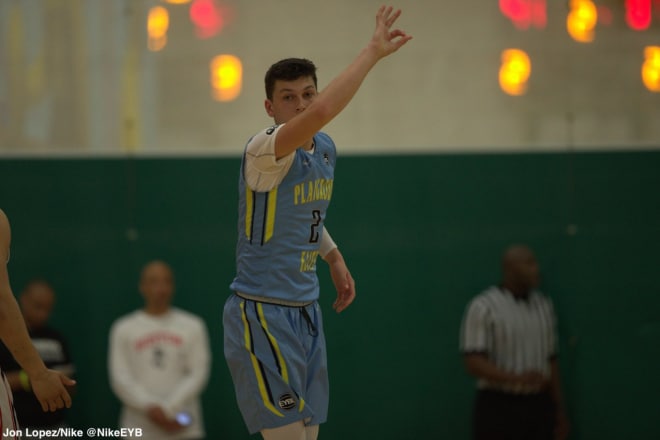 Tyler Herro made noise earlier this month by backing away from his yearlong commitment to the Wisconsin men's basketball program. Arguably a top-five scorer in the 2018 class and with underrated dimensions of toughness and playmaking abilities, Herro is expected to host Kentucky head coach John Calipari on Tuesday as five programs have begun to stand out.
A top-50 prospect in the 2018 class, Herro spoke on his recent decommitment. "It was nothing really against Wisconsin but it was just about finding the right fit for myself," he said. "Being able to come in and contribute right away and having the right offense to play in."
While a number of schools have reached out, five programs have done a better job than others when prioritizing. "Butler, Oregon, Villanova, Kansas and Kentucky," he said.
Expecting head coach John Calipari tomorrow at his school's open gym, Herro talked about what an offer from UK would mean to him. "It would mean a lot," he said. "Other schools have offered but Kentucky is a pretty big deal."
Having already hosted Oregon and Villanova for in-home visits and with Butler working on a future date, Herro touched on the five programs most in pursuit.
Oregon: "It was a good in-home visit and getting to meet Coach (Dana) Altman for the first time. It showed that they are really interested with bringing their head coach in to see me. I talk to them a lot, almost every single day; my relationship with them is pretty good."
Villanova: "It was good having them in, too. It is another school that I have a really good relationship with. They brought their whole staff so that was four coaches there for me. They just showed me a little PowerPoint of what their vision is for me and where they think I can be in within the lineup from day one. They think that I am good enough to play right away, if not start, and they said they are recruiting other guys but that I am their top priority."
Kentucky: "They get guys to the league. The tradition of Kentucky basketball is obviously tremendous. The resources that they have along with Coach (John) Calipari and Coach (Kenny) Payne I think would make for a great spot. It is definitely a good option."
Kansas: "I think that they are coming in on Thursday. They have a great tradition and are a blue blood program, just like Kentucky. They already made one trip in to see me by Coach (Norm) Roberts; he came to see me and just laid out the vision for myself but I think Coach (Bill) Self might come to see me next time."
Butler: "Coach Val (LaVall Jordan) is coming from Milwaukee and their assistant coach, Coach (Omar) Lowery, went to high school with my dad so we have a pretty good relationship there. It is always a good spot. They said that I could come in right away and be that man and average 18 points as a freshman. I am definitely looking at them pretty hard."
WHAT'S NEXT?
A commitment remains on the backburner despite the early signing period being less than ten days away. "I am going to take things into the winter, as of right now, but we will see what happens," Herro said before stating his future plans. "I am definitely going to get down to Oregon and Villanova for official visits."
RIVALS' REACTION
A 6-foot-4 shooting guard that is one of the most polished scorers in America, Herro was a top producer on the Nike EYBL circuit this summer. Running with the Playground Elite squad, he averaged over 14 points, five rebounds and three assists, all while making close to 36 percent of his 3-point attempts.
No program stands out currently, though an offer from Kentucky on Tuesday could change things. Expect for a spring signing from Herro as his recruitment has now evolved into a blue blood affair with a few others remaining in the mix.