Top 40 junior Caleb Love's recruitment is active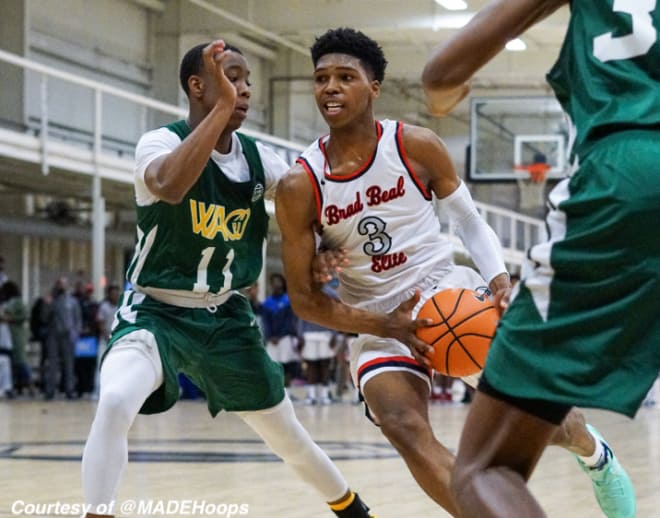 A top 40 player in the class of 2020, four-star point guard Caleb Love has emerged as one of the most heavily recruited juniors in the MIdwest.
The 6-foot-3 product of St. Louis (Mo.) CBC has steadily improved over the years and plays with versatility. In fact he prides himself on those things as he continues to work.

"I'm just working hard and staying in the gym," said Love. "Every person that sees me play says that I always improve when they see me play and that's important to me.
"In today's game I can play shooting guard, point guard and even small forward. I can score the ball, make plays so I can be hard to guard."
Currently holding offers from Florida, Illinois, Missouri, Michigan, Purdue, Kansas State, Iowa, Louisville, Saint Louis, Butler, Northwestern, Marquette, Indiana and others, Love has taken several unofficial visits. He's seen the campuses of Butler, Illinois, Iowa, Kansas State, Louisville, Michigan, Missouri, Purdue and Saint Louis and says the visit help greatly in the process.
"I'm getting better relationships with the coaches," said Love. "I'm seeing what they really have to offer and I'm seeing what I'm really going to be getting into and I'm trying to get better information on college.

Love's most recent visit was to Ann Arbor to see Michigan and he enjoyed himself.
"It was great," said Love. "I have a good relationship with the coaches and I went to go see the football game. That was a great experience. The fans were crazy so it was a fun visit."
Locally, Illinois, Missouri and SLU have all made Love a major priority and are pushing hard to keep him near home.

"Mizzou always shows love because they are one of the closest and that's basically my hometown school, they are always pressing hard on me," said Love. "Illinois is the same way. It's not too far from home and I believe the Braggin' Rights and everything is a big piece of them trying so hard.
"Coach (Travis) Ford is making a hard impression. I'm the hometown kid so he's always recruiting me and always talking to me. It seems like he's at every game."
Though he could take official visits now, Love hasn't yet planned any and he doesn't plan to look into cutting down his list until at least next spring. When he does, playing style will be important but he doesn't have to be told he will be a full time point guard.

"I believe getting up and down suits me best," said Love. "I'm not into something that's stagnant where you have to pass the ball a certain number of times or something like that. I want to get up and down.
"I'm fine with playing multiple spots."