Top 10 uncommitted: Where they stand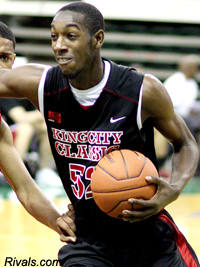 Schools in the mix: Connecticut, Florida, Kansas, Kentucky and Syracuse
Schools in the mix: Arizona, Connecticut, Kansas, Kentucky and Tennessee
A one-time Tennessee commitment, Selby is considered by many to be a Kansas lean. He has visited the school twice and has recently cancelled scheduled visits to Connecticut and Kentucky. There is also talk of Tennessee possibly making inroads in an attempt to win Selby back. He is scheduled to announce his decision April 17 at the Jordan Brand All-Star Game.
Schools in the mix: Connecticut, Minnesota, Texas, UNLV and Villanova
Schools in the mix: Kentucky, Oklahoma, Oregon, UCLA and Washington
Schools in the mix: Connecticut, Florida, Kentucky, North Carolina State and Oregon
Leslie has strong ties to North Carolina State, living in Raleigh and having once been committed to the program. He has also officially visited Kentucky. There is talk of a Florida visit on the horizon, but Leslie's recruitment has been an unpredictable read. It will be interesting to see how the Kanter commitment affects Kentucky's recruitment of Leslie.
Schools in the mix: Arizona, Connecticut, Kansas, Kentucky, Oklahoma and West Virginia
The latest word concerning Lamb's recruitment is that he is truly undecided at this point. He has officially visited all of his schools except for West Virginia. Arizona has a strong connection with the shooting guard since he played travel team ball with the New York Gauchos under Emmanuel Richardson, who is now an Arizona assistant. Also, Lamb will announce his decision at the Jordan Brand Game along with Selby. Could they both be headed to Kansas?
Schools in the mix: Arizona, Arizona State, Central Michigan, Duke, Michigan, Michigan State, Providence and UCLA
Schools in the mix: Alabama, Connecticut, Kentucky, Mississippi and Tennessee
Originally from Alabama, Cothron now has the Tide and Kentucky at the top of his list after decommitting from North Carolina State. Cothron has all his official visits available to him and will likely visit Alabama and Kentucky first. The general feeling has been that Alabama is the team to beat for Cothron now that he has opened up his recruitment, but Tony Barbee is making a strong push to land Cothron at Auburn. He is expected to visit Auburn next week.
Schools in the mix: Kansas, Kentucky, Oklahoma, Oregon and Washington
The primary question about Ross' recruitment is whether he will be able to qualify academically after transferring in the middle of the school year back to Jefferson High School in his hometown of Portland, Ore. Proximity gives Oregon and Washington an advantage, but Ross -- who was attending Montrose Christian Academy on the East Coast -- is not tied to the West Coast.
Schools in the mix: Arizona, Detroit, Florida and UCLA
McCallum has officially visited Arizona, Florida and UCLA out of his final four, but there is no need for him to use an official visit on Detroit. McCallum's father is the coach of the Titans, and the general feeling is McCallum will be running the show at the point guard position for his father.