TOC - Saturday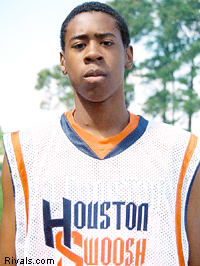 The brothers are not like most twin prospects. Because of their different positions, colleges are more likely to recruit both of them. They said they would like to play together at the college level. The list of schools for both player is long. Marcus said he is holding offers from Rutgers, LaSalle, St. Joe's, Virginia, George Washington, Kentucky and Villanova. Georgetown, Temple, Syracuse and others are involved as well. Markeif said LaSalle, St. Joe's, Kentucky, Pitt, Miami, Virginia, West Virginia, Arizona, UConn, Oklahoma, Providence, Rutgers and George Mason were on him.
The Morris twins will most likely be a hot target for coaches as July's evaluation period opens up. There are little doubts that they are high-major guys. The real question is whether or not they will play together in college.
Thomas may be an unknown on the national circuit but the high-majors certainly know about him. He said Miami and George Washington have offered scholarships and half of the ACC are keeping a close watch. Wake Forest, Clemson, NC State, Florida State, Virginia Tech and NC State are involved. Thomas will attend NC State and Virginia Tech's elite camps in June and trips to Miami and George Washington are in the works, he said.