TOC: Friday Night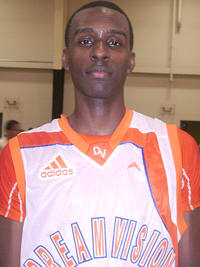 DURHAM, North Carolina - The Bob Gibbons Tournament of Champions got off to a big start on Friday night all over Tobacco Road. There were some big performances at Duke University, and Shabazz Muhammad proved again that he is one of the best players in the 2012 class.
Shabazz Dazzles for Dream Vision
It was the closing game in Cameron Indoor Stadium and Virginia Assault had the edge over Dream Vision midway through the second half. To that point
Shabazz Muhammad
had been fairly quiet. He battled some foul trouble, and just never seemed to get into the flow of the game early, but that all changed when it got to winning time.
One of the premier players in the 2012 class, Muhammad flat out stepped up when his team needed it the most. As always Muhammad attacked the rim. A natural lefty, Muhammad is like an absolute freight train attacking off the bounce going in a straight line. With his combination of strength and quickness, Muhammad got to the basket at will, and when in the paint he finished through contact or simply got to the line and converted.
That is normal for Muhammad, what isn't normal is him absolutely locking in from the outside and knocking in shots from all over. He hit a 20 footer, took it a few feet back and knocked in a college three, and then converted on the baseline in the mid-range for an and one opportunity.
Overall Muhammad finished with 33 points and simply willed Dream Vision to the win. Of those 33 points, well over half of them came in the final eight minutes of the game.
Also showing very well for Dream Vision was
Norman Powell
. The four-star shooting guard from San Diego had the highlight of the night when he took the ball from half court, dribbled to the middle of the lane on the full sprint, and rose up with one hand and absolutely crushed a dunk on a Virginia Assault defender.
While that dunk was the loudest two points of the game for Powell, it was far from his only bucket. The physical guard is a very solid rebounder, and showed a great release on his deep jumper, and more often than not the shot was pure. Powell does need to improve his ball handling, but the stroke is there and so is the athleticism, and he put it on display with a big performance.
Other Notable Performances
There is no doubting what
Angelo Chol
can be down the road. He runs the floor as well as any big man in the country, shows decent hands, hit an 18 foot jump shot, and is active on the glass. However with Chol everything is just flashes. He never seems to put it all together, and that was the story on Friday Night. Chol had solid moments, but overall he didn't have a huge impact on the outcome of the game.
Playing on both the Dream Vision 16-and under squad and 17-and under squad is
Tyree Robinson
. The 2013 standout is an absolute physical specimen for his age, and someone who knows how to play. When playing at the younger level he dominates by scoring and being a lockdown defender. With the older kids he is more of a role player, but he doesn't look out of place. In a blowout win with the younger team, Robinson was a force to be reckoned with who scored with both hands, showed deep range, and attacked the rim off the bounce. His athleticism is high level, and he makes an impact on both ends of the floor.
For Virginia Assault
Marvin King-Davis
was a major problem. The 6-foot-8 power forward isn't an elite athlete or ultra skilled, but he just knows how to get buckets. Right now his pet move is a hook shot with his right hook over his left shoulder, but he can turn and face from the post, and also is an excellent rebounder. For Virginia Assault he absolutely dominated the Dream Vision frontline, and looked to be a player who could be emerging on the high-major radar if he keeps up the strong performances.
Memphis Magic rolled to a big win over Team United and
Chris Jones
along with
Adonis Thomas
played starring roles in the blowout. Jones is an undersized shooting guard, but the cat flat out gets buckets. He scores going to the rim off the dribble, off the catch from three, and also with rhythm jump shots using the bounce. Basically any way a human being can score a basketball, Jones finds a way to do it. He does need to improve in his ability to make others better, but when you need two points, Jones knows how to get them.
Thomas is making the full transition to the wing, and it is beginning to get scary. He started the game with a three off the dribble, and then converted with a baseline drive finishing through contact for an and one opportunity. Then in the second half Thomas did what he made his name doing, he scrapped and rebounded and was a force down low. Thomas is an excellent athlete and he can control the glass when he attacks, and he did just that. Now the next step is for Thomas to tighten up his handle, but that seems to be coming.
Also playing well for Memphis Magic was
Nino Johnson
. The developing big man looked much improved from last summer, and is really gaining confidence with his game. Currently his defense is excellent where he blocks shots with his length and natural timing. Also he rebounds well, and now his offense is coming along. Johnson runs the floor well, possesses solid hands, and has a decent ability to finish within six feet. He needs to give more effort on every possession, but he is coming along nicely.
Finally Memphis Magic got a good lift from 2012 prospect Martavious Newby. The 6-foot-4 wing has long arms, is strong, and has good bounce. He is still coming along with his perimeter game, but he scores off the dribble well and also can finish above the rim. On a team loaded with older talent, Newby found a way to standout and did it by playing his role. That says something about his feel for the game and basketball IQ.
Though they got blown out, Team United got a solid performance out of
Jervon Pressley
. The big man is at his best inside where he can use his athleticism and strength to convert. However he does tend to float to the perimeter and shoot jumpers, and that is where things go downhill quickly. Pressley can definitely be a good player when he focuses on what he does well and that is finish around the rim and rebound, and against a good frontline he was able to do that when focused and playing his game.
The Robinson twins, Tyree and Tyrel, get most of the attention for the Dream Vision 16's, but
Rashad Muhammad
and
Stephen Damingo
also deserve a lot of credit. Both Muhammad, the younger brother of Shabazz, and Damingo can score inside and out and give the Dream Vision squad a presence on defense and with their high basketball IQ and passing ability. Damingo and Muhammad do need to add strength to their frames, but the duo has a good skill set to develop with as they get older.
Making his debut with Dream Vision was 2012 prospect
Demetris Morant
. The 6-foot-8 center has very long arms and a lot of bounce off the floor. He is still very raw at this point, but Morant has the physical gifts along with good hands and a decent touch to be a player down the line. Strength is a major growth area as is the refinement of every part of his skill set, but he can make a play or two above the rim that make him a very intriguing prospect if he continues to work on his game.
School Lists
Tyree Robinson
said he and his brother
Tyrel Robinson
will be headed to college together and so far they have heard from San Diego State, San Diego, Stanford, California, USC, UCLA, Arizona, Texas, Oklahoma, Harvard, and Washington.
Stephen Damingo is a big time student as well as a good basketball player. He is getting early love from Princeton, Stanford, California, Washington, Arizona, Oregon State, and Washington State.
Norman Powell
claims offers from San Diego, San Diego State, Arizona, and UCLA. Also he is hearing from UConn, UTEP, California, Washington State, Arizona State, Marquette, Georgetown, USC, Oregon, San Francisco, Fresno State, and Gonzaga.
Things remain wide open with
Adonis Thomas
. The mainstays such as Memphis, Ohio State, Florida, Arkansas, Kentucky, Missouri, Oklahoma, and Tennessee are definitely still in it, and now UCLA, Texas, and Oklahoma State are entering the picture. Thomas says he is going to take his visits.
Nino Johnson
rattled off a list of Memphis, Ole Miss, Missouri State, Alabama, Georgia, Virginia Tech, and Middle Tennessee State. He says others are also involved.