TOC attracts big names once again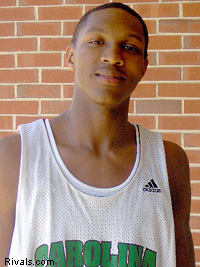 Memorial Day Weekend in the Raleigh-Durham, N.C. area can mean only one thing. It is Tournament of Champions time. The campuses of North Carolina, Duke and NC State are taken over by some of the nation's top prospects and this year's field is loaded once again.
The Southern California All-Stars have had little trouble this spring, winning the Las Vegas Easter Classic and the Kingwood Classic in April. The West Coast team's next stop is on the other side of the country at the Tournament of Champions.
SCA will tangle with the Memphis Magic, Jackson Panthers and Texas Top Prospects in pool play.
The ultra-talented five-star big man will unofficially visit North Carolina on Thursday. The Tar Heels are in his top two along with UCLA. Love will be one of the most watched players in the field. He will be at the Dean E. Smith Center on Friday night at 8 p.m. with his Southern California All-Stars team.
It will be interesting to see how the exposure of the tournament helps the recruiting efforts of the new NC State staff.
A number of the top players in the tournament field are already committed.
Every region of the country will be represented at the TOC.
Sidney suits up with the Jackson Magic while Stephenson gets it done for the Juice All-Stars.
There are 40 teams in the 16 and under division. Expect the competition to be just as tough amongst the class of 2008 prospects. Amongst the top teams in the field are: Atlanta Celtics (Green and Gold), Carolina Raptors, DC Assault, Georgia Stars, Grassroots Canada, Michigan Hurricanes, Playaz, South Carolina Ravens, Team Breakdown, Westchester Hawks and many others.
Twenty four teams make up the 15 and under division. Amongst the top teams in the field are: Atlanta Celtics, Birmingham Storm, DC Assault, Georgia Stars, Playaz, Southeast Elite, Southern California All-Stars, Team Daniels/Showtime Ballers and many others.