Titles given out at AMC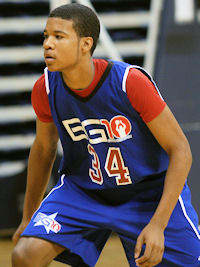 BLOOMINGTON, Ind. - The Adidas May Classic came to a close on Sunday with some surprises at the 17-and under level, but some storylines none the less. While the championship games didn't have a lot of drama, there were some impressive performances, and a battle between Ron Patterson and Jeremy Hollowell was one of the highlights.
Semi-final Showdown
Last season
Jeremy Hollowell
and
Ron Patterson
were teammates on the Spiece Indy Stars. This year Hollowell is with the Eric Gordon Central Stars while Patterson runs with Indiana Elite-ONE. Over the course of the year there has been a big debate as to which 2012 Indianapolis wing is superior, and the two were given a chance to go at each other all game long with one guarding the other nearly every possession.
Early on it was Patterson who had things working. He hit a three to get things going, and then nailed a tough contested fade away, but after that Patterson struggled from the field. Hollowell's length bothered him, and that led to some wild shots.
For his part Hollowell struggled in the first half from the field, but he used his ability to handle the basketball to get into the lane and draw contact. Once he got to the foul line, Hollowell converted and managed to match Patterson with points in the first half.
While the two were even with points, Patterson and Indiana Elite-ONE controlled the play and went into halftime with a double figure lead.
The second half would be all Hollowell, and all Eric Gordon Central Stars. Hollowell came out early and missed his first shot, but after that he was a monster. He scored in transition, hit a pull up three, and then put the full offensive game on display. He finished using more athleticism than he had shown before above the rim, and also proved that he can score from all three levels on the floor.
On top of that Hollowell played within in the system of his team's offense, and made his teammates better. The main two that put on a show with Hollowell were
Ronnie Johnson
and
Patrick Ingram
.
Both Johnson and Ingram are running mates for North Central, and they each can do a little something different. Ingram is an athletic freak who also has the ability to catch and shot. Still what Ingram is known for is his above the rim finishing.
While offensive Ingram can be exciting, defensively is where he made the play of the game. With the ultra athletic Patterson going up for a layup in transition, Ingram tracked him down and met him above the rim for the block. The block in essence ended any hope Indiana Elite-ONE had of winning the game.
Johnson was the consummate point guard who did everything well. He has a lethal floater with his left hand on the baseline, and also finds teammates as well as anyone in transition. He is slight of stature, but his basketball IQ is off the charts.
With Hollowell getting things going, Patterson began to struggle. He wasn't able to create for himself off the dribble, and his perimeter jumper began not to fall consistently. He didn't get to the foul line all game long, and while he did have a nice dunk, it wasn't one of Patterson's best efforts.
Other Notable Performances
The Windy City has some very notable 2013 prospects, but one who isn't getting the respect he deserves is
Kendrick Nunn
. Nunn is a very promising shooting guard who showed off athleticism, an ability to get to the rim, and a solid looking outside shot. The Meanstreets guard was unguardable on Sunday when we saw him, and was clearly the best player on the floor.
Along with Nunn,
Alex Foster
also looked good for Meanstreets. Foster at this point seems content to play in spurts, but when he is working hard the natural talent comes through. Foster is 6-foot-7 with long arms and the ability to score from the mid-range and in. The young power forward is still developing, and isn't a finished product, but the natural ability level is extremely high.
The SYF Players came home with the 17-and under title, and
Mitch McGary
was the biggest reason why. The 6-foot-9 big man was absolutely on fire from three, but at nearly 230 pounds he didn't just hang out on the perimeter. McGary rebounded very well, finished with athleticism around the rim, and showed an ability to turn and face and take his man off the dribble. Overall McGary was one of the premier players at the event.
Also helping SYF to the title was
Travis Trice
. Trice is a scoring guard who can also play some point guard. He had his pull up jumper really working on Sunday, and in a win over D3 Heat he knocked in the game winning free throws with only six seconds left on the clock. He needs to diversify his game with the ability to go both left and right, but his quickness and ability to get his shot off make him an intriguing prospect.
While SYF came away with the win over D3 Heat,
Gary Harris
poured in 36 points, and asserted himself as one of the best players in the 2012 class. The 6-foot-4 Harris had his outside jumper working, finished with explosive athleticism, and was simply too big and too athletic for anyone on the SYF roster. It was a big finish to a breakout weekend for Harris.
Not to be outdone by Harris was fellow Indianapolis 2012 wing
D'Vauntes Smith-Rivera
. Smith-Rivera scored 22 points in the championship game win for Indiana Elite. He battled through cramps to take over the game in the second half, and finished as usual around the rim with his strength and simply knack for scoring. The 22 point outburst closed out an excellent tournament for Smith-Rivera.
Also getting it done for the Indiana Elite 16-and under team were
Hanner Perea
and
Jermaine Myers
. Perea is known for his athleticism, but in his double-figure point performance in the title game he showed more skill. He finished with left handed hooks and a mid-range jumper. While Perea got it done inside, Myers was on point from deep. A big time shooter, Myers knocked down several triples and gave Indiana Elite the scoring it needed from the outside.
Championships
15-and under: Meanstreets def. Eric Gordon All-Stars
16-and under: Indiana Elite-Team Indiana def. Eric Gordon Central Stars
17-and under: SYF Players def. Eric Gordon Fastbreak