Tilmon impresses in opening game of ARS National Hoopfest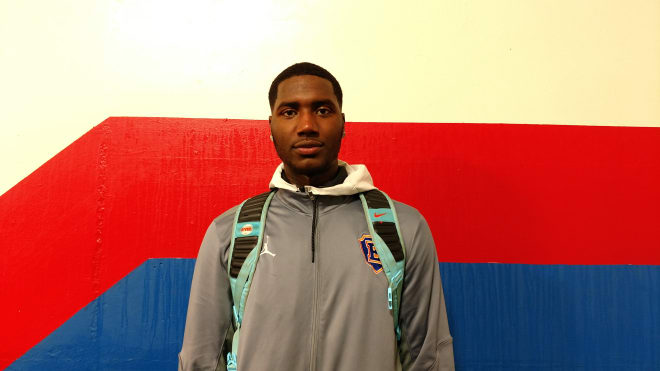 MEMPHIS - Despite the fact that freezing temperatures and unforeseen snow hit the city of Memphis, the ARS National Hoopfest kicked off in solid fashion on Friday evening. The opening game battle between Hamilton Heights and East St. Louis saw some of the team's top stars bring their very best to the hardwood.
While his team went down in defeat, Jeremiah Tilmon solidified his top-25 status as he spoke on a minor rough patch that was a week long standoff from signing with Illinois.
JEREMIAH TILMON BACK AT HOME
Finishing with 17 points, eight rebounds, five blocks and three assists, Tilmon looks to be in the best shape of his early playing career. More of a 15-foot and in post, the East St. Louis High star seems much more agile in getting up and down the floor, more nimble in finishing around the basket and much more polished facing the basket.
Moving back to East St. Louis for his final year of high school ball after transferring out of the mighty La Lumiere program, Tilmon spoke on the transition.
"Personally, it feels the same. The team accepted me like I never left. They look at me as a leader," Tilmon said. "I wanted to come back to be with my family, teammates and everyone I grew up. I wanted to get a state championship."
Now back in his home state, there had been some feathers ruffled over the fact that Tilmon, the gem of the 2017 recruiting class for John Groce and his staff, had not immediately signed with Illinois during the early signing period. While there were a lot of Illini fans wondering if they had lost their future star big man, Tilmon refuted the claims of going elsewhere.
"I just wanted to have fun, honestly. I wanted to see where the love was that," he said. "They were still trying to get me so it opened my eyes. I was going the whole time but I just wanted to have fun. I told the coaches so they weren't worried with it all."
Illinois fans should rest assured that Tilmon is now coming home and will suit up for the Illini next winter as the potential McDonald's All-American should step in and immediately produce thanks to his size, improved mobility and skillset from 15-feet and in.
OTHER STANDOUTS
The reason for Tilmon's team going down in defeat was thanks in part to the one-two punch of Shai Alexander and Nickeil Alexander-Walker. One of the best combinations in the backcourt in all of high school basketball, each showed off tremendous upside, ball skills, and versatility in Memphis.

Alexander, headed to Kentucky next year, was the most efficient that we have seen him in recent months. He made 13 of his 17 shots from the field, knocked down two perimeter jumpers, and dished out five assists. The 6-foot-4 playmaker has improved every step of the way, and the best basketball out of the Canadian is still several years down the road, though the UK signee is already plenty good.
Next to him in the backcourt at Hamilton Heights is Alexander-Walker, a 6-foot-5 recruit headed to Virginia Tech. The Hokies knocked off Duke last week and those types of wins will not be viewed as upsets if VT adds more prospects like the four-star guard. Quite possibly the most polished recruit of Buzz Williams' heading coaching tenure, Alexander-Walker put up 22 points on the scoreboard off of five made 3-point jumpers, open floor finishes, and scores off of the high ball screen. He is an immediate producer with excellent upside which equates to a tremendous grab for the Hokies out of the 2017 class.
R.J. Barrett may be the next superstar from Canada. The second-ranked prospect from the 2019 class finished with ease on Friday evening, showed off better passing skills than we can recall and defended various spots on the court. The upside is staggering with the Montverde star and after helping his team secure an opening night W thanks to his game high 20 points, Barrett continues to cement himself as an elite prospect out of the sophomore class.