Three-star Matthews considers East Coast, West Coast options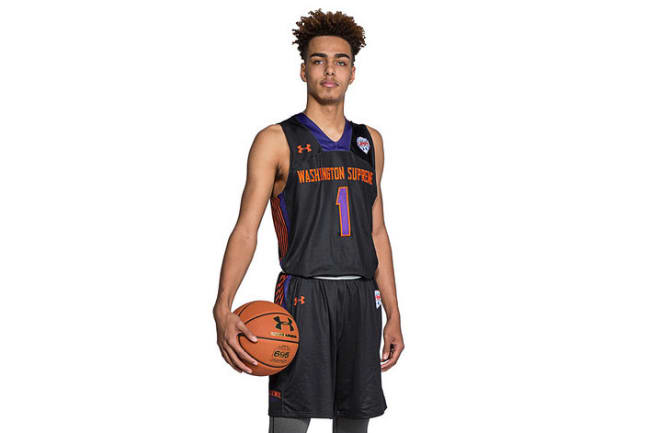 It takes the proper circumstances for a West Coast recruit to entertain the idea of playing on the opposite side of the nation, and Emmitt Matthews just might have those circumstances. Matthews, a 6-foot-7 wing-forward that can play a variety of positions, has a handful of programs remaining n the picture.
Unlike some of his peers who have cut their college lists, Matthews remains open to the process. "I am still open to everybody. I am taking my time with it, pretty much," he said. "Georgetown, West Virginia, UConn, Oregon State, Washington State and Seton Hall are the most involved. Distance isn't really a factor for me. The schools that I have on the East Coast are great programs, so why not?"
IN HIS OWN WORDS
Matthews broke down the six standing out.
West Virginia: "I like the coaching staff. I talk to them all the time. Coach Eik (Martin) and Coach (Bob) Huggins, I talk to them 24-7 about how I would fit into their system. Me being in the backcourt with Jordan McCabe would be a good thing. They just would help put me in the right situation to get to where I want to go."
UConn: "I like UConn a lot. I have always liked them ever since Kemba Walker and Shabazz Napier. I started watching them a lot around then. I also met Chill (Raphael Chillious) over at UW and then when he went over there, we didn't talk much. I congratulated him about getting the job but he hit me up right after the end of the Las Vegas Classic and went from there. I talked to Coach (Kevin) Ollie a few other times, too."
Georgetown: "I like them a lot. Coach Patrick Ewing is a good coach. He knows a lot of people and already knows what it takes to get to the league. Having someone like that to take me under his wing would be good. He has those connects, so he could get me on draft boards and with him being in the NBA, he would have other guys that could help perfect my game."
Oregon State: "I like Oregon State a lot. I have been down to their campus along with UW; they were my first two unofficial visits. I like the campus and it has a really good family feel. I like Coach (Wayne) Tinkle and Coach (Stephen) Thompson. They are some really good guys."
Washington State: "Wazzu being the home state school, I could come in and play right away. Being in the Pac-12, if I do well my first year, it would be easy to go to the league."
Seton Hall: "I like the vibe and how the coaches talk to me a lot. My dad is from New Jersey. It is good over there and I have a bunch of family there."
WHAT'S NEXT
Matthews has an official visit to West Virginia on Oct. 13 and will visit at the same time as McCabe, a three-star 2018 guard who has committed to the Mountaineers. That is his only scheduled official visit.
"I have no timetable for a decision. For me, it is just about finding the best place that fits me and a place that I feel comfortable at along with where my parents feel comfortable sending me. I am just going to take my time with it all."
RIVALS REACTION
Matthews is a skilled, versatile and high upside wing out of the Pacific Northwest that is due to make an immediate imprint during his freshman campaign.
Washington State and Oregon State will do their very best to keep the local recruit home, though, chances are Matthews will opt towards the East Coast as WVU, Seton Hall, Georgetown and UConn each have a fighter's chance with the top-150 talent.