Three-Point Play: Update on McDaniels; Washington's defensive whiz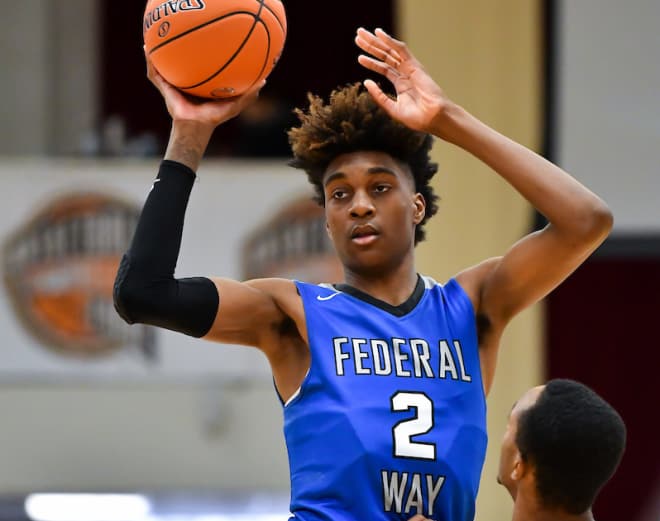 1. JADEN MCDANIELS KEEPING THIS MYSTERIOUS
Jaden McDaniels has kept things quiet on the recruiting front, and that has been by design. His family went through the process four years ago where Jaden's older brother, Jalen McDaniels, became a late-bloomer before committing to San Diego State. The McDaniels have decided to let the process play out in a similar manner.
"(Recruiting) is still the same. I haven't really paid much attention to it," McDaniels said. "I am more worried about my season right now and after the season, I will give it some thought."
His Federal Way High team remains in pursuit of a state title and once his senior season is over, his recruitment could then pick up.

"Give me like a week and a half, two weeks after the season, and then I will start things back up and begin talking to coaches again and try and make my decision," he said.
Kentucky, San Diego State, Texas, UCLA and Washington all remain in the hunt. Could he select the blue blood path that is Kentucky? How about San Diego State, which has helped his brother become a potential first round pick in June's NBA Draft? Texas' Shaka Smart has connected well with him and his family, all while UCLA still affords the chance to play for a national entity under the bright lights of southern California. Lastly, Washington is the home school that just nabbed five-star Isaiah Stewart and has the pathway to win the Pac-12 for the next few years thanks to the foundation that Mike Hopkins has laid.
A decision looks to be made sometime around late March or April. The feeling here is that all five have a shot, though it is Kentucky, Texas and Washington that might be in the best spots.
WASHINGTON'S DEFENSIVE DYNAMO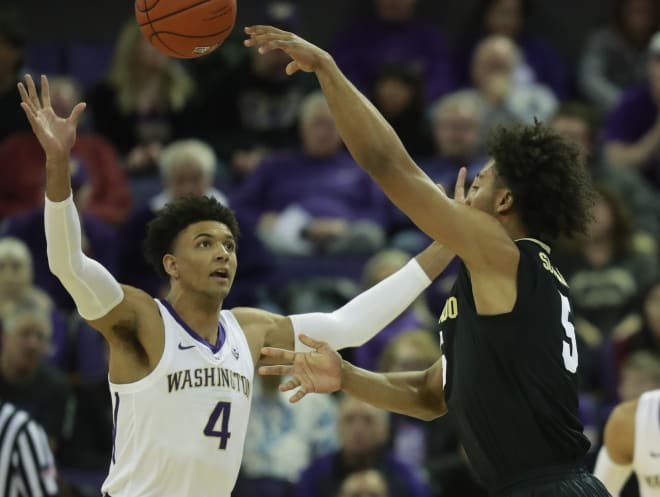 Washington has emerged as the lone quality team in the Pac-12 this year and has ripped through the league with a 13-1 conference mark. Noah Dickerson and Jaylen Nowell have been awesome, but the head of the snake is Matisse Thybulle, the most versatile college defender I have ever seen.
Whenever 18-6-5 stat lines become the norm, with the latter two numbers being blocks and steals, it goes to show how much of a game-changer he is. He is just 21 steals away from breaking Gary 'The Glove' Payton's all-time Pac-12 record, which gives one an even greater idea of what we are talking about.
Thybulle was just a three-star coming out of high school, but there is no way that he gets past the latter portion of June's NBA Draft. He displays the ever valuable 3-and-D traits that pro scouts have salivated over and he should be able to demonstrate those skills in the NCAA tournament.


THREE DEFENSIVE GAME-CHANGERS IN 2019 CLASS
Speaking of game changers on the defensive end, it got me to thinking, who, from the 2019 class, could change the entire complexion of a game next season? Three five-star prospects came to mind and while they might not be at the same level as a Thybulle, they could be a major hand in their team's success.
It begins and ends with Scottie Lewis. A 6-foot-5 wing that sports a near 7-foot wingspan, along with quick-twitch abilities, and, most of all, an elite motor and competitive mindset, Florida is going to absolutely love Lewis. Mike White has steadied the ship this season thanks to the Gators' defensive abilities, but Lewis could make the group among the best nationally next season, which would only enhance their chances of a top-three SEC finish.
Villanova coach Jay Wright might have his best big man he's coached headed his way next year with Jeremiah Robinson-Earl. He is smart, instinctive and has tremendous lateral skills that might allow for him to switch the high ball screen and remain effective in guarding much smaller ballhandlers in space. Robinson-Earl is as well-rounded as they come.
He might be knocked for his lack of size (6-foot-8), but the tremendous length, motor and quick leaping skills make Oscar Tshiebwe the ideal center for Bob Huggins' Press Virginia system. Tshiebwe's defensive dynamics will re-instill the culture that WVU fans have come to applaud in recent years, making a return to the NCAA Tournament well within grasp.