Three-Point Play: Juwan Howard offers son, latest on Mane
Michigan head coach Juwan Howard offered his son, Jace Howard, a scholarship last week, so is a commitment next? In today's edition of the Three-Point-Play, national basketball analyst Corey Evans explores the options that the younger Howard has, a handful of visits ahead this weekend at Oklahoma, TCU and UCLA, and the latest with four-star Canadian guard Karim Mane.
1. WHO DOES MICHIGAN LAND FIRST?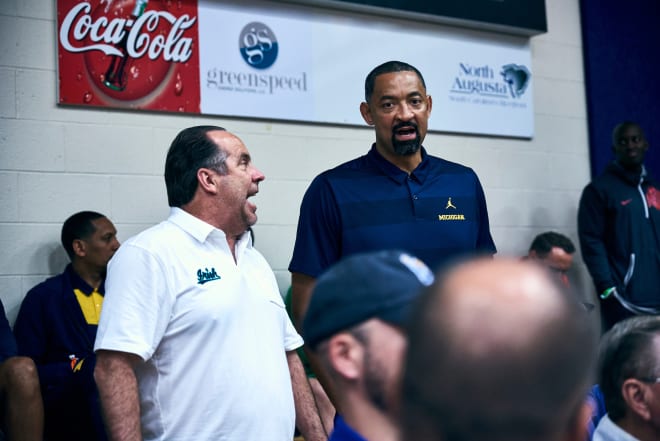 Michigan coach Juwan Howard has not been afraid to pursue the best in the Rivals150 since his hiring. The Wolverines have yet to strike, but they have made the final list for a slew of the nation's best. Could their next commitment bare the same last name as their head coach?

Howard's two younger sons, Jace Howard and Jett Howard, both attend University School (Florida) and will remain there for one more year so that Jace will not be forced to attend four separate high schools in four years.
Last week, we reported the 6-foot-7 small forward received an offer from Michigan. The comments to follow were both snarky and also elicited excitement, but Howard is not in a rush to end his college recruitment.
He told Rivals.com that he has scheduled his first official visit on Sept. 6. Brown will also host Howard on Sept. 20 and St. Louis is working on its own date to host the rising senior.
Will things get past the first weekend in September for Howard and his recruitment? He may want to enjoy the recruiting process that he has worked diligently toward. Most likely, he will be in Ann Arbor next fall, giving the Wolverines a quality, four-year culture guy that is mature beyond his years.
*****
2. KEY VISITS THIS WEEKEND
This weekend is the final one before an onslaught of official visits begin. For most, programs are preparing for the school year to begin,s but there are a few notable visits worth touching upon. ...

Mark Williams will spend an official visit on UCLA. Duke, Georgetown, NC State, Ohio State, Stanford, UCLA and Virginia Tech make up his final seven and while the Blue Devils have been connected the most with Williams, don't underestimate the Bruins' chances with him.
TCU will be running its first of two elite camps that will be held in consecutive weekends. While the Horned Frogs remain focused on their 2020 class, they will bring to campus top-50 juniors Jaxson Robinson and Jerrell Colbert, along with talented sophomores Vincent Iwuchukwu and Austin Nunez.
Where the talent will be on Saturday is in Norman. Oklahoma doesn't need a whole lot in the 2020 class thanks to a seven-man group that just enrolled. The Sooners will host already committed guard Trey Phipps and would love to close things out with his travel teammate, Bryce Thompson, who will also be on campus. The Sooners, along with Arkansas, Kansas, Michigan State, North Carolina and Oklahoma State, are the top suitors for him.
Since very little is needed in the current recruiting cycle, the Sooners have invested more than the usual time on the earlier classes, which could pay off down the road. Manny Obaseki, Trey Alexander and Duncan Powell, each a member of the 2021 Rivals150, will be on campus. So, too, will be Bijan Cortes, Joseph Venzant, Demari Williams, RJ Keene, Matt Stone, Noah Shelby, Trae Clayton, Lee Dort and Brendan Hausen.
It wouldn't be a surprise to see at least two of those in attendance on Saturday, not including Phipps, to suit up for the Sooners when their college clocks begin.
*****
3. LATEST ON MANE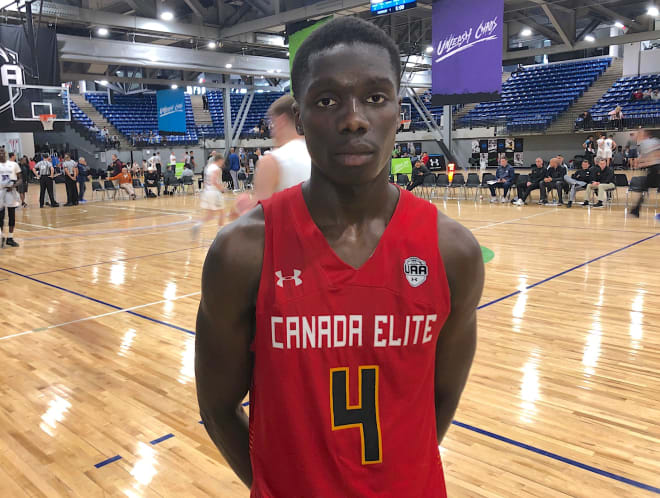 Karim Mane was the trending name back in the spring and since then, his recruitment has skyrocketed. Entering April with Maryland and Providence sitting as primarily the power conference programs to invest much time in his recruitment, Mane now has the chance to select from a smorgasbord of the best in the college game.

A top standout on the UA circuit this summer with Canada Elite, Mane made a strong run with his Canadian under-19 squad at the FIBA World Cup. He posted per-game averages of 11.7 points, 4.4 rebounds and 3.1 assists.
Sitting on the edge of the coveted five-star rating, Mane took an official visit to Maryland during his junior year but has yet to schedule any for his senior year. He told Rivals.com that he has no leaders at this time but Kansas, Illinois, Maryland, Minnesota, Oregon, Providence, Texas, Texas A&M, Seton Hall, UCLA and Wake Forest were most active in his recruitment.
Kentucky has also started to recruit Mane and it would come as no surprise if it decided to jump in with an offer.
Mane will return to Vanier College for his final high school season this fall and is in no rush to make a college decision. Expect a cut list in the coming weeks, but the likelihood of a spring signing is much greater than one in November.