Thomas stands out in Indy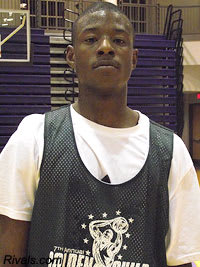 Let's get the disappointing part out of the way first. Thomas receives two technical fouls early in his first game and was relegated to the bench. Now to the promising, Thomas put on an offensive exhibition in his second game against the Compton Magic.
It is difficult to believe that anyone at this event scores with the ease with which Thomas' scores. He is a naturally electric scorer who has an impressive feel for the game offensively.
In addition to his offensive prowess, Thomas can be a dominant defender and perimeter rebounder when his emotions are in check and he is focused.
A truly elite talent, Thomas could go as far as any prospect in his class as long as he doesn't get in his own way.
Drummond, who has been critiqued as being up and down with his energy and production, was far from lackadaisical on Wednesday. He played with great energy, if not overly frenetic energy, and impacted the game from baseline to baseline.
His free throw shooting is an area that drastically needs addressed, but he has natural gifts that no other big man in his class can match.
Dunn was electric with the basketball in his hands, creating space on a whim and continually getting to the basket. His confidence is growing and he is continuing to push himself up the ranks of the 2012 point guards.
Perea is as athletic as any big man in his class and is developing the feel for the game in general and his game in particular for him to be an impact big man.
Ferrell continues to impress. He has a great feel for executing the high ball screen and is both capable of turning the corner and getting into the lane or stopping on a dime and knocking down the jumper. He will carve up pressure defense and can extend his own defensive pressure as well.
Edoswomwan isn't the biggest post player, but he is a strong athlete who plays with intelligence. He has a knack for chasing down rebounds and is an opportunistic scorer.
A physical specimen, Tebbutt did a nice job of avoiding floating on the perimeter and exerting himself on the boards. For much of the day he was a dominant offensive rebounder.
A promising combo guard prospect, Wallace is effective in all areas of the game. Lengthy for his height, Wallace needs more physical strength to reach his potential.
A beast of a point guard, Harrison bullied his way to the basket and the free throw line on Wednesday. He keeps the defense honest with his jumper, and he also showed an exceptional feel for passing the ball off his penetration.
Sanders had a subpar shooting game during my viewing, but it was clear why he is such an attractive recruit at the moment. He was active in all areas of the game and had a bounce to his play. In other words, he is more than just a shooter.
This interior grinder has game. The 6-foot-9, 250-pound post player has a great feel for sealing his man and can finish with touch with either hand. A relentless competitor, Rosburg comes up with a lot of loose balls and rebounds outside his area as well. He doesn't necessarily pass the airport test, but he gets the maximum out of his ability.
Marcus Baugh (2013, Compton Magic)
A 6-foot-6 beast, Baugh is one of the top defensive end prospects in football, but he also has a ton of game as a basketball player. As you would imagine, he has great footwork and loves contact but he also has tremendous touch and can finish with either hand. He wants to play both sports in college and could certainly help any school out on the hardwood.