Thomas is getting personal attention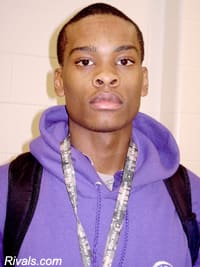 One player in the class of 2011 who has seen his stock soar is
Aaron Thomas
. The Aiken High School (Ohio) wing has had a big time season, and that has led to some personal attention from a high-major head coach.
Facing one of the toughest schedules in the state of Ohio, Aiken has been challenged, and each time Thomas stepped up. The 6-foot-5 and 185-pound wing has put up gaudy numbers all season long.
"It is going good," said Thomas of his junior season. "We are getting better and just getting prepared for the tournament. I feel that me and my team have had a good year. I think I am better within the team system mostly. Also I have really improved my ball handling."
According to Thomas' AAU coach, Ozie Davis of the Queen City Prophets, he is hearing from Indiana, Cincinnati, West Virginia, Michigan, DePaul, and several other high-major schools. Davis also noted that several Mid-American Conference schools have already offered Thomas a scholarship.
One school in particular has made sure to make Thomas feel wanted. That school is Indiana. The Hoosiers Head Coach,
Tom Crean
, has taken to personally recruiting Thomas, and that has made an impression.
"It is a good thing because when Coach Crean is recruiting you, that means he sees something in you," said Thomas about being recruited directly by the head coach.
He continued about Indiana, "I've visited there unofficially. I like the school a lot. I think they play my style of play. Also Coach Crean has history, and so does Indiana."
Another school that has stepped to the forefront of Thomas' recruitment is Cincinnati. The Bearcats are showing the hometown star some serious attention.
"I like UC," explained Thomas. "They have showed me a lot of attention. It is just great to hear from your hometown college."
At this point one of the reasons that Thomas doesn't have a high-major offer is because he is awaiting a test score. Thomas is well aware of that, and has focused all year long on his academics.
"I feel that I am working very hard," explained Thomas of his commitment in the classroom. "I know nothing comes easy, but as long as I keep working hard I know it will work out."