The Workout: Durham is on the map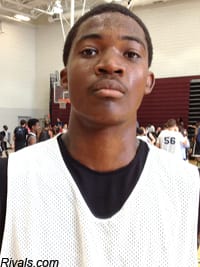 SARASOTA, Fla. - As is tradition, Sunday at The Workout was
reserved for some of the top freshman and sophomores that the state of Florida
has to offer. In many cases, this was the first chance for players to stand out
opportunity.
Durham puts himself on the map
Only time will tell what direction the development of freshman big man Juwan
Durham will take. For now, though, the 6-foot-8 post player from Tampa (Fla.)
Prep has put himself on the map as a player that high majors need to think about
monitoring just in case it all goes well.
arguably the best looking player that we saw over the weekend in Florida.
Yes, Durham is quite skinny and will have to grow into his frame. But, if he
does, then he's got lots of tools with which to work. He ran the floor easily,
has very good hands, looks to have a good base of skills and he's already a
pretty good athlete.
Given that he hasn't played the first game of his freshman season, not many
people know about Durham yet so his recruiting won't really get started until
his season starts. However, he is definitely one that will get the attention of
a lot of college coaches and Rivals.com will be following his development down
the road.
Cheatham has some buzz
Of all the kids who took the floor on Sunday, class of 2015 combo guard Haanif
Cheatham probably had the biggest reputation. After watching the 6-foot-4
southpaw, it looks to have been well deserved.
A sophomore at Pembroke Pines (Fla.) Charter, Cheatham plays a very confident
game and he looks to be pretty skilled whether he is on or off the ball.
Because of his size and length, Cheatham is very intriguing as a point guard. On
Sunday he looked to be very steady and played under control while still making
things happen for himself and others. He dribbles heads up and is an excellent
decision maker in transition. As a two, he gives you a good secondary
ball-handler and he has a nice little mid-range game and a jumper that looks
like it will be pretty reliable when it is all said and done.
According to his travel team coach Brandon McThay, Cheatham has already been
International, Florida Atlantic and Murray State have also shown levels of
initial interest.
More of note from 2015 and 2016

One
of the better guards on Sunday was Pompano Beach (Fla.) Blanche Ely combo guard
was one of the best players on the floor at getting to the rim and finishing.
His jumper doesn't look too bad and he played with lots of confidence.

Like
so many of the other big men at The Workout, 6-foot-8 sophomore
go run down a loose ball, Hayes is ahead of the curve. He's bouncy around the
rim, has great length, really ran the floor and played with a ton of energy.

One
of the speediest players in attendance was Plantation (Fla.) American Heritage
sophomore point guard
tall, Evans is very fast with the ball and has a pretty good feel for
distributing the rock.

In
terms of effort and seemingly being all over the place to make plays, nobody was
6-foot-4'ish wing played with loads of energy and really made a lot happen. He
finished in transition, got on the offensive glass and also stuck several
mid-range jumpers.

As
one of the strongest players on Sunday, 6-foot-7 power forward
Deltona (Fla.) High also showed off plenty of skill and good touch. Looks like
he can shoot it alright to around 12 feet, he's active around the basket and he
plays with a bit of an edge to him.

One
of the most versatile perimeter scorers was 6-foot-3 shooting guard
rim and is already a good athlete who should end up having pretty good size for
his position. The sophomore has potential.

Given
that he's built like a senior in high school or even some college freshman, it's
14 years old. But, the freshman at Sarasota (Fla.) Impact Academy is still a
couple of months shy of his 15th birthday and definitely has abundant strength
and athleticism for a guy his age. He plays tough, he plays athletic and his
motor is great. How he develops his skill will be interesting to watch
throughout his high school career.

Finally,
whether it be for himself or others and showed a tremendous hoops IQ. He's
quick, a very good passer and he changes speeds and keeps the defense of kilter.

[rl]