The Warmup: Jaxson Robinson may have next, Bossi's Friday takeaways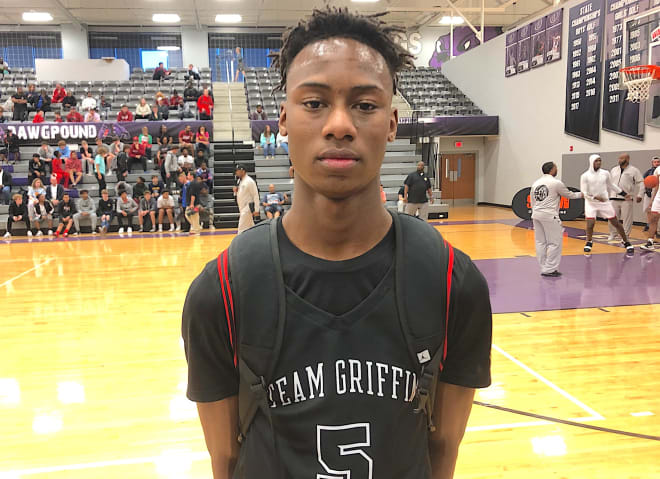 FAYETTEVILLE, Ark. -- It's the time of year where new to the scene players can build their reputations and 2021 shooting guard Jaxson Robinson took advantage at MADE Hoops "The Warmup".
Robinson bombed away from deep and others impressed during an opening night that was light on games, just two, but heavy on action.

ROBINSON'S SIZE AND SHOOTING IMPRESS
If what 6-foot-5 sophomore shooting guard Jaxson Robinson showed shooting the ball on Friday night is anything near what to expect, then he's going to be stacking offers soon.
If anybody stood out on opening night at The Warmup, it was the smooth scorer from Ada (Okla.) High who was playing with Team Griffin's 16 and under team.
A good looking athlete with size and length, Robinson swished home one deep jumper after another in an eye-opening performance. He was pretty humble afterwards and tried to say that he's just an ok jump shooter but the fact is he was playing coy and he does understand the opportunity ahead of him later this month when college coaches can watch him.
Robinson picked up his first offer from Houston on Friday night and also has interest from Oklahoma, TCU, UT-San Antonio and Oklahoma State. He's been on campus with the Sooners and Cowboys and discussed each.
"Oklahoma treated me like family," said Robinson of Oklahoma. "I know some of the guys there, so it was cool to be around them, and talk to them."
The Cowboys impressed as well.
"Oklahoma State is a great program," said Robinson. "They are about defense which I like, and it is a real intense program which I also like."
Look, we don't want to go too crazy off of one night, but if Robinson can even do half of what he did on Friday in front of college coaches during the live evaluation weekend at the end of the month he could leave April as one of the country's hottest players.

LOVE IS A SCORER, FRIDAY NOTES
.... I will talk to Caleb Love to get the latest on his continually expanding recruitment later on this weekend, but he showed why he's a high major priority in the MIdwest on Friday night. A combo guard who can play the point or shooting guard, he's a natural scorer off the dribble who can shoot from deep and shows very good floor vision in transition. Indiana, Illinois, Missouri, Louisville and Kansas State are among the many involved and his play backed up his lofty top 40 status nationally.

.... If Cam'Ron Fletcher shoots the ball from deep like he did on Friday night then he'll have the potentially part of his "potentially big time" prospect removed from his description. As far as I can tell, the 6-foot-6 wing from St. Louis is one of America's best athletes in 2020, but when he's knocking down threes he is an entirely different prospect.

.... Not a lot of people nationally have seen 2021 shooting guard Trey Alexander yet but I've seen him a bit over two years and think he's a legit high major prospect. Seeing him again on Friday with Team Griffin's 16U squad, I feel like that faith is well placed. He can score from deep, passes well and has good size. He's been to Oklahoma State and Oklahoma and they've both offered and so have Tulsa and SMU. He told me that Memphis and Arizona are starting to ramp it up as well.
The Team Griffin team that Alexander and Jaxson Robinson play on is pretty stacked for a 16U team. Forward K.J. Adams is nationally ranked and teammates Daimion Collins and Bijan Cortes also stood out. Williams is a thin 6-foot-8 shot blocker who plays above the rim and has huge upside while Cortes is a fast playing, clever passing and entertaining guard who has some Jason Williams (White Chocolate) flair to his game.

.... Central Arkansas has done really well to land an early verbal commitment from shooting guard Payton Brown. A lights out shooter from deep who plays with an edge, the Woodz Elite 17's scorer has all the markings of a wining ballplayer. It's hard not to see some Dusty Hannahs who was an unheralded recruit that has now played in the NBA after college days at Texas Tech and Arkanas in Brown's game.

Speaking of winning ballplayers, Brown's teammate Chris Moore definitely fits into that category. I'll profile him in more depth this weekend, but the athletic and tough 6-foot-6 forward epitomizes positionless play and the willingness to do whatever his team needs to win. He rebounds, switches one through five defensively, doesn't need plays run for him on offense to be productive. He was one of new Arkansas coach Eric Musselman's first offers this week and has been on the Hogs campus. He's also seen Auburn and Oklahoma State and has offers from them as well as many more.

.... Finally, the Woodz Elite 16U team got beat up pretty good by Team Griffin. But, they had at least two players I want to learn more about in wing Ryan Maxwell and guard Jakari Livingston. Maxwell has 6-foot-5 size and athleticism in the open floor that shows great promise. Livingston is as athletic as any backcourt player I've seen from the class of 2021 and in addition to being able to play way above the rim has a tremendous first step and plays with some fire.