The Warmup: Five-star D.J. Jeffries leads the pack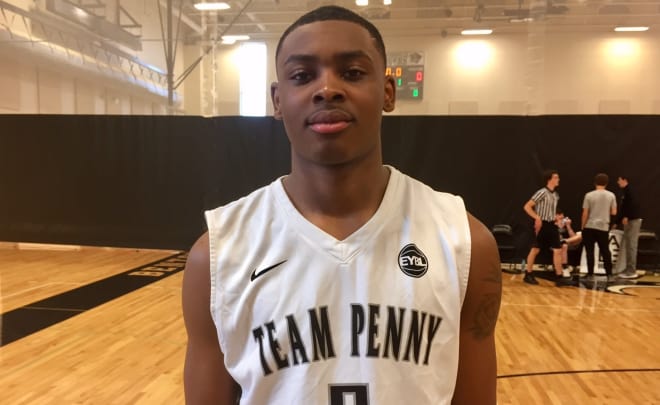 BENTONVILLE, Ark. -- At Bentonville (Ark.) High, the gym was loaded with big time talent from the classes of 2018, 2019 and 2020. The highest ranked player in the building, five-star small forward D.J. Jeffries backed up his billing. We look at his day and discuss where he and other big name players stand in their recruitment.

Recruitment: Offers from Kansas, Kentucky, Texas A&M, Ole Miss, Iowa State, Mississippi State, Wake Forest and Memphis.

His day: Playing for a new squad in Team Penny, Jeffries fit in nicely with a group that is deep and super athletic. He played above the rim, put the ball on the floor some and showed off incredible physical tools.

Quotable: "I haven't thought too much about my recruitment. Maybe at the end of the summer I will have a top list."

Prediction: Jeffries doesn't appear too focused on his recruitment yet but with his kind of talent he looks like one that the bluebloods will fight over.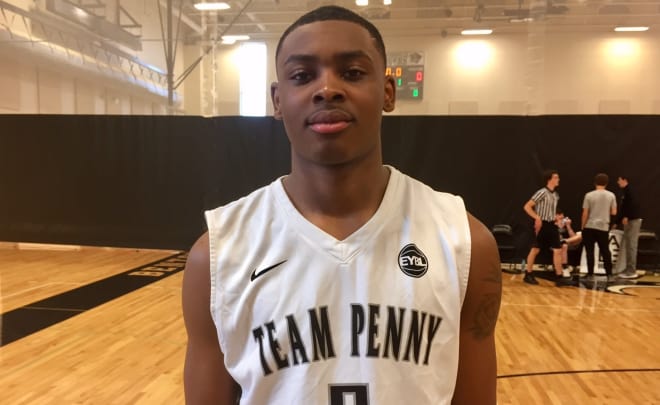 Recruitment: Recently de-committed from Washington, Missouri -- where his father is an assistant and where older brother Michael Porter Jr. is committed -- is the huge favorite.

His day: If Porter decides to stay in 2018 instead of enrolling as a 2017 prospect he's capable of making a run at the McDonald's All-American Game. He can shoot with range and the southpaw is as fine a passing big man as you will see.

Quotable: "I'm going to decide about 2017 or 2018 in the next week or two. If I stay 2018 I may wait a little while to commit and watch things and make sure that my dad still wants to coach because I really want to play for him."

Prediction: Even Stevie Wonder could see that Porter will end up at Missouri barring a major change of events.

Recruitment: Offers from Florida, Memphis, Ole Miss, LSU, Temple, Tulsa, Missouri and others.

His day: Lomax doesn't win beauty contests unless you count winning as beauty. He played with toughness on both ends, made the right pass at the right time and then went and scored the ball if things broke down.

Quotable: "I think that I'm pretty open right now. But probably Memphis, Ole Miss, Florida and Mizzou are the strongest."

Prediction: Ole Miss has been strong and new Mizzou coach Cuonzo Martin is making him a priority. Lomax also seems pretty intrigued by Florida and looks like a guy who could get out of Memphis.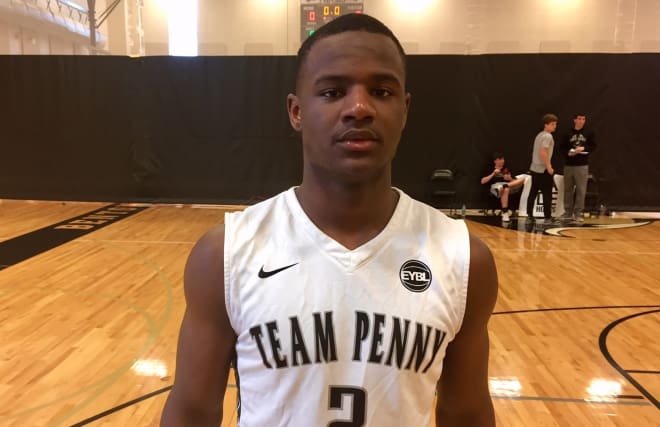 Recruitment: Offers from Arizona, Baylor, Georgia Tech, Iowa State, Oklahoma State, Texas, Texas A&M, UCLA and many others. Duke and Kentucky showing interest.

His day: Liddell has been working to expand and improve his perimeter game and he had the jumper dropping while we watched on Saturday. He still lacks strength but has really improved as a ball handler.

Prediction: If Duke or Kentucky decides to make a scholarship offer things could get interesting. For now we will be mildly surprised if he makes it out of the state of Texas, though Arizona is one to watch as well.

Recruitment: Offers from Butler, Colorado, Florida Gulf Coast, DePaul, Tulsa and others.

His day: Capable of playing the one or the two, Lathon was athletic to the rim and did a good job of controlling tempo. He was at his best headed down hill but showed some confidence in his jumper too.

Quotable: "I would say Butler, Oklahoma, Colorado, Florida Gulf Coast and maybe Wichita State are coming at me the hardest."

Prediction: Lathon wants to see who else jumps in this spring, but Butler is doing very well at this juncture.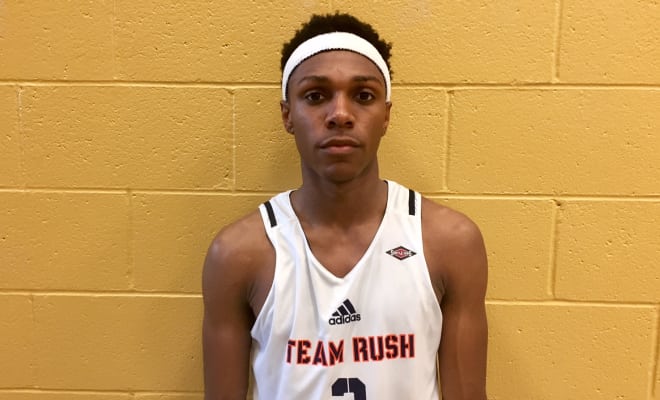 Recruitment: Committed to Saint Louis University.

His day: It took Gordon a little while to get going, but once he did the buckets came in a flurry. He's got terrific footwork, touch and is strong as they come on the low block. He's likely going to score a lot of points at SLU.

Recruitment: Offers from LSU, Memphis, Florida, Tulsa, Ole Miss, Villanova, Wake Forest and UMass.

His day: A fringe Rivals150 guy in the class of 2018, Boyce showed off big time athleticism and an edge to his game we had never seen. If he plays like this in front of coaches, he could be one of the spring's breakout players.

Quotable: "I like the way Florida plays and they have been on me pretty tough."

Prediction: It's early, but the Gators seem to be making a pretty big impression on Boyce.

Recruitment: Offers from Mississippi State, Alabama, Baylor and others.

His day: One of the most well put together players in the class of 2018, Woodard was steady. He made some shots, used his strength to finish through contact and didn't try to do anything outside of his comfort zone.

Prediction: Woodard's father played hoops at Mississippi State and the Bulldogs will likely be tough to beat for the legacy recruit.

Recruitment: Offers from Alabama, Auburn, UAB, Stanford, Georgia, Saint Louis, Vanderbilt, Texas A&M and others.

His day: The four-star prospect looked bigger and more athletic than this time last year. He ran the floor, finished with authority and did a good job of controlling the glass.

Quotable: "The ball is going to stop bouncing some day socademics are going to be really important. I need to decide whether I want to go away to a big time academic school or stay closer to home."

Prediction: A high level student, Jemison could be lured out of state for a great academic fit. For now, though, we're betting that Alabama and Auburn are going to slug it out.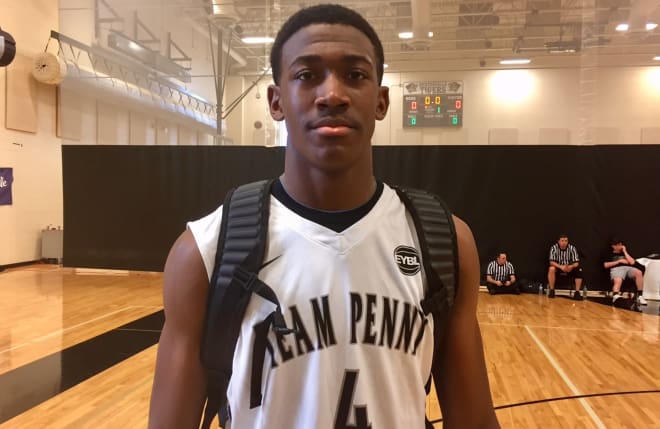 Recruitment: Offers from Memphis, Florida and Georgia Tech.

His day: Playing for Team Penny's 16U team, the younger brother of recent Memphis transfers K.J. and Dedric Lawson showed off lots of skills. He's looking more and more natural as a wing player and showed off some surprising passing ability.

Prediction: Let's see where his older brothers end up transferring to, most likely whichever program lands them becomes the favorite.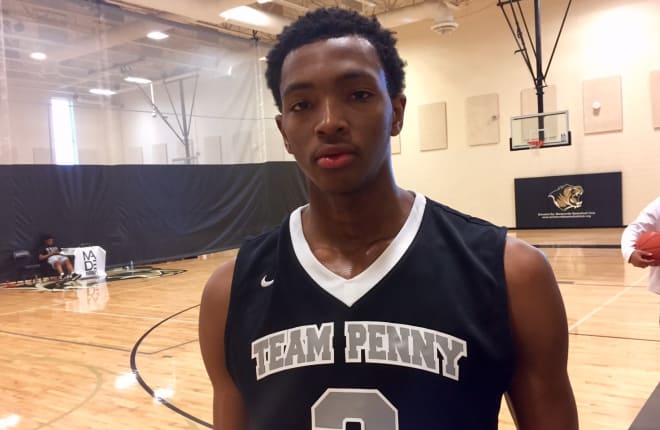 Recruitment: Offers from Georgia Tech, Western Kentucky and Old Dominion.

His day: Rivals.com didn't know a lot about Williams headed into the day but he impressed in a short time. He had great energy, was bouncy to the rim and showed the ability to knock down a jumper after being freed up with a screen.

Prediction: It's too early to pick a school for Williams but if Saturday is any indication of what to expect this spring and summer he will rack up high major offers.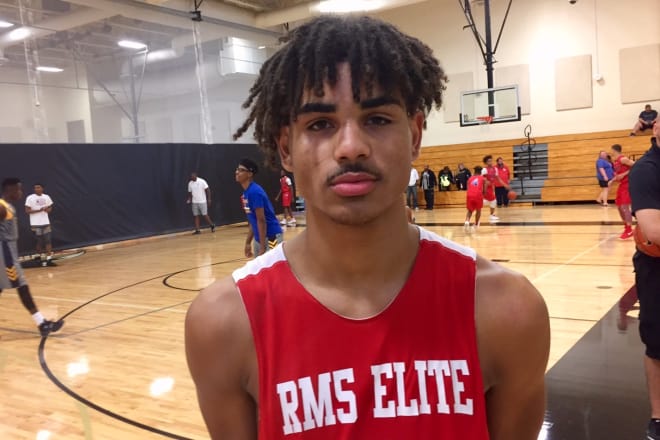 Recruitment: Not many schools know about him yet. That will soon change.

His day: A native of Mali, Dante didn't even have to be that productive playing up a couple of age groups on the 17U level. The 15 year old is already big, has long arms and is a true rim protector with surprising mobility given his age.

Prediction: The only prediction at this point is that he will eventually entertain big time offers.