Versatile 4-star Chet Holmgren updates where he stands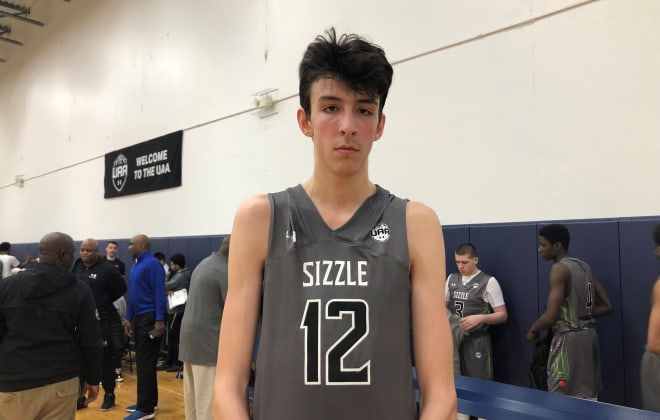 AURORA, Ill. – Last year, it was Bol Bol that was arguably the most unique high school prospect. This travel ball season, Chet Holmgren is fitting that bill as his three-point shooting and shot-blocking make him one of the more versatile but also productive players in the nation.
"It is pretty unique to be my height, to move the way that I do and to have the skill set that I have," Holmgren said. "I just give all of the credit to all of my coaches that have helped me throughout the year and my parents to be me in this position and to my teammates that have helped me all throughout the way. I guess, all of the blocks that I had today and stretching the floor with the 3-point shot, it is very unique."
Holding nine scholarship offers, the most recent coming from Florida and Maryland last month, Holmgren told Rivals.com that Minnesota and Purdue have been the most active in recruiting him thus far.
IN HIS OWN WORDS
Minnesota: "They are just showing me how great the program is. I give nothing but credit to the coaches about how they run their program. They have great facilities, too. Staying home would be a top option, but I have to keep them all open so I can find the best option for my future."
Purdue: "One of my coaches is close with one of the assistant coaches over there and played overseas with him. They are really close and he is a great guy. I love their coaches and how they work with their players."
WHAT'S NEXT & RIVALS' REACTION
Holmgren is in major need of putting on weight but his skill set is one of the more unique packages that one will find within the game. A versatile big man that can put the ball on the floor, consistently make shots to the perimeter and alter shots around the basket, Holmgren finished a Friday evening showing with 12 blocked shots but also three made 3s, a stat line that only a select few can produce.
Due to his broad ranging abilities on the floor, he has already become a coveted high-major prospect, though he is in no rush with his recruitment. Meanwhile, a few visits could be ahead. "I have nothing planned, but I definitely plan to take a few visits this spring," he said. "I definitely want to get down to Texas and I want to visit Purdue. I made an unofficial visit there last year, and maybe get out east and see some schools out there."