The Scrimmage: Isaiah Stewart trends towards elitedom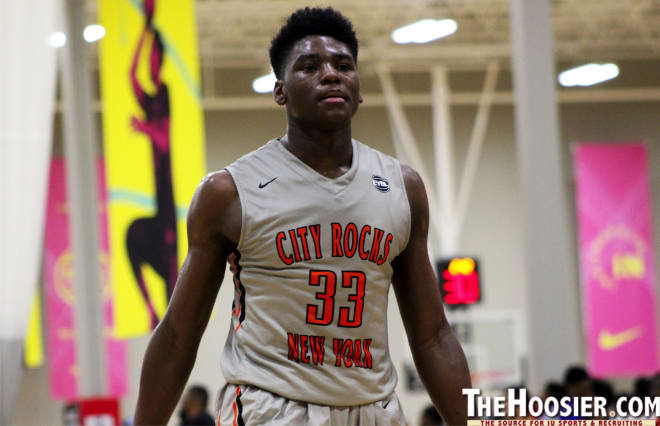 BURLINGTON, NJ – Rob Brown and his Team Final travel program again hosted one of the top kick-off events of the spring, that being The Scrimmage. Bringing in a slew of top flight units from the northeast corridor, a number of Rivals150 prospects showed out, displaying their immense upside and immediate value at the next level. We give out our awards of the day highlighted by the dominance of ever-improving top-50 junior Isaiah Stewart.
MOST DOMINANT
Stewart has been a model of consistency throughout his high school playing career and after capping off his first year at the lauded La Lumiere basketball program, the New Yorker looked his best yet back near his home state. Dominant in the interior, Stewart has shades of a younger Elton Brand within his game. More explosive than in the past, there are not many more college ready prospects in the high school ranks than Stewart. His rebounding prowess is as good as it gets and so is the mindset that he brings to the floor each time out. While he has begun to develop his left hand around some, his finishing skills, motor, rim running nature and intangibles remain elite, hence why practically everyone in America wants him. Today, April 15, Stewart will host Washington's Mike Hopkins and Indiana's Archie Miller for in-home visits, as Duke's Coach K was in for him last week. A cut list is in the nearby future, though the competition for the top-35 post is as heated as can be.

MOST LIKELY SPRING EMERGER
We are just a week away from the spring evaluation periods and with it, a number of high school juniors will see their stock hit the next level. One of those will be Dahmir Bishop, a 6-foot-6 wing out of Imhotep Charter School in Philadelphia. The headliner for the K-Low Elite bunch this spring, Bishop is bolstered with fine length, a feel for the game and a confident jumper where he can hit out to 20-feet, the junior has all of the tools to make it at the highest level. Bishop has hosted just one head coach this spring for an in-home visit, that being St. Joes' Phil Martelli. No surprise as the Hawks have been great recently with developing high school wing talent into professional prospects. Penn State, Temple, Seton Hall and VCU are just a few of the others in contention for this soon to be spring stock booster.
SMALLEST EGO
Completing his final travel season with the Team Final brigade on the Nike platform, Seth Lundy has led a high-major recruitment for over two years now but he is just now beginning to be valued from programs outside of his locale. The Philly native is the definition of a winning ballplayer as he sports excellent intangibles as a wing prospect. Showcasing a strong, developed physique, Lundy is more than capable of knocking down perimeter jumpers at a solid clip but it is his willingness to do the little things that really stand out. Whether it is making the extra pass as an underrated distributor, defending bigger opponents in the post or getting on the floor for the 50-50 ball, Lundy checks many of the boxes that high-major coaches are looking to fill. Oregon, Penn State, Villanova, Virginia and Florida are just a few of those in the hunt as PSU's Pat Chambers is expected to complete his second in-home visit of the spring with Lundy later this week.
MOST LIKELY TO IMPACT COLLEGE BASKETBALL NEXT SEASON
Aundre Hyatt has some thinking to do as the 6-foot-6 wing has the opportunity to forgo his senior year and enroll in college in the fall. The programs pursuing Hyatt as a member of the 2018 class include Florida State and Rutgers, two schools that could immediately implement the sharp shooting wing into their cupboard of talent and see its success rate on the floor improve. However, Hyatt remains on the fence about making the official leap into the 2018 class as he told Rivals that he will not decide on his final decision until the late spring. Regardless, there is no denying the New Yorker's talent as he brings good size, length and shot making abilities to the court. A solid rebounder that can even act as a small ball power forward in today's game, there is major value in what Hyatt does, hence why he has no shortage of college suitors. Michigan's John Beilein will complete an in-home visit with him on Tuesday as Virginia Tech, Oregon, Seton Hall and a handful of others remain contention for the four-star junior as a 2019 graduate.
TOP SHOOTER
Finding Joseph Girard's name here should come as no surprise for those who follow the recruiting and high school game closely. Already, the Glens Falls High product has set the New York state record for most points in ones playing career; pretty remarkable as he just finished his junior campaign. Girard did have some rough spots on Saturday as he didn't find the basket as much as he might have liked but it was nice to see the City Rocks product create for others as a secondary playmaker and show the chops to lock his man down on the defensive end. Regardless, he remains one of the best shooters, if not the best, in high school basketball thanks to the many hours of work that he has invested into his jumper. Last week, the Girard household hosted Rutgers' Steve Pikiell and Michigan's John Beilein for visits. A slew of others remain on the docket in the coming days as Michigan is expected to check out the sniper again on Monday.

TOP FRESHMEN STANDOUTS
While our eyes were on more of upperclassmen in attendance on Saturday, we were also drawn towards the play of two freshmen guards. Carter Whitt and Ryan Conway, both members of the 2021 class playing up a level, look like they have what it takes to be recruited by the better programs in the not-so-distant future. Conway, running with the Team Melo 16-under unit, brings toughness, perimeter shooting and defensive buy-in, as he is the stir to his team's drink at the lead guard spot. Not to be outdone, Carter Whitt is playing all of the way up at the 17-under level for the Boo Williams squad. The 6-foot-2 freshman is mature beyond his years as he showed major composure against peskier defenders when placed on the ball, a mastery of the high ball screen and some gusts whenever others attempted to out-physical him. He already holds a handful of college scholarship offers and should continue to bring in others as he matures.
MOST INTRIGUING
Far from a complete prospect, there is a lot to like about what John Orogun can be in the coming years. While he has to get better with his back to the basket and a little more athletic as he is rather stiff in the hips, Orogun is all 6-foot-10 that he is listed at and plays like it in the paint. A hard rim-running center that cleans his area on the glass, finishes drop off pass near the goal and protects his team's basket, Orogun could see his game take leaps in the nearby future. Arriving into the United States two years ago, the African native does not lack for toughness or a motor. Kudos to Stony Brook to throwing out his first offer as there are many more in the cards for the member of the Albany City Rocks 16-under bunch.