The Best of 2006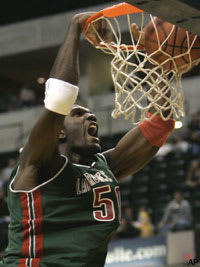 After endless hours of evaluations and analysis, Rivals.com is proud to present the final
Rivals150
ranking for the class of 2006. It comes as no surprise that Indiana native
Greg Oden
, who has been called one of the best prospects in decades, held down the top spot from start to finish, but several other prospects over the course of the last year have made significant jumps in the rankings.
Top Five
Kevin Durant
locked up the No. 2 spot by continuing to add polish and fire power to his offensive game. Durant can dominate on the offensive end, but Oden can dominate both ends of the court.
Brandan Wright
's wingspan, shot blocking ability, and skills with the ball coupled with his upside land him in the third spot.
The No. 4 and No. 5 spots were a tough call between versatile small forwards
Chase Budinger
and
Thaddeus Young
. Young is a better defender and better at creating his shot off the dribble, but Budinger's automatic stroke from deep and his ability to handle the ball and create for his teammates give him a slight edge over Young.
Point Guards
Four point guards separated themselves from the rest of the field. Although
Tywon Lawson
pushes the tempo like no one else, is a proven winner and is a perfect fit for the North Carolina system,
Javaris Crittenton
gets a slight edge because we see him as a better NBA prospect, with the impact of his size on the defensive end, on the boards and in his ability to create his own shot.
Mike Conley
, who is the best pure point guard in the class and is still developing physically, takes the third point guard spot, and
Sherron Collins
is the final five-star point guard. A terrific athlete who can push the tempo and score, Collins was edged out by Conley and his overall point guard prowess and ability to run a team.
High Risers
Always talented and athletic,
Gerald Henderson
pushed hard for top ten status with his refined shooting stroke and improved skills with the ball.
After missing the summer circuit
Patrick Beverley
captured four-star status. He scored big points in Chicago during the season and was impressive in the Round Ball Classic. Beverley is a good defender as well, and he has a nice feel for the game on the offensive end.
Cameron Tatum
has always been an athletic wing who can shoot the ball. During his senior year, he filled in the gaps in his game, primarily by bringing a better focus and more competitive spirit to the court. He is up to 6-foot-6, and has the athleticism and skill to impact the game in a variety of ways.
A pair of Florida recruits -
Doneal Mack
and
Marreese Speights
- both made vast improvements this past season and climbed into the top 60. Mack continues to add more weapons to his offensive arsenal and Speights more than held his own at the Kentucky Derby Festival Classic All-Star game last weekend against some of the nation's top prospects.